Cincinnati, Indianapolis, St. Louis & Chicago Railway Company transferred to Hamilton Fish - Stock Certificate
Inv# RS4075B
Stock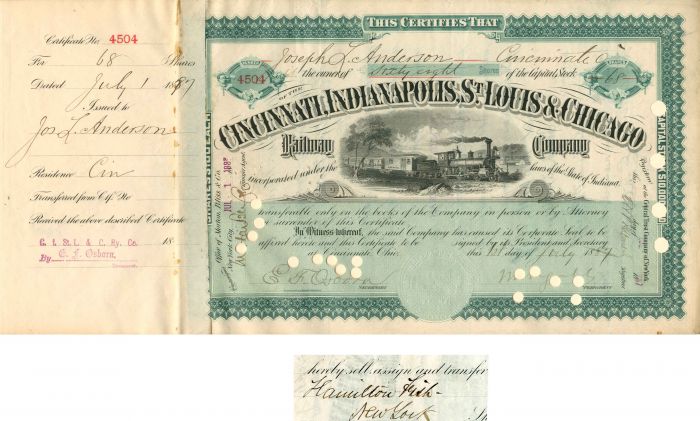 State(s): Ohio

Years: 1887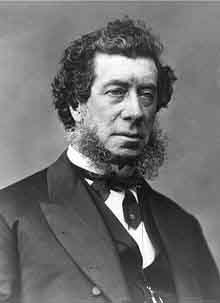 Stock printed by Franklin Bank Note Co., NY. transferred to Hamilton Fish (August 3, 1808 – September 7, 1893) was an American politician who served as the 16th Governor of New York from 1849 to 1850, a United States Senator from New York from 1851 to 1857 and the 26th United States Secretary of State from 1869 to 1877. Fish is recognized as the "pillar" of the presidency of Ulysses S. Grant and considered one of the best U.S. Secretaries of State by scholars, known for his judiciousness and efforts towards reform and diplomatic moderation. Fish settled the controversial Alabama Claims with Great Britain through his development of the concept of international arbitration. Fish kept the United States out of war with Spain over Cuban independence by coolly handling the volatile Virginius Incident. In 1875, Fish initiated the process that would ultimately lead to Hawaiian statehood, by having negotiated a reciprocal trade treaty for the island nation's sugar production. He also organized a peace conference and treaty in Washington D.C. between South American countries and Spain. Fish worked with James Milton Turner, America's first African American consul, to settle the Liberian-Grebo war. President Grant said he trusted Fish the most for political advice. Fish came from both prominence and wealth, his family being of Dutch Americans heritage long-established in New York City. He attended Columbia College, and later passed the bar. Initially working as New York's commissioner of deeds, he ran unsuccessfully for New York State Assembly as a Whig candidate in 1834. After marrying, he returned to politics and was elected to the U.S. House of Representatives in 1843. Fish ran for New York's Lieutenant Governor in 1846, falling to a Democratic Anti-Rent Party contender. When the office was vacated in 1847, Fish ran and was elected to the position. In 1848 he ran and was elected Governor of New York, serving one term. In 1851, he was elected U.S. Senator for the state of New York, serving one term. Fish gained valuable experience serving on the U.S. Senate Committee on Foreign Relations. During the 1850s he became a Republican after the Whig party dissolved. In terms of the slavery issue, Fish was a moderate, having disapproved of the Kansas–Nebraska Act and the expansion of slavery. After traveling to Europe, Fish returned to America and supported Abraham Lincoln as the Republican candidate for President in 1860. During the American Civil War, Fish raised money for the Union war effort and served on Lincoln's presidential commission that made successful arrangements for Union and Confederate troop prisoner exchanges. Fish returned to his law practice after the Civil War, and was thought to have retired from political life. When Ulysses S. Grant was elected President in 1868, he appointed Fish as U.S. Secretary of State in 1869. Fish took on the State Department with vigor, reorganized the office, and established civil service reform. During his 8-year tenure, Fish had to contend with Cuban belligerency, the settlement of the Alabama claims, Canada–US border disputes, and the Virginius incident. Fish implemented the new concept of international arbitration, where disputes between countries were settled by negotiations, rather than military conflicts. Fish was involved in a political feud between Senator Charles Sumner and President Grant in the latter's unsuccessful efforts to annex the Dominican Republic. Fish organized a naval expedition in an unsuccessful attempt to open trade with Korea in 1871. Leaving office and politics in 1877, Fish returned to private life and continued to serve on various historical associations. Fish died quietly of old age in his luxurious New York State home in 1893. Historically, Fish has been praised for his calm demeanor under pressure, and for his talented statemanship during his tenure under President Grant and briefly under President Hayes. The hallmark of his career was the Treaty of Washington, peacefully settling the Alabama Claims. Fish also ably handled the Virginus incident, keeping the United States out of war with Spain. Historians have been critical of Fish for his apparent insensitivity for the plight of African Americans during Reconstruction. Fish has been traditionally viewed to be one of America's top ranked Secretary of States by historians. Fish's male descendants would later serve in the U.S. House of Representatives for three generations.
Condition: Excellent
A stock certificate is issued by businesses, usually companies. A stock is part of the permanent finance of a business. Normally, they are never repaid, and the investor can recover his/her money only by selling to another investor. Most stocks, or also called shares, earn dividends, at the business's discretion, depending on how well it has traded. A stockholder or shareholder is a part-owner of the business that issued the stock certificates.
Item ordered may not be exact piece shown. All original and authentic.