Cincinnati, Indianapolis, St. Louis and Chicago Railway Co. Transferred to C.P. Huntington & Signed by M.E. Ingalls - Railroad Stock Certificate
Inv# AG2331B
Stock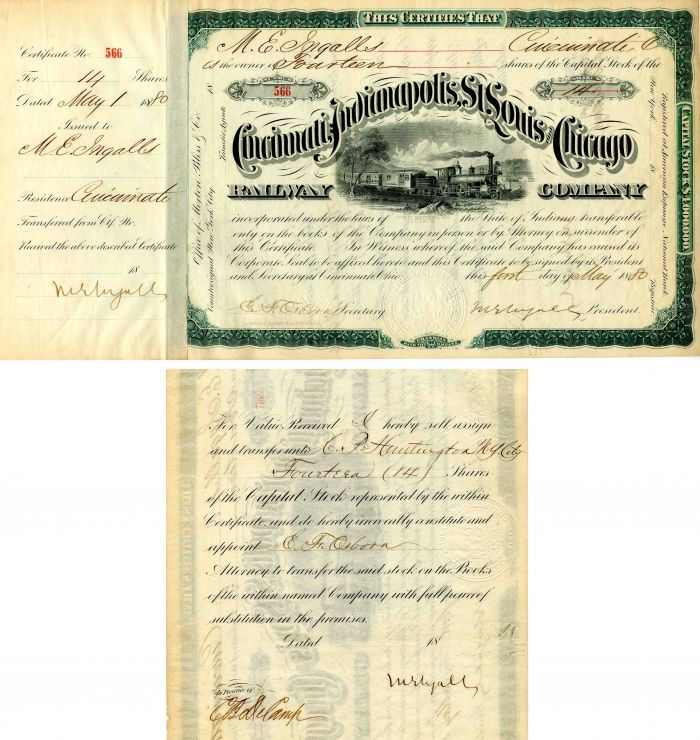 State(s): Illinois
New York

Years: 1880
Stock issued to and signed by M.E. Ingalls. Transferred to but not signed by C.P. Huntington on back. Nice!
Collis Potter Huntington (October 22, 1821 – August 13, 1900) was an American industrialist and railway magnate. He was one of the Big Four of western railroading (along with Leland Stanford, Mark Hopkins, and Charles Crocker) who invested in Theodore Judah's idea to build the Central Pacific Railroad as part of the first U.S. transcontinental railroad. Huntington helped lead and develop other major interstate lines, such as the Southern Pacific Railroad and the Chesapeake & Ohio Railway (C&O), which he was recruited to help complete. The C&O, completed in 1873, fulfilled a long-held dream of Virginians of a rail link from the James River at Richmond to the Ohio River Valley. The new railroad facilities adjacent to the river there resulted in expansion of the former small town of Guyandotte, West Virginia into part of a new city which was named Huntington in his honor.
Turning attention to the eastern end of the line at Richmond, Huntington directed the C&O's Peninsula Extension in 1881–82, which opened a pathway for West Virginia bituminous coal to reach new coal piers on the harbor of Hampton Roads for export shipping. He also is credited with the development of Newport News Shipbuilding and Drydock Company, as well as the incorporation of Newport News, Virginia as a new independent city. After his death, both his nephew Henry E. Huntington and his stepson Archer M. Huntington continued his work at Newport News. All three are considered founding fathers in the community, with local features named in honor of each. Read more at https://en.wikipedia.org/wiki/Collis_Potter_Huntington
Melville Ezra Ingalls (1842–1914), commonly abbreviated M. E. Ingalls, was a Massachusetts state legislator who went on to become president of the Cleveland, Cincinnati, Chicago and St. Louis Railroad (the Big Four Railroad). Ingalls was born on September 6, 1842 in Harrison, Maine, where he worked on the family farm until he began teaching at the age of 16. After graduating from Harvard Law School in 1863, Ingalls began practicing law in Gray, ME before moving to Boston, Massachusetts, where he became an expert in corporate law, specializing in transportation lines. In 1871, he was retained as counsel to the Cincinnati and Lafayette Railroad and would eventually become its president. After multiple consolidations under his watch, the company became known as the Big Four Railroad.
Ingalls also organized the Joint Traffic Association, which was shut down by the United States Supreme Court and co-founded the Cincinnati Technical School. He is the grandfather of David Sinton Ingalls. Read more at https://en.wikipedia.org/wiki/Melville_E._Ingalls
The Cincinnati, Indianapolis, St. Louis and Chicago Railway (CISL&C) was a railroad in the United States. The CISL&C resulted from the 1880 corporate restructuring of the bankrupt Indianapolis, Cincinnati and Lafayette Railroad (IC&L). The CISL&C operated a railroad line from Cincinnati via Indianapolis to Lafayette, being the result of an 1867 merger of the Indianapolis and Cincinnati Railroad (I&C), the Lafayette and Indianapolis Railroad (L&I), and the Cincinnati and Indiana Railroad (C&I). The three predecessor companies had been founded in 1850, 1846, and 1861, respectively.
The CISL&C controlled and operated numerous subsidiary railway companies operating smaller branch lines. These included:
In 1889, the railway merged with the Cleveland, Columbus, Cincinnati and Indianapolis Railway and the Indianapolis and St Louis Railway to form the Cleveland, Cincinnati, Chicago and St. Louis Railway, also known collectively as the Big Four. Read more at https://en.wikipedia.org/wiki/Cincinnati,_Indianapolis,_St._Louis_and_Chicago_Railway
Condition: Excellent
A stock certificate is issued by businesses, usually companies. A stock is part of the permanent finance of a business. Normally, they are never repaid, and the investor can recover his/her money only by selling to another investor. Most stocks, or also called shares, earn dividends, at the business's discretion, depending on how well it has traded. A stockholder or shareholder is a part-owner of the business that issued the stock certificates.
Item ordered may not be exact piece shown. All original and authentic.