Cincinnati, Hamilton and Dayton Railroad Co. signed by J. H. Wade - Stock Certificate
Inv# AG2241
Stock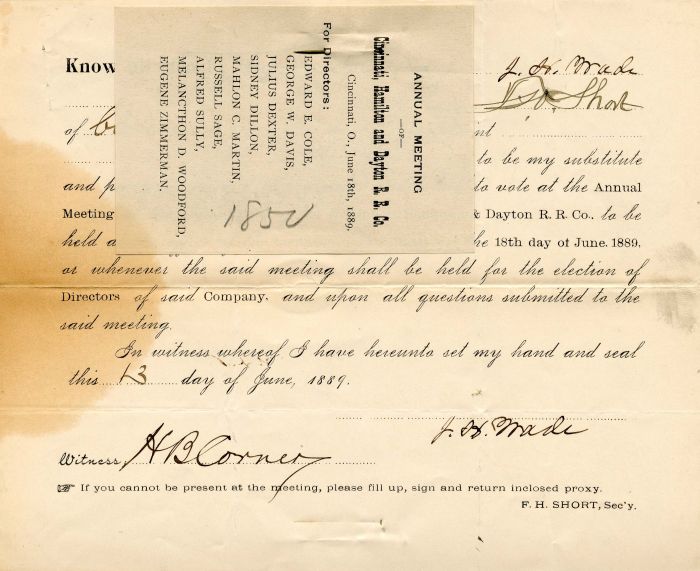 State(s): Ohio

Years: 1889
Power of Attorney for the annual meeting of the Cincinnati, Hamilton and Dayton Railroad Company signed by J. H. Wade.
Jeptha Homer Wade (August 11, 1811 – August 9, 1890) was an American industrialist, philanthropist, and one of the founding members of Western Union Telegraph.
Born in Romulus, New York, youngest of nine children of Jeptha and Sarah (Allen) Wade. Made first Daguerreotypes west of New York, was a portrait painter, moved to Adrian, Michigan, in 1840, before developing an interest in the telegraph. In 1847, he was subcontractor for J.J. Speed and constructed a telegraph line from Detroit to Jackson, Michigan, where Wade and his son operated the telegraph office. Then Detroit to Buffalo, Cleveland to Cincinnati (Cleveland and Cincinnati Telegraph Company, the Wade Line),and others. Wade moved to Cleveland, Ohio in 1856 and built a mansion on Euclid Avenue along Millionaires' Row. In the same year he helped Hiram Sibley consolidate most of the telegraph industry by forming Western Union through a series of acquisitions and mergers. In 1861, Jeptha Wade joined forces with Benjamin Franklin Ficklin and Hiram Sibley to form the Pacific Telegraph Company. With it, the final link between the east and west coast of the United States was made by telegraph. Wade became president of Western Union in 1866, and a year later he resigned because of ill-health, and sold his interests to Jay Gould.
He was an incorporator of the Cleveland Rolling Mill Company and the Citizens Savings and Loan Association becoming its first president, president of National Bank of Commerce, served on the board of directors of eight railroads.
Wade used his vast wealth to benefit the city of Cleveland. In 1882, he donated 63 acres  of land east of the city for the purpose of creating a park, which was named in his honor. Wade Park is Cleveland's cultural center surrounded by the Cleveland Museum of Art, the Cleveland Museum of Natural History, the Western Reserve Historical Society and the Cleveland Botanical Garden.
Wade also was heavily involved with the establishment of Hathaway Brown School, a private academy for young girls and women. He also co-founded the Case School of Applied Technology, part of Case Western Reserve University. In addition, Wade served as the first President of the Board of Trustees for Lake View Cemetery on Cleveland's east side.
Wade married Rebecca Louiza Facer in 1832, who bore his first son, Randall Palmer Wade, later that year. Rebecca Wade died November 30, 1836 at the age of 24. He re-married in 1837 to Susan Maranda Fleming, with whom they adopted 4 more children. All are buried in Lake View Cemetery, Cleveland.
The Cincinnati, Hamilton and Dayton Railroad (CH&D) was a railroad based in the U.S. state of Ohio that existed between its incorporation on March 2, 1846, and its acquisition by the Baltimore and Ohio Railroad in December 1917. (This railroad should not be confused with the Cincinnati, Hamilton & Dayton Railway, an Ohio interurban of exactly the same name which existed between 1926 and 1930.) It was originally chartered to build from Cincinnati to Hamilton, Ohio, and then to Dayton, a distance of 59 mi (95 km); further construction and acquisition extended the railroad, and by 1902 it owned or controlled 640 mi (1,030 km) of railroad. Its stock and bond value plunged in late 1905 after "financial mismanagement of the properties" was revealed.
The original CH&D was founded by John Alexander Collins, who was born on June 8, 1815 in Staffordshire, England. He came to the US as a child in 1825, and worked as a locomotive engineer until moving to Ohio in 1851 to open the CH&D. Collins remained with the line until 1872, six years before his death in Covington, Kentucky. Collins is buried in Woodland Cemetery in Dayton, where his tombstone details his life and its work.
The railway received a charter from the State of Ohio on March 2, 1846 as the "Cincinnati and Hamilton Railroad". The name was changed by the legislature to the Cincinnati, Hamilton and Dayton Railway on February 8, 1847. Work on the road began in 1850, and by September of that year the right of way had been obtained between Cincinnati and Hamilton, with the right of way between Hamilton and Dayton being sought. The road was graded by this time as well, since iron for the rails had arrived. By May 1851, the entire right of way was purchased and grading along the entire route finished. The first trains ran on September 18, 1851: Two special inaugural trains from Dayton met two special inaugural trains from Cincinnati at Hamilton.
On May 1, 1863, the CH&D leased the Dayton and Michigan Railroad in perpetuity. In 1891, it acquired the Cincinnati, Dayton and Chicago Railroad, while in March of that year it added the Cincinnati, Dayton and Ironton Railroad.
In 1886 the CH&D was among the railroads controlled by the financial speculator Henry S. Ives before his spectacular collapse the following year.
The Dayton and Michigan was the second railroad to reach Lima, Ohio, reaching there in 1858. By 1880, they had established a significant shop facility on the north side of town with over two hundred employees. The Detroit and Michigan had a freight depot west of the tracks and south of East North Street, between North Central Avenue (once Tanner Street) and North Jackson Street. Successor CH&D built a larger structure on the site, which continued to be used by the Baltimore and Ohio at least into the 1950s. The passenger depot followed a similar pattern, but was located farther north, between East Wayne Street and the Pennsylvania Railroad tracks.
Condition: Excellent
A stock certificate is issued by businesses, usually companies. A stock is part of the permanent finance of a business. Normally, they are never repaid, and the investor can recover his/her money only by selling to another investor. Most stocks, or also called shares, earn dividends, at the business's discretion, depending on how well it has traded. A stockholder or shareholder is a part-owner of the business that issued the stock certificates.
Item ordered may not be exact piece shown. All original and authentic.