Chicago Town Co. of Virginia signed by General Fitzhugh Lee -Autographed Stock
Inv# AG2195
Stock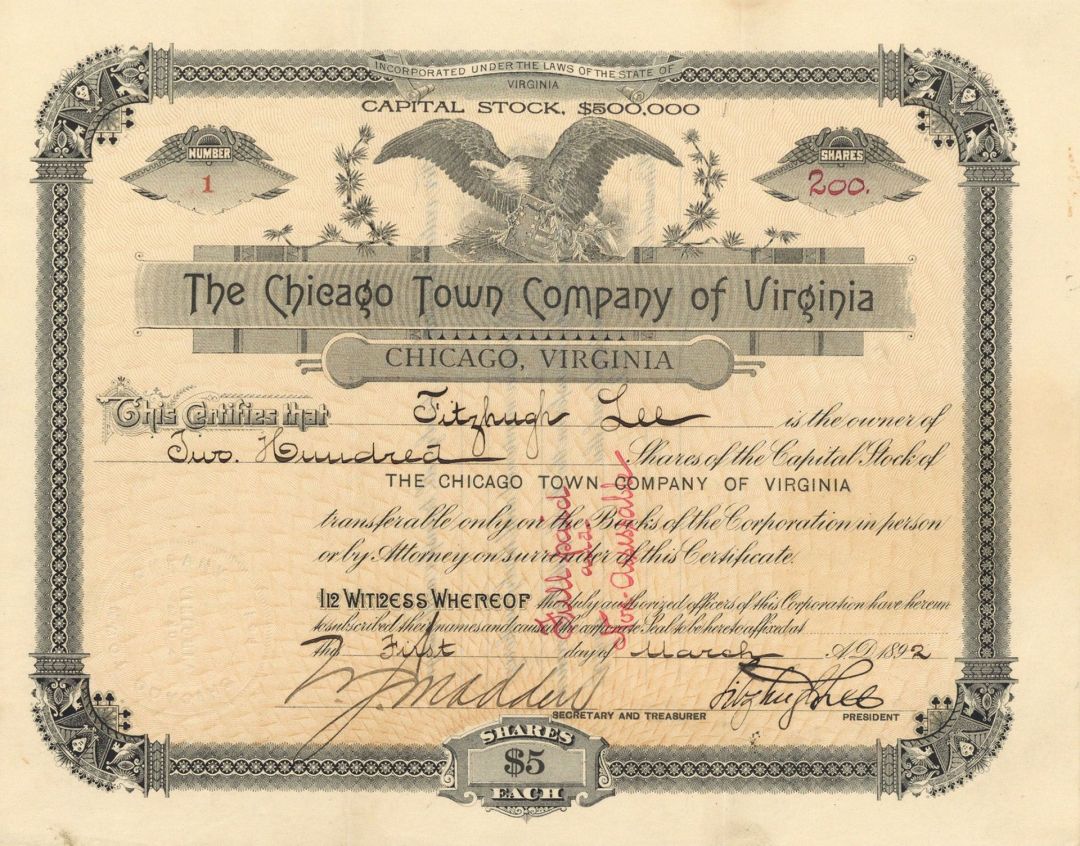 View Larger Image
State(s): Illinois
Virginia

Years: 1892
Stock issued to and signed by General Fitzhugh Lee. Certificate #1 and 9 available! Rare!
Fitzhugh Lee (1835-1905), nephew of Robert E. Lee, was a Confederate cavalry general in the American Civil War, Governor of Virginia, diplomat, and U.S. Army general in the Spanish-American War.
Lee was born at "Clermont," in Fairfax County, Virginia. He was the grandson of "Light Horse Harry" Lee, and the nephew of Robert E. Lee. His father, Sydney Smith Lee, was a fleet captain under Commodore Perry in Japanese waters and rose to the rank of Commodore; his mother was a granddaughter of George Mason and the sister of James Murray Mason. Graduating from the United States Military Academy in 1856, he was commissioned a second lieutenant in the 2nd U.S. Cavalry, which was commanded by Colonel Albert Sidney Johnston, and in which his uncle, Robert E. Lee, was lieutenant colonel. As a cavalry subaltern, he distinguished himself by his gallant conduct in actions against the Comanches in Texas, and was severely wounded in a fight in Nescutunga, Texas, in 1859. In May 1860, he was appointed instructor of cavalry at West Point, but resigned his commission upon the secession of Virginia.
Lee joined the Confederate States Army as a lieutenant of cavalry and served at first as a staff officer to Brig. Gen. Richard S. Ewell at the First Battle of Bull Run. He was promoted to lieutenant colonel of the 1st Virginia Cavalry in August 1861, serving under Colonel J.E.B. Stuart. Lee became colonel of the regiment in March 1862 and was promoted to brigadier general on July 24, 1862.
After Chancellorsville, Lee was incapacitated by inflammatory rheumatism, missing a month of action, which included the significant cavalry operations at the Battle of Brandy Station. He recovered in time to lead a brigade in Jeb Stuart's ride around the Union Army in the early days of the Gettysburg Campaign, with his most significant contribution being at the Battle of Carlisle. During the Battle of Gettysburg, his brigade fought unsuccessfully in the action at East Cavalry Field. Stuart's report singled out no officer in his command for praise except Fitz Lee, who he said was "one of the finest cavalry leaders on the continent, and richly [entitled] to promotion." Lee was promoted to major general on Aug. 3, 1863.
After the war, Lee devoted himself to farming in Stafford County, VA, and was conspicuous in his efforts to reconcile the Southern people to the issue of the war, which he regarded as a final settlement of the questions at issue. In 1875, he attended the Battle of Bunker Hill centennial at Boston and delivered a remarkable address. In 1885, he was a member of the board of visitors of West Point, and from 1886-1890 was governor of Virginia.
In April 1896, Lee was appointed consul-general at Havana by President Cleveland, with duties of a diplomatic and military character added to the usual consular business. In this post (in which he was retained by President William McKinley until 1898) he was from the first called upon to deal with a situation of great difficulty, which culminated with the destruction of the warship USS Maine. Upon the declaration of war between Spain and the U.S., he re-entered the army. He was one of the three ex-Confederate general officers who were made major generals of United States Volunteers. Fitzhugh Lee commanded the VII Army Corps, but took no part in the actual operations in Cuba. He was military governor of Havana and Pinar del Rio in 1899, subsequently commanded the Department of the Missouri, and retired as a brigadier general, U.S. Army in 1901. Lee was an early leader of the committee for the Jamestown Exposition, which was held at Sewell's Point on Hampton Roads in 1907.
Lee wrote the article about Robert E. Lee in the Great Commanders series (1894), and Cuba's Struggle Against Spain (1899).
Condition: Excellent
A stock certificate is issued by businesses, usually companies. A stock is part of the permanent finance of a business. Normally, they are never repaid, and the investor can recover his/her money only by selling to another investor. Most stocks, or also called shares, earn dividends, at the business's discretion, depending on how well it has traded. A stockholder or shareholder is a part-owner of the business that issued the stock certificates.
Item ordered may not be exact piece shown. All original and authentic.