Chemical National Bank Signed by Wm. Astor - 1875 Autograph
Inv# AU1764
Autograph

View Larger Image
State(s): New York

Years: 1875
Check signed by Wm. Astor on back. Also signed on front by Caroline Astor. 2 cents revenue stamp!
William Backhouse Astor, Sr. (1792-1875) William Backhouse Astor, Sr. was a businessman and member of the prominent Astor family. William Backhouse Astor, Sr. inherited the bulk of his father's estate and also that of his uncle Henry Astor who had died a wealthy man but without children. The combined inheritance made William Astor the richest man in the United States. He was the last member of the Astor family to enjoy this distinction. During the American Civil War he successfully brought a case against the income tax imposed by the United States government, which was ruled unconstitutional. His management of the family real estate holdings succeeded in multiplying their value, and he left an estate worth close to $50 million. It was at this time that the Astor fortune underwent its first major division, between William Backhouse Astor, Jr. (1830-1892) and John Jacob Astor III (1822-1890), whose son William Waldorf Astor relocated to Great Britain in 1893. His sons, whose side-by-side mansions were on the site later occupied by the first Waldorf=Astoria Hotel (a family property) and then the Empire State Building, inaugurated an era of both more flamboyant living and more generous philanthropy than their austere father and grandfather.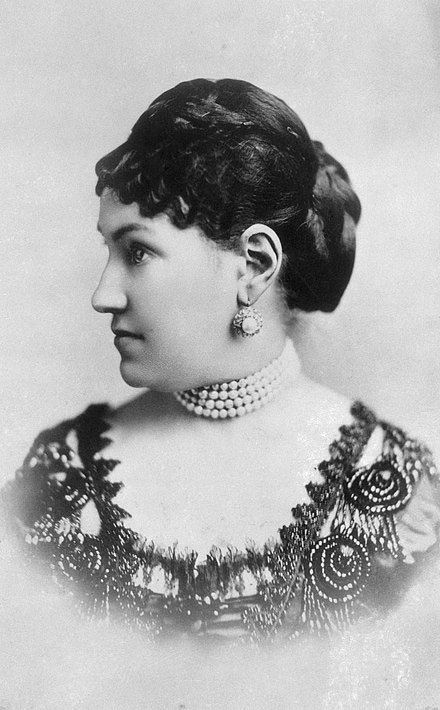 Caroline Webster "Lina" Schermerhorn Astor (September 22, 1830 – October 30, 1908) was a prominent American socialite of the second half of the 19th century who led the Four Hundred. Famous for being referred to later in life as "the Mrs. Astor" or simply "Mrs. Astor", she was the wife of yachtsman William Backhouse Astor Jr. They had five children, including Colonel John Jacob Astor IV, who perished on the RMS Titanic. Through her marriage, she was a prominent member of the Astor family and matriarch of the male line of American Astors.
Condition: Excellent
Item ordered may not be exact piece shown. All original and authentic.