Card signed by Al Kaline - Autographs
Inv# AU1699
Autograph

View Larger Image
State(s): New York

Years: 1974
Typed Thank you card and envelope signed by Al Kaline.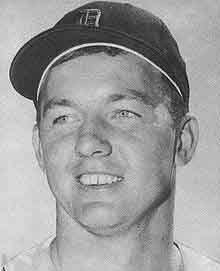 Albert William Kaline (/ˈkeɪlaɪn/; born December 19, 1934), nicknamed "Mr. Tiger", is an American former Major League Baseball right fielder. He is a member of the Baseball Hall of Fame. Kaline played his entire 22-year baseball career with the Detroit Tigers. For most of his career, Kaline played in the outfield, mainly as a right fielder where he won ten Gold Gloves and was known for his strong throwing arm. He was selected to 18 All-Star Games and was selected as an All-Star each year between 1955 and 1967. Near the end of his career, Kaline also played as first baseman and, in his last season, was the Tigers' designated hitter. He retired not long after reaching the 3,000 hit milestone. Immediately after retiring from playing, he became the Tigers' TV color commentator, a position he held until 2002. Kaline still works for the Tigers as a front office official.
Condition: Excellent
Item ordered may not be exact piece shown. All original and authentic.