Bond of the Bank of Pensacola - 1830's dated Set of 3 Bonds - Great Florida Territory Collection
Inv# GB5590
Bond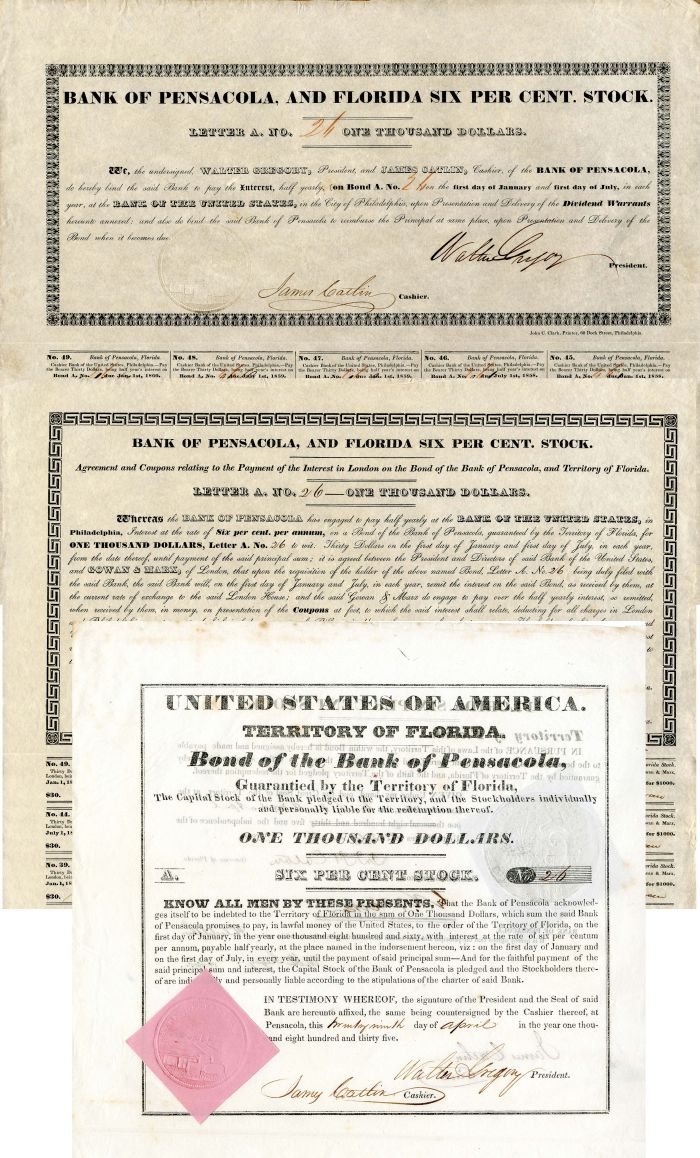 State(s): Florida

Years: 1835-1836
$1,000 1835 6% Coupons Loan Pensacola, Territory of Florida. Bond of the Bank of Pensacola per the Territory of Florida in 3 separate parts. Overall size appx. 18" x 10". Set of 3 Bonds.
The original inhabitants of the Pensacola Bay area were Native American peoples. At the time of European contact, a Muskogean-speaking tribe known to the Spanish as the Pensacola lived in the region. This name was not recorded until 1677, but the tribe appears to be the source of the name "Pensacola" for the bay and thence the city. Creek people, also Muskogean-speaking, came regularly from present-day southern Alabama to trade, so the peoples were part of a broader regional and even continental network of relations.
The best-known Pensacola culture site in terms of archeology is the Bottle Creek site, a large site located 59 mi (95 km) west of Pensacola north of Mobile, Alabama. This site has at least 18 large earthwork mounds, five of which are arranged around a central plaza. Its main occupation was from 1250 CE to 1550. It was a ceremonial center for the Pensacola people and a gateway to their society. This site would have had easy access by a dugout canoe, the main mode of transportation used by the Pensacola. Read more at https://en.wikipedia.org/wiki/Pensacola,_Florida
Condition: Excellent
A bond is a document of title for a loan. Bonds are issued, not only by businesses, but also by national, state or city governments, or other public bodies, or sometimes by individuals. Bonds are a loan to the company or other body. They are normally repayable within a stated period of time. Bonds earn interest at a fixed rate, which must usually be paid by the undertaking regardless of its financial results. A bondholder is a creditor of the undertaking.
Item ordered may not be exact piece shown. All original and authentic.