Blue Ridge Railroad $1,000 Bond signed by Henry Clews - with Imprinted Revenue
Inv# AG1210
Bond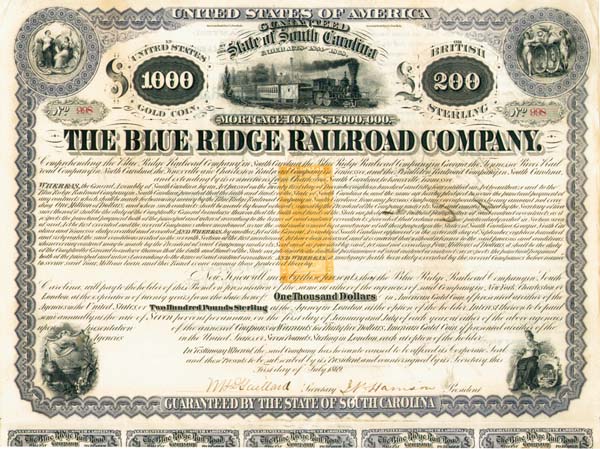 State(s): South Carolina

Years: 1869
$1,000 7% Bond signed on back by Henry Clews. Large size measures 15" x 19 1/2" with coupons.
Henry Clews (August 14, 1834 – January 31, 1923) was a British-American financier and author. Clews was born on August 14, 1834, in Staffordshire, England. He was the youngest of four sons born to Elizabeth "Bessie" (née Kendrick) Clews and James Clews, a prosperous manufacturer of Staffordshire ware. At age 14, while in training for the Anglican Church, Clews traveled to New York City, where he "began to perceive the possibilities that presented themselves to a young man."
Shortly thereafter, Clews emigrated to the United States in 1853. His first job was at a pottery import business, working as a junior clerk for Wilson G. Hunt & Company. He organized the firm of Stout, Clews & Mason and eventually brought his brother James Clews over from England to help him manage a branch of the brokerage firm. In 1859, he co-founded Livermore, Clews, and Company, what was then the second largest marketer of federal bonds during the United States Civil War. In 1877, he split away and started Henry Clews & Company, a member of the New York Stock Exchange, which made him enormously wealthy.
In politics, Clews was a Republican and organized the "Committee of 70," which deposed the corrupt ring associated with William M. Tweed in New York City. He was a friend of President Abraham Lincoln and served as an economic consultant to President Ulysses Grant. Clews, in regards to Grant & Ward, Grant's brokerage firm with Ferdinand Ward, was quoted as saying "It is marvelous how the idea of large profits when presented to the mind in a plausible light has the effect of stifling suspicion." Read more at https://en.wikipedia.org/wiki/Henry_Clews
The Blue Ridge Railroad was incorporated by the Commonwealth of Virginia in March 1849 to provide a state-financed crossing of the Blue Ridge Mountains for the Virginia Central Railroad, which it became a part of after completion.
The early railroads in Virginia were privately owned, but often received partial state-funding through investments by the Virginia Board of Public Works, which was always keen to help with internal improvements in the state's transportation infrastructure. The Louisa Railroad Company (renamed Virginia Central in 1850) was chartered by the Commonwealth in 1836 and had reached a western point around Mechum's River by 1852.[1] This railroad, which was planned to link the Piedmont region of Virginia with the Shenandoah Valley and points west, had found a planned crossing at Swift Run Gap to be financially unfeasible. Read more at https://en.wikipedia.org/wiki/Blue_Ridge_Railroad_(1849%E2%80%931870)
A bond is a document of title for a loan. Bonds are issued, not only by businesses, but also by national, state or city governments, or other public bodies, or sometimes by individuals. Bonds are a loan to the company or other body. They are normally repayable within a stated period of time. Bonds earn interest at a fixed rate, which must usually be paid by the undertaking regardless of its financial results. A bondholder is a creditor of the undertaking.
Item ordered may not be exact piece shown. All original and authentic.