Blue Ridge Railroad $1,000 Bond signed by Henry Clews
Inv# AG1210
Bond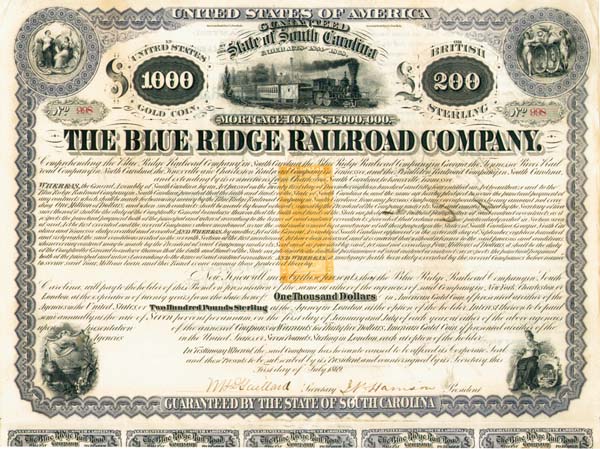 State(s): South Carolina

Years: 1869
Henry Clews (August 14, 1834 – January 31, 1923) was a British-American financier and author.
Clews was born on August 14, 1834, in Staffordshire, England. He was the youngest of four sons born to Elizabeth "Bessie" (née Kendrick) Clews and James Clews, a prosperous manufacturer of Staffordshire ware.
At age 14, while in training for the Anglican Church, Clews traveled to New York City, where he "began to perceive the possibilities that presented themselves to a young man."
Shortly thereafter, Clews emigrated to the United States in 1853. His first job was at a pottery import business, working as a junior clerk for Wilson G. Hunt & Company. He organized the firm of Stout, Clews & Mason and eventually brought his brother James Clews over from England to help him manage a branch of the brokerage firm. In 1859, he co-founded Livermore, Clews, and Company, what was then the second largest marketer of federal bonds during the United States Civil War.
In 1877, he split away and started Henry Clews & Company, a member of the New York Stock Exchange, which made him enormously wealthy.
In politics, Clews was a Republican and organized the "Committee of 70," which deposed the corrupt ring associated with William M. Tweed in New York City. He was a friend of President Abraham Lincoln and served as an economic consultant to President Ulysses Grant. Clews, in regards to Grant & Ward, Grant's brokerage firm with Ferdinand Ward, was quoted as saying "It is marvelous how the idea of large profits when presented to the mind in a plausible light has the effect of stifling suspicion."
Towards the end of his life he wrote one of the most famous classics about life on Wall Street entitled "Fifty Years in Wall Street". His nephew, James Blanchard Clews (son of John Clews), succeeded as senior member of Henry Clews & Co. after the death of Clews in 1923.
In 1874, Clews was married to Lexington, Kentucky born heiress Lucy Madison Worthington (1851–1945). Lucy, a daughter of William Hord Worthington and Anna (née Tomlinson) Worthington, was a second cousin of U.S. President James Madison and American Revolutionary War brigadier general Andrew Lewis. Together, they were the parents of three children, two of whom lived to adulthood:
Clews died of bronchitis in New York City, New York on January 31, 1923. He was buried at Woodlawn Cemetery in the Bronx. His widow died, at the age of 93, at her home, 15 East 69th Street in New York on May 19, 1945.
Through his son Henry, he was the grandfather of Henry Clews III (1903–1983); Louise Hollingsworth Morris Clews (1904–1970), who married Ian Campbell, 11th Duke of Argyll and became the Duchess of Argyll; and Mancha Madison Clews (1915–2006), an electrical engineer.
The Blue Ridge Railway was a 19th-century railroad in the U.S. state of South Carolina. It was originally chartered in 1852 as the Blue Ridge Railroad of South Carolina. Original plans were for a 195-mile line from Anderson, South Carolina, to Knoxville, Tennessee going through the mountains with as many as 13 tunnels including the incomplete Stumphouse Mountain Tunnel.
By 1859, the railroad had built between Anderson and West Union, South Carolina and substantial work on several tunnels had started. However, with the outbreak of the Civil War, no further work was ever completed on the tunnels despite efforts after the war, including one by the Black Diamond Railroad. A final extension from West Union to Walhalla, South Carolina at the urging of the Town Council and local citizens saw the first train arrive November 14, 1877, but no more track would ever be laid along the alignment up Stumphouse Mountain. In 1880, the Columbia and Greenville Railroad acquired the 34 miles (55 km) of track that had been laid. In 1901 the Southern Railway, successor to the Columbia and Greenville, split out the line as the Blue Ridge Railway. The Southern leased the Blue Ridge to subsidiary Carolina and Northwestern Railway on July 1, 1951, and eventually merged the company.
A bond is a document of title for a loan. Bonds are issued, not only by businesses, but also by national, state or city governments, or other public bodies, or sometimes by individuals. Bonds are a loan to the company or other body. They are normally repayable within a stated period of time. Bonds earn interest at a fixed rate, which must usually be paid by the undertaking regardless of its financial results. A bondholder is a creditor of the undertaking.
Item ordered may not be exact piece shown. All original and authentic.