Baltimore and Ohio Railroad issued to and signed by Charles W. Harkness - Railway Stock Certificate
Inv# AG1146
Stock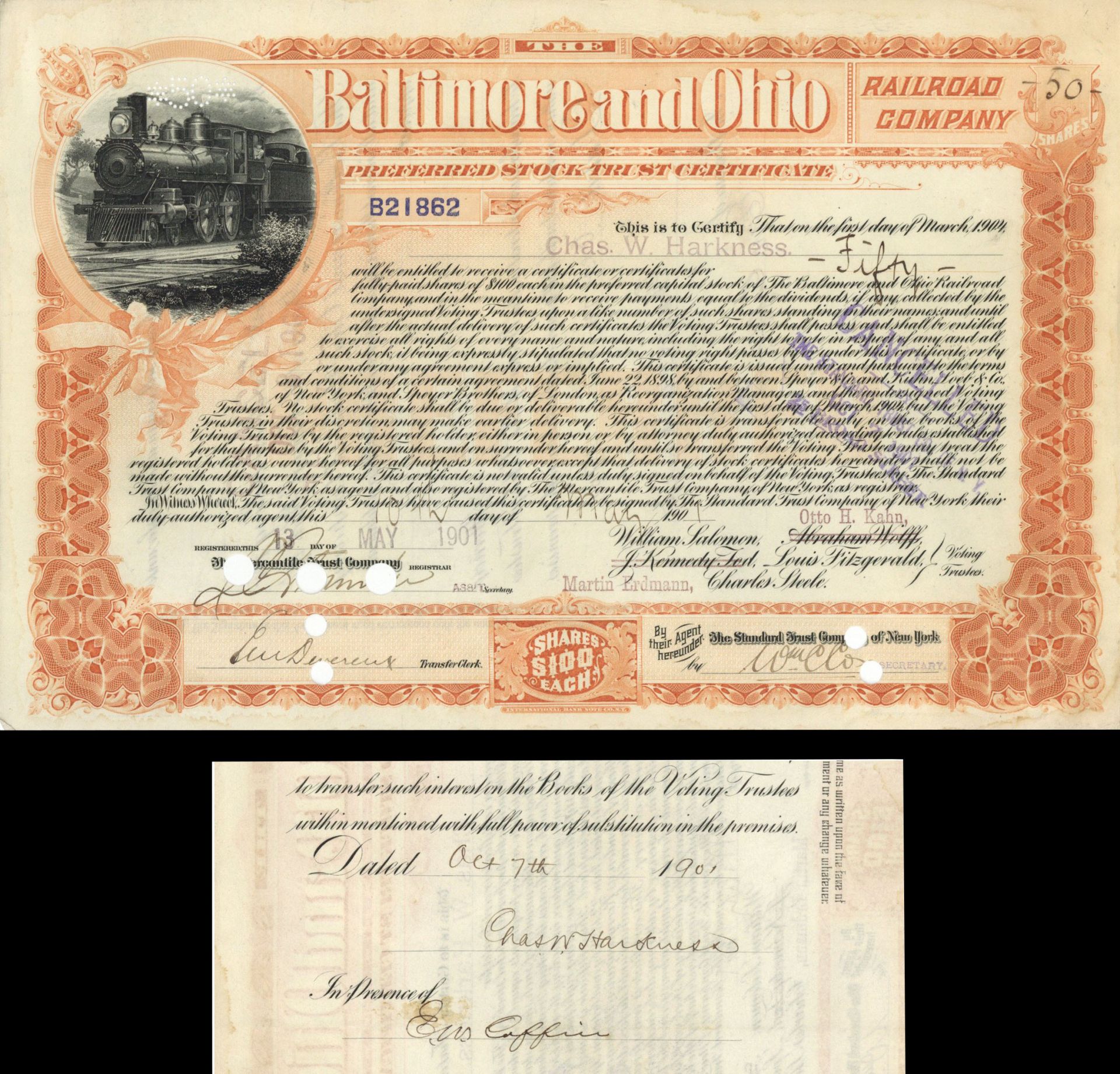 Years: 1901
Charles William Harkness (1860-1916), Lawyer, A.B., Yale, and Columbia Law School. Law practice in New York City 1890's, Director of the Southern Pacific Co. C.M.&St. P. Railway, B & O Railroad. He was also a director of Standard Oil of N.J. Attractive B & O Railroad Stock dated 1901 issued to Harkness and nicely signed at back. Excellent Condition. Rare!
Charles William Harkness (December 17, 1860 – May 1, 1916) was a son of Stephen V. Harkness (an original investor in the company that became Standard Oil) and his second wife, the former Anna M. Richardson.
Charles was born in Monroeville, Ohio on December 17, 1860. His parents were Stephen V. Harkness (1818–1888) and the former Anna Marie Richardson (1837–1926), his father's second wife. He was the brother of Edward Harkness, noted philanthropist and half brother of Lamon V. Harkness. He was a cousin of William L. Harkness.
His early education was in Cleveland at The Brooks Military Academy. He earned a B.A. from Yale College with the Class of 1883. While at Yale, he was described as "care-free, happy, irresponsible as the rest of us."
On his father's death in 1888, Charles inherited stock in Standard Oil amounting to the second largest holding in the company, surpassed only by that of the Rockefeller family. Harkness became a director at Standard Oil and was a director of the Southern Pacific Railway Company, the Chicago, Milwaukee and St. Paul Railway, the Baltimore and Ohio Railroad, and the Tilden Iron Mining Company, and managed his father's immense holdings.
Harkness purchased the Henry Flagler townhouse at 685 Fifth Ave, New York and also owned a home in Madison, NJ and a winter home in St. Augustine, FL.
On May 27, 1896, Harkness married Miss Mary Warden in Philadelphia, PA. Mary was the daughter of William G. Warden, who was an early Standard Oil partner, and the granddaughter of industrialist Daniel Bushnell.
Harkness fell seriously ill in fall 1915. After spending part of winter in St.Augustine at his wife's family home at Warden Castle, he returned home to New York, where he died May 1, 1916. Since he had no children, the large portion of his Standard Oil stock was left to his brother Edward S. Harkness. One half his residual estate, his home in New York at 2 West 54th Street and his country home in Madison, NJ (designed by James Gamble Rogers who designed many Harkness buildings) were bequeathed to his wife Mary. He left $100,000 as a token of affection and esteem to his brother Lamon V. Harkness although Lamon had already died a year before Charles' death. Lamon had been quite wealthy in his own right from his inheritance from their father Stephen V. Harkness.
Harkness Tower at Yale is named after Charles W. Harkness. Anna Harkness, his mother, donated $3,000,000 to build the Memorial Quadrangle of dormitories in his memory. Harkness Tower contains the Yale Memorial Carillon, a carillon of 54 bells, the largest of which is inscribed "In Memory of Charles W. Harkness, Class of 1883, Yale College."
The Cleveland Museum of Art has a $100,000 permanent endowment known as the Charles W. Harkness Endowment Fund, which was created through a donation from his widow, Mary Warden Harkness.
The Baltimore and Ohio Railroad (reporting marks B&O, BO) was the first common carrier railroad and the oldest railroad in the United States, with its first section opening in 1830. It came into being mostly because the city of Baltimore wanted to compete with the newly constructed Erie Canal (which served New York City) and another canal being proposed by Pennsylvania, which would have connected Philadelphia and Pittsburgh. At first this railroad was located entirely in the state of Maryland, with an original line built from the port of Baltimore west to Sandy Hook. At this point to continue westward, it had to cross into Virginia (now West Virginia) over the Potomac River, adjacent to the confluence of the Potomac and Shenandoah rivers.
From there it passed through Virginia from Harpers Ferry to a point just west of the junction of Patterson Creek and the North Branch Potomac River, where it crossed back into Maryland to reach Cumberland. From there it was extended to the Ohio River at Wheeling and a few years later also to Parkersburg, West Virginia. It continued to construct lines into Ohio, including a junction at Portsmouth. In later years, B&O advertising carried the motto: "Linking 13 Great States with the Nation." As part of a series of mergers, the B&O is now part of the CSX Transportation (CSX) network.
The B&O also included the Leiper Railroad, the first permanent horse-drawn railroad in the U.S. At the end of 1970, the B&O operated 5,552 miles of road and 10,449 miles of track, not including the Staten Island Rapid Transit (SIRT) or the Reading and its subsidiaries. It includes the oldest operational railroad bridge in the United States. When CSX established the B&O Railroad Museum as a separate entity from the corporation, it donated some of the former B&O Mount Clare Shops in Baltimore, including the Mt. Clare roundhouse, to the museum, while selling the rest of the property.
The B&O Warehouse at the Camden Yards rail junction in Baltimore now dominates the view over the right-field wall at the Baltimore Orioles' current home, Oriole Park at Camden Yards. Part of the B&O Railroad's immortality has come from being one of the four featured railroads on the U.S. version of the board game Monopoly. It is the only railroad on the board that did not directly serve Atlantic City, New Jersey. (Wikipedia)
A stock certificate is issued by businesses, usually companies. A stock is part of the permanent finance of a business. Normally, they are never repaid, and the investor can recover his/her money only by selling to another investor. Most stocks, or also called shares, earn dividends, at the business's discretion, depending on how well it has traded. A stockholder or shareholder is a part-owner of the business that issued the stock certificates.
Item ordered may not be exact piece shown. All original and authentic.