Baltimore and Ohio Railroad Co. signed by Henry Clews - Autograph Railway Stock Certificate
Inv# AG2295
Stock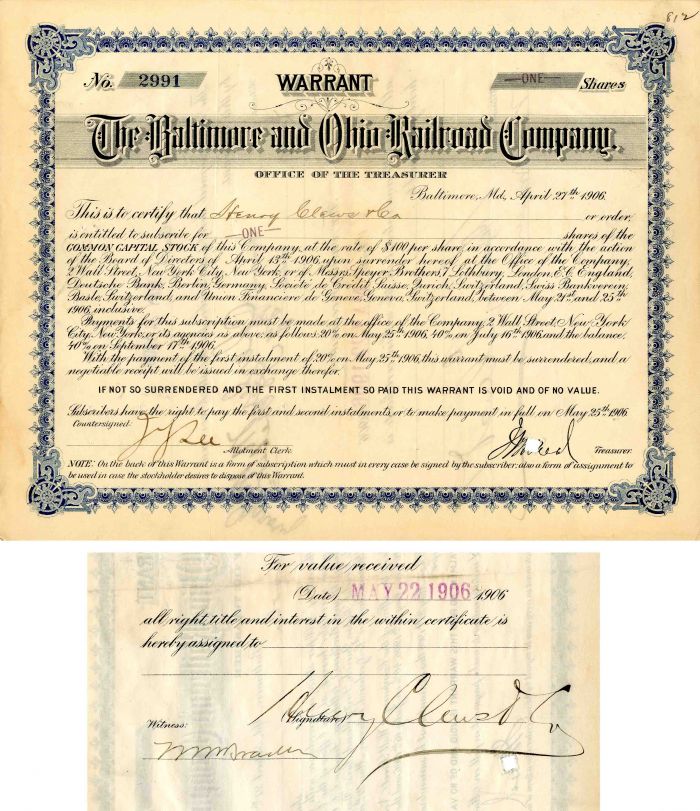 State(s): Maryland

Years: 1906
Stock issued to Henry Clews & Co. and signed by Henry Clews for the company.
Henry Clews (August 14, 1834 – January 31, 1923) was a British-American financier and author.
Clews was born on August 14, 1834, in Staffordshire, England. He was the youngest of four sons born to Elizabeth "Bessie" (née Kendrick) Clews and James Clews, a prosperous manufacturer of Staffordshire ware.
At age 14, while in training for the Anglican Church, Clews traveled to New York City, where he "began to perceive the possibilities that presented themselves to a young man."
Shortly thereafter, Clews emigrated to the United States in 1853. His first job was at a pottery import business, working as a junior clerk for Wilson G. Hunt & Company. He organized the firm of Stout, Clews & Mason and eventually brought his brother James Clews over from England to help him manage a branch of the brokerage firm. In 1859, he co-founded Livermore, Clews, and Company, what was then the second largest marketer of federal bonds during the United States Civil War.
In 1877, he split away and started Henry Clews & Company, a member of the New York Stock Exchange, which made him enormously wealthy. Read more at https://en.wikipedia.org/wiki/Henry_Clews
Condition: Excellent
A stock certificate is issued by businesses, usually companies. A stock is part of the permanent finance of a business. Normally, they are never repaid, and the investor can recover his/her money only by selling to another investor. Most stocks, or also called shares, earn dividends, at the business's discretion, depending on how well it has traded. A stockholder or shareholder is a part-owner of the business that issued the stock certificates.
Item ordered may not be exact piece shown. All original and authentic.