Baltimore and Ohio Railroad Co. Issued to and Signed by Henry Lyle Baron Dunleath - Stock Certificate
Inv# AG2311
Stock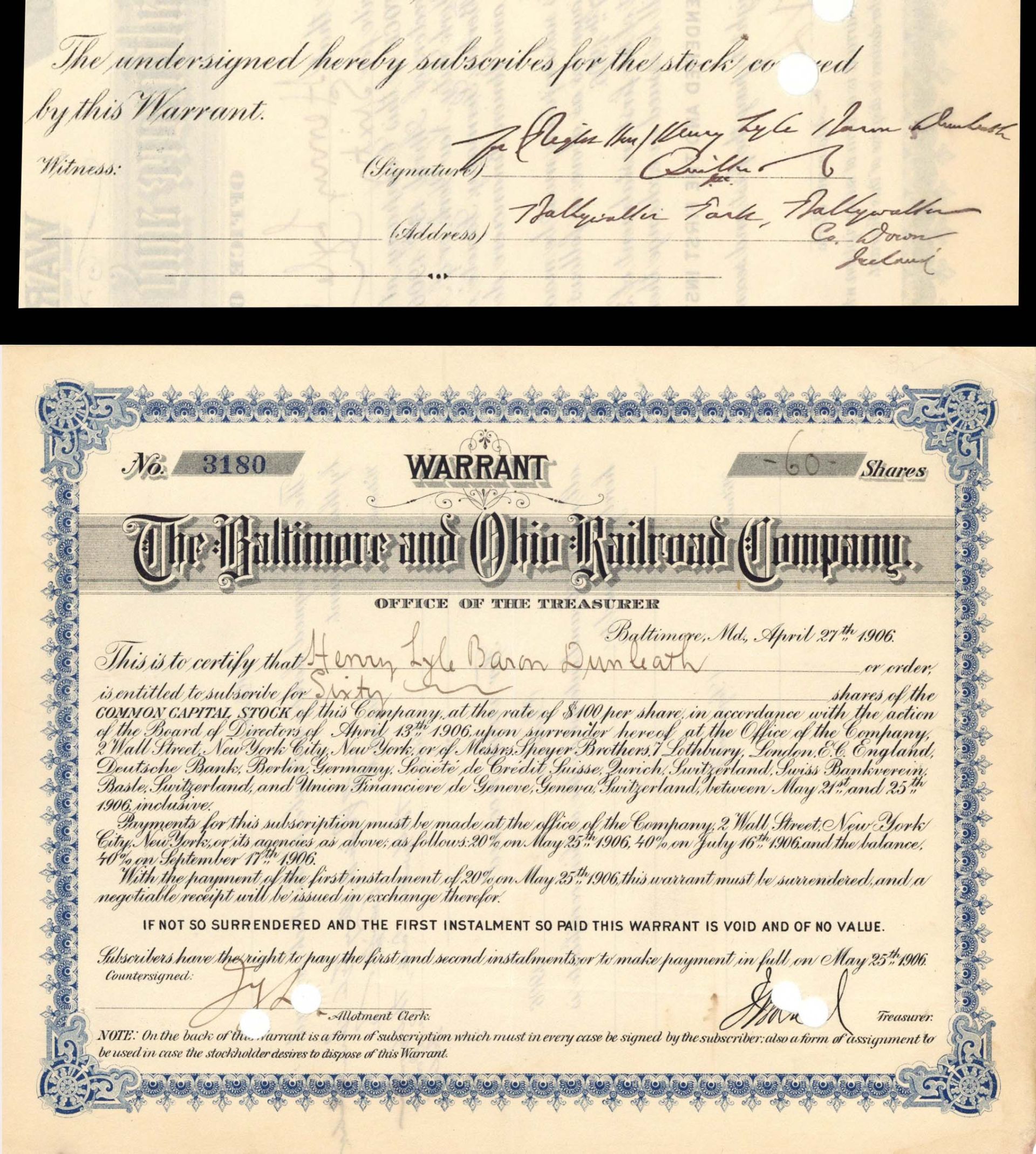 State(s): Maryland

Years: 1906
Stock issued to and signed on back by Henry Lyle Baron Dunleath.
Henry Lyle Mulholland, 2nd Baron Dunleath (30 January 1854 – 22 March 1931), was an Irish Conservative Member of Parliament.
Dunleath was the second son of John Mulholland, 1st Baron Dunleath and the former Frances Louisa Lyle (d. 1909). His older brother was the Hon. Andrew Walter Mulholland, who died without issue at age 24 in 1877. His younger siblings included Hon. Alfred John Mulholland (who married Mabel Charlotte Saunderson); Hon. Alice Elizabeth Mulholland (wife of John George Beresford Massy-Beresford and mother to Monica Wichfeld); Hon. Helen Mulholland (wife of Sir George Herbert Murray); and Hon. Louisa Frances Mulholland (wife of Edward Roger Murray Pratt).
His mother was a daughter of Harriet Cromie (a daughter of John Cromie) and Hugh Lyle of Knocktarna in County Londonderry. His father was the eldest son of the former Elizabeth MacDonnell (a daughter of Thomas MacDonnell of Belfast) and Lord Mayor of Belfast Andrew Mulholland of Ballywalter Park. The Mulholland family were prominent in the cotton and linen industry in Ireland. He served as High Sheriff of Down in 1884. The following year, he was returned to the British House of Commons for Londonderry North, a seat he held until the 1895 general election. Later that year, he succeeded his father in the barony and entered the House of Lords. n 1881, Lord Dunleath was married to Norah Louisa Fanny Ward, the only surviving daughter of Hon. Somerset Richard Hamilton Augustus Ward (fifth son of Edward Ward, 3rd Viscount Bangor), by his wife Norah Mary Elizabeth Hill (only daughter of Lord George Hill, fifth son of Arthur Hill, 2nd Marquess of Downshire). Together, they were the parents of five children, four sons and one daughter. Through his second son, he was a grandfather of Charles Mulholland, 4th Baron Dunleath (1933–1993.)
Condition: Excellent
A stock certificate is issued by businesses, usually companies. A stock is part of the permanent finance of a business. Normally, they are never repaid, and the investor can recover his/her money only by selling to another investor. Most stocks, or also called shares, earn dividends, at the business's discretion, depending on how well it has traded. A stockholder or shareholder is a part-owner of the business that issued the stock certificates.
Item ordered may not be exact piece shown. All original and authentic.