Baltimore and Ohio Railroad Co. Issued to and Signed by Helen T. Rothschild - Stock Certificate
Inv# AG2395
Stock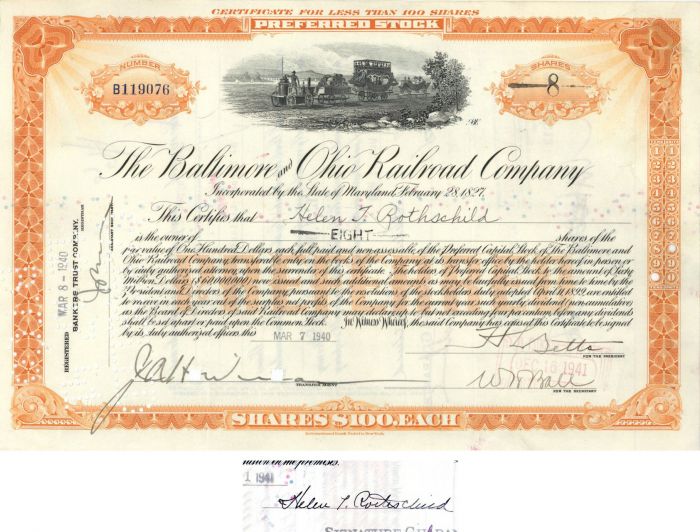 State(s): Maryland
Ohio

Years: 1940
Stock issued to and signed on back by Helen T. Rothschild.
The Rothschild family (/ˈrɒθstʃaɪld/) is a wealthy Jewish family originally from Frankfurt that rose to prominence with Mayer Amschel Rothschild (1744–1812), a court factor to the German Landgraves of Hesse-Kassel in the Free City of Frankfurt, Holy Roman Empire, who established his banking business in the 1760s. Unlike most previous court factors, Rothschild managed to bequeath his wealth and established an international banking family through his five sons, who established businesses in London, Paris, Frankfurt, Vienna, and Naples. The family was elevated to noble rank in the Holy Roman Empire and the United Kingdom. The family's documented history starts in 16th century Frankfurt; its name is derived from the family house, Rothschild, built by Isaak Elchanan Bacharach in Frankfurt in 1567.
During the 19th century, the Rothschild family possessed the largest private fortune in the world, as well as in modern world history. The family's wealth declined over the 20th century, and was divided among many various descendants.Today their interests cover a diverse range of fields, including financial services, real estate, mining, energy, agriculture, winemaking, and nonprofits. Many examples of the family's rural architecture exist across northwestern Europe.
The Rothschild family has frequently been the subject of conspiracy theories, many of which have antisemitic origins.
Condition: Excellent
A stock certificate is issued by businesses, usually companies. A stock is part of the permanent finance of a business. Normally, they are never repaid, and the investor can recover his/her money only by selling to another investor. Most stocks, or also called shares, earn dividends, at the business's discretion, depending on how well it has traded. A stockholder or shareholder is a part-owner of the business that issued the stock certificates.
Item ordered may not be exact piece shown. All original and authentic.