Baltimore and Ohio Railroad Co. Issued to and Signed by Augusta H. Saint-Gaudens - Autograph Stock Certificate
Inv# AG2351
Stock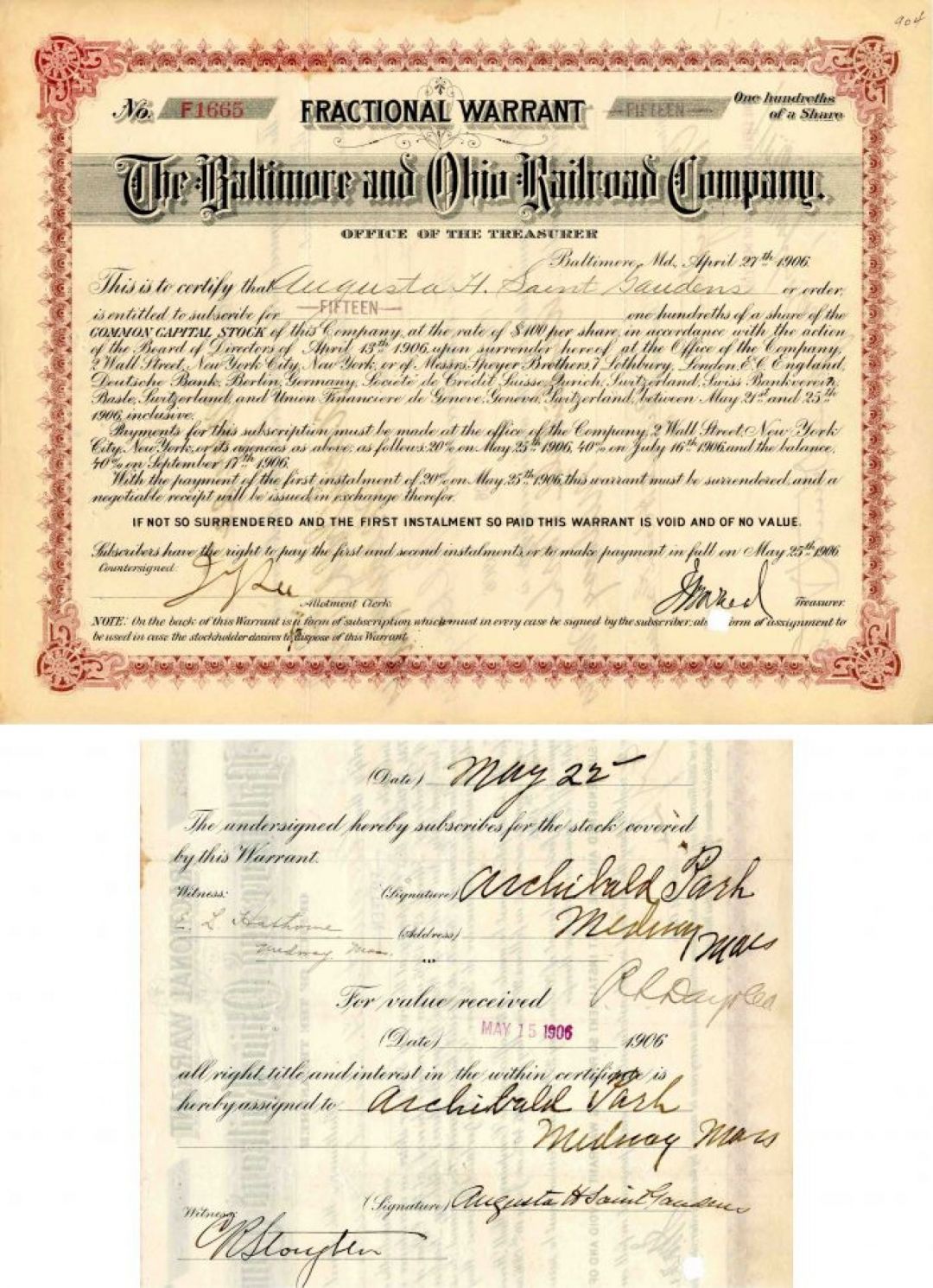 View Larger Image
State(s): Maryland

Years: 1906
Stock issued to and signed on back by Augusta H. Saint-Guadens. (Wife of Augustus) Rare!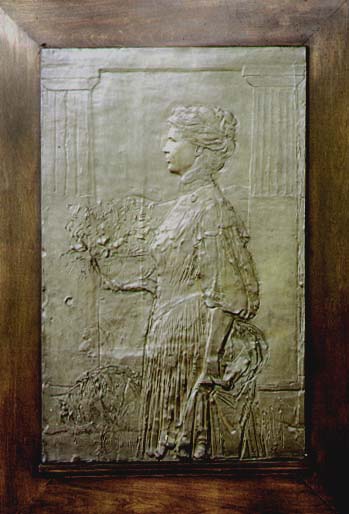 Augusta Fisher Homer Saint-Gaudens (1848-1926) was born in Roxbury (Boston), Massachusetts, the daughter of Thomas Johnston and Elizabeth Fisher Homer. In 1874, while studying painting in Rome, she met Saint-Gaudens. Her parents' consent to the marriage was given when Saint-Gaudens received the commission for the Farragut Monument in December 1876, and they were married in Roxbury on June 4, 1877. The couple departed for Europe on June 6. Augusta's chronic and increasing deafness, as well as her more formal habits, kept her somewhat to the side of the studio hustle and bustle. However, in the sculptor's later years Augusta devoted herself to managing the studio and handling correspondence.
This portrait was begun when the sculptor was dying of cancer and could no longer stand up. Saint-Gaudens claimed that he could not finish it because the dog had been given a "mysterious haircut." Mrs. Saint-Gaudens holds in her right hand a bowl (the Golden Bowl presented to Saint-Gaudens in the 1905 Masque at "Aspet"). In the background are two Doric columns and the landscape as seen from the porch of the Little Studio at "Aspet." In the face of the Sheepdog "Doodles" which Saint-Gaudens has roughly sketched in, he has hidden his own profile, and on Augusta's sleeve is hidden a heart.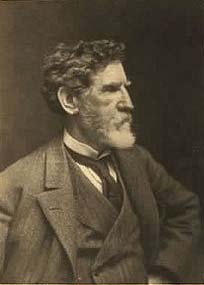 Augustus Saint-Gaudens (/ˌseɪntˈɡɔːdənz/; March 1, 1848 – August 3, 1907) was an American sculptor of the Beaux-Arts generation who embodied the ideals of the American Renaissance. Raised in New York City, he traveled to Europe for further training and artistic study. After he returned to New York, he achieved major critical success for his monuments commemorating heroes of the American Civil War, many of which still stand. Saint-Gaudens created works such as the Robert Gould Shaw Memorial on Boston Common, Abraham Lincoln: The Man, and grand equestrian monuments to Civil War generals: General John Logan Memorial in Chicago's Grant Park and William Tecumseh Sherman at the corner of New York's Central Park. In addition, he created the popular historicist representation of The Puritan.
Saint-Gaudens also created Classical works such as the Diana, and employed his design skills in numismatics. He designed the $20 Saint Gaudens Double Eagle gold piece (1905–1907) for the US Mint, considered one of the most beautiful American coins ever issued, as well as the $10 "Indian Head" gold eagle; both of these were minted from 1907 until 1933. In his later years he founded the "Cornish Colony", an artistic colony that included notable painters, sculptors, writers, and architects. His brother Louis Saint-Gaudens, with whom he occasionally collaborated, was also a well-known sculptor. Read more at https://en.wikipedia.org/wiki/Augustus_Saint-Gaudens
Condition: Good
A stock certificate is issued by businesses, usually companies. A stock is part of the permanent finance of a business. Normally, they are never repaid, and the investor can recover his/her money only by selling to another investor. Most stocks, or also called shares, earn dividends, at the business's discretion, depending on how well it has traded. A stockholder or shareholder is a part-owner of the business that issued the stock certificates.
Item ordered may not be exact piece shown. All original and authentic.