Baltimore and Ohio Railroad Co. Issued to L.F. Rothschild and Co. - Stock Certificate
Inv# AG2397
Stock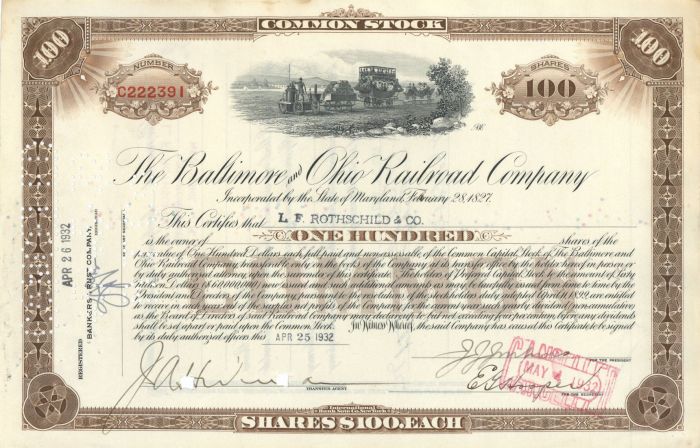 State(s): Maryland
Ohio

Years: 1932
Color: Brown or Olive
Stock issued to L.F. Rothschild & Co. Please specify color.
L.F. Rothschild
 (later known as 

L.F. Rothschild, Unterberg, Tobin)

 was a 
merchant
 and 
investment banking
 firm based in the United States and founded in 1899. The firm collapsed following the 
1987 stock market crash
. 
L.F. Rothschild & Co. was founded in 1899 by Louis F. Rothschild (1869–1957), not related to the European Rothschild family. Together with partner Leonard Hochstadter, Rothschild took up the offices and business of Albert Loeb & Co. at 32 Broadway in New York City, New York. The firm's primary business was sales and trading of fixed income securities. The firm also had an arbitrage group as well as retail brokerage and wealth management operations.
Following its merger with C.E. Unterberg, Towbin in 1977, the firm was known as L.F. Rothschild, Unterberg, Towbin and was led primarily by Thomas I. Unterberg and A. Robert Towbin. As of March 26, 1977, it moved to 55 Water Street, leasing the 45th and 46th floors. The firm was known for its merchant banking investments, particularly in high-technology companies. In the early 1980s, the firm emerged as the leading underwriter of initial public offerings, surpassing the elite investment banks (at the time, including Lehman Brothers, Goldman Sachs, and Morgan Stanley). Among the companies they took public were  Intel, Cray Research, and biotechnology company Cetus Corporation.
In 1986, just ten years after merging with L.F. Rothschild, Towbin and Unterberg left the firm to join Shearson Lehman. The split was attributed to their opposition to plans to expand the firm's bond sales and trading operations. However, in the negotiations with outside firms related to that expansion and capital infusion, at least one particularly attractive offer required that Unterberg and Towbin step down from management positions or leave the firm. Hard feelings between senior management that resulted by considering that offer were believed to be the causal factor behind their departure by most insiders. Ultimately, the firm's stock trading exposure during the stock market crash in 1987 led directly to its demise.
Unterberg left Lehman four years later, in 1990, to form Unterberg Harris.
The firm suffered heavy losses in the 1987 stock market crash and was acquired by Kansas-based Franklin Savings Association in February 1988. However, even with new capital, the firm's holding company, L. F. Rothschild Holdings Inc. filed for Chapter 11 bankruptcy protection in July 1989. By the end of 1989, the firm had gone from a peak of 2,200 employees to 45.
Condition: Excellent
A stock certificate is issued by businesses, usually companies. A stock is part of the permanent finance of a business. Normally, they are never repaid, and the investor can recover his/her money only by selling to another investor. Most stocks, or also called shares, earn dividends, at the business's discretion, depending on how well it has traded. A stockholder or shareholder is a part-owner of the business that issued the stock certificates.
Item ordered may not be exact piece shown. All original and authentic.