Automotive Set of 5 Automobile Stocks Bonds and 5 Prints - 1900's dated Famous Car Makers Collection - Collection of 5 Prints, 4 Stocks and 1 Bond
Inv# AS1233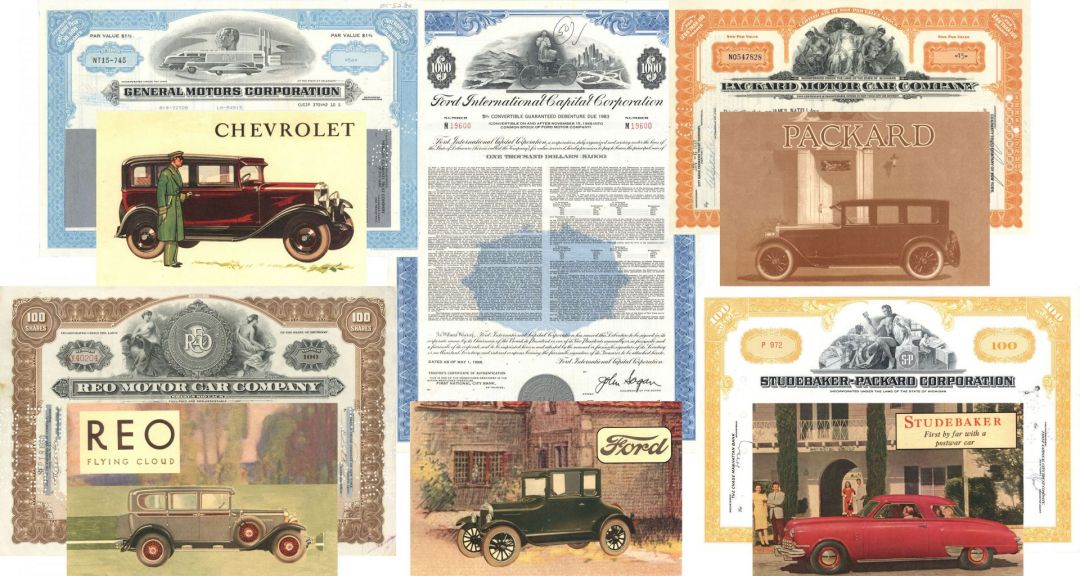 View Larger Image
Years: 1900's
Great collection of 5 automotive stocks and bonds and 5 prints. Includes Ford International Capital Corporation, General Motors, Packard Motors, Reo Motor Car, and Studebaker-Packard. All appropriate for framing with these great graphics and colorful prints!
In relation to Ford International Capital, Ford of Britain (officially Ford Motor Company Limited) is a British wholly owned subsidiary of Ford Technologies Limited (formerly called Blue Oval Holdings), itself a subsidiary of Ford International Capital LLC, which is a subsidiary of Ford Motor Company. Its business started in 1909 and has its registered office in Laindon, Essex. It adopted the name of Ford of Britain in 1960. Read more at https://en.wikipedia.org/wiki/Ford_of_Britain
General Motors Company, commonly referred to as General Motors (GM), is an American multinational corporation headquartered in Detroit that designs, manufactures, markets, and distributes vehicles and vehicle parts, and sells financial services, with global headquarters in Detroit's Renaissance Center. It was originally founded by William C. Durant on September 16, 1908 as a holding company. The company is the largest American automobile manufacturer, and one of the world's largest. As of 2019, General Motors is ranked #13 on the Fortune 500 rankings of the largest United States corporations by total revenue. Read more at https://en.wikipedia.org/wiki/General_Motors
Packard was an American luxury automobile marque built by the Packard Motor Car Company of Detroit, Michigan, United States. The first Packard automobiles were produced in 1899, and the last Detroit-built Packard in 1956, when they built the Packard Predictor, their last concept car. The company was considered the preeminent luxury car before World War II, and built aircraft engines for the Allied war effort. Owning a Packard was prestigious, and surviving examples are found in museums, car shows and automobile collections. Read more at https://en.wikipedia.org/wiki/Packard
The REO Motor Car Company was a company based in Lansing, Michigan, and producing automobiles and trucks from 1905 to 1975. At one point the company also manufactured buses on its truck platforms. Ransom E. Olds was an entrepreneur who founded multiple companies in the automobile industry. In 1897 Olds founded Oldsmobile. In 1905 Olds left Oldsmobile and established a new company, REO Motor Car Company, in Lansing, Michigan. Olds had 52% of the stock and the titles of president and general manager. To ensure a reliable supply of parts, he organized a number of subsidiary firms, like the National Coil Company, the Michigan Screw Company, and the Atlas Drop Forge Company. Read more at https://en.wikipedia.org/wiki/REO_Motor_Car_Company
The Studebaker-Packard Corporation was the entity created in 1954 by the purchase of the Studebaker Corporation of South Bend, Indiana, by the Packard Motor Car Company of Detroit, Michigan. While Studebaker was the larger of the two companies, Packard's balance sheet and executive team were stronger than that of the South Bend company. In the spring of 1962, Studebaker-Packard reverted its name to "Studebaker Corporation". The following year, the South Bend plant was closed, while its Canadian plant in Hamilton, Ontario, continued to produce Studebaker cars until 1966. Read more at https://en.wikipedia.org/wiki/Studebaker-Packard_Corporation
Condition: Excellent
Item ordered may not be exact piece shown. All original and authentic.