August Belmont - Michigan Southern & Northern Indiana Railroad Company
Inv# AG1541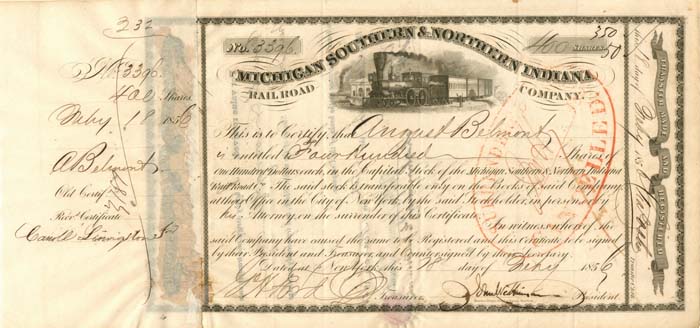 State(s): Indiana
Michigan

Years: 1856
Stock issued to, but not signed, by August Belmont (1816-1890), Banker, Born in Prussia. At 14 he secured a position with the Banking House of the Rothschilds at Frankfort and later managed some of the enormous financial transactions of the Rothschilds. At 21, he came to New York. In 1841, he fought a duel over a point of honor, in which he was wounded with the result of being lamed for life. He became a U.S. citizen. In 1854, he was appointed U.S. Charge d'Affaires at the Hague. He was involved in other diplomatic posts and in politics. Later established the firm of August Belmont & Co. In the Civil War he aided the Union cause by his influence in European political and financial circles.
Condition: Excellent
Item ordered may not be exact piece shown. All original and authentic.