Atchison, Topeka and Santa Fe Railroad $1000 Bond
Inv# RB7086A
Bond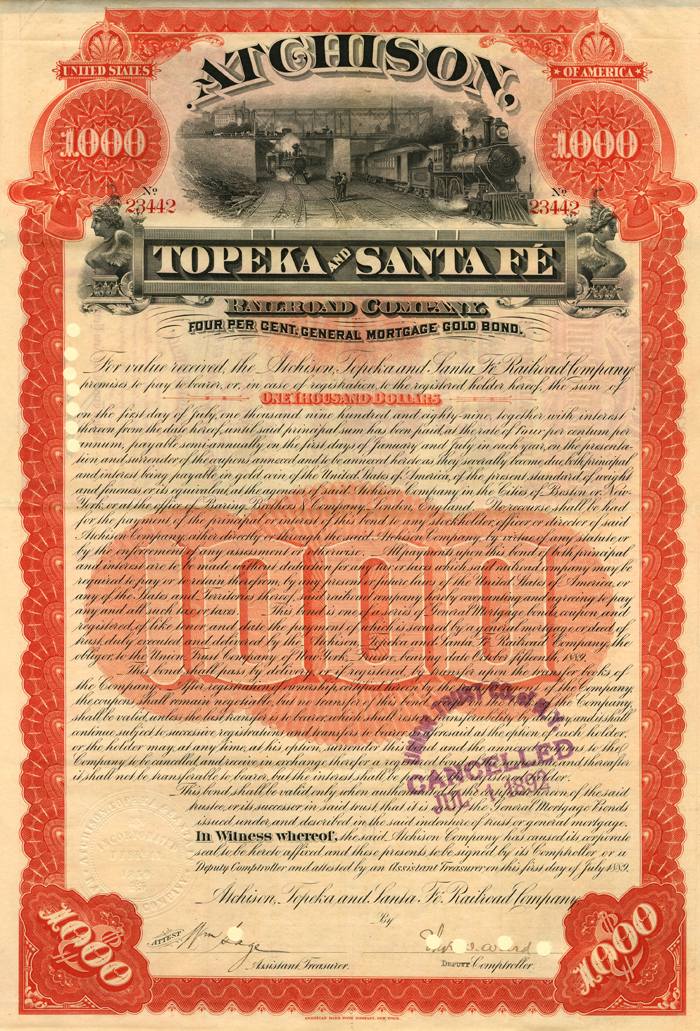 State(s): Kansas
New Mexico

Years: 1889
$1000, 4%, General Mortgage Gold Bond. 4 Complete Pages of Coupons Attached. Printed by American Bank Note Company New York. The Atchison, Topeka and Santa Fe Railway (AAR reporting marks ATSF), often abbreviated as Santa Fe, was one of the larger railroads in the United States. The company was first chartered in February 1859. Although the railway was named in part for the capital of New Mexico, its main line never reached there as the terrain made it too difficult to lay the necessary tracks (Santa Fe was ultimately served by a branch line from Lamy, New Mexico). The Santa Fe's first tracks reached the Kansas/Colorado state line in 1873, and connected to Pueblo, Colorado in 1876. In order to help fuel the railroad's profitability, the Santa Fe set up real estate offices and sold farm land from the land grants that the railroad was awarded by Congress; these new farms would create a demand for transportation (both freight and passenger service) that was, quite conveniently, offered by the Santa Fe. Ever the innovator, Santa Fe was one of the pioneers in intermodal freight service, an enterprise that (at one time or another) included a tugboat fleet and an airline, the short-lived Santa Fe Skyway. A bus line allowed the company to extend passenger transportation service to areas not accessible by rail, and ferry boats on the San Francisco Bay allowed travellers to complete their westward journeys all the way to the Pacific Ocean. The Atchison, Topeka and Santa Fe Railway officially ceased operations on December 31, 1996 when it merged with the Burlington Northern Railroad to form the Burlington Northern and Santa Fe Railway.
Condition: Excellent
A bond is a document of title for a loan. Bonds are issued, not only by businesses, but also by national, state or city governments, or other public bodies, or sometimes by individuals. Bonds are a loan to the company or other body. They are normally repayable within a stated period of time. Bonds earn interest at a fixed rate, which must usually be paid by the undertaking regardless of its financial results. A bondholder is a creditor of the undertaking.
Item ordered may not be exact piece shown. All original and authentic.