Annie Griffin Baruch - Burlington Cedar Rapids and Northern Railway - Stock Certificate
Inv# AG1132B
Stock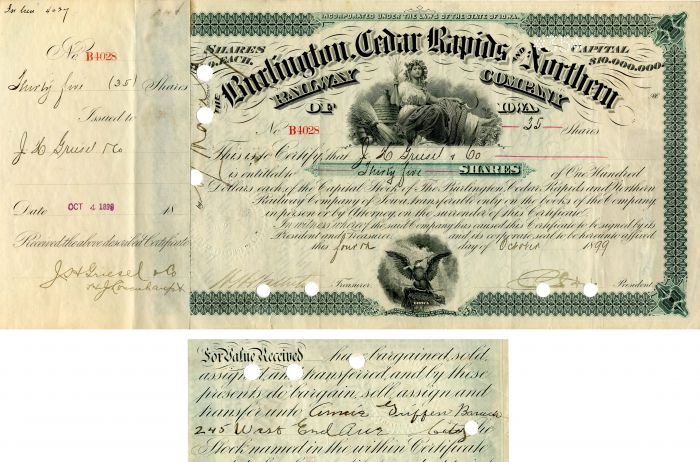 State(s): Iowa

Years: 1894-1900
Stock transferred to Annie Griffin Baruch, wife of Bernard M. Baruch, not signed.
Bernard Mannes Baruch
(August 19, 1870 – June 20, 1965) was an American
financier
,
stock investor
,
philanthropist
,
statesman
, and
political consultant
. After his success in
business
, he devoted his time toward advising
U.S. Presidents
Woodrow Wilson
and
Franklin D. Roosevelt
on
economic matters
, and became a
philanthropist
. Baruch married Annie Griffin, an
Episcopalian
, of New York.They had three children:
Belle Baruch
; Bernard Baruch Jr.; and Renee Baruch. He wrote several books and was a respected advisor to several presidents.
Condition: Excellent
A stock certificate is issued by businesses, usually companies. A stock is part of the permanent finance of a business. Normally, they are never repaid, and the investor can recover his/her money only by selling to another investor. Most stocks, or also called shares, earn dividends, at the business's discretion, depending on how well it has traded. A stockholder or shareholder is a part-owner of the business that issued the stock certificates.
Item ordered may not be exact piece shown. All original and authentic.