American Security and Trust Co. Issued to and Signed by Philetus Sawyer - Stock Certificate
Inv# AG2603
Stock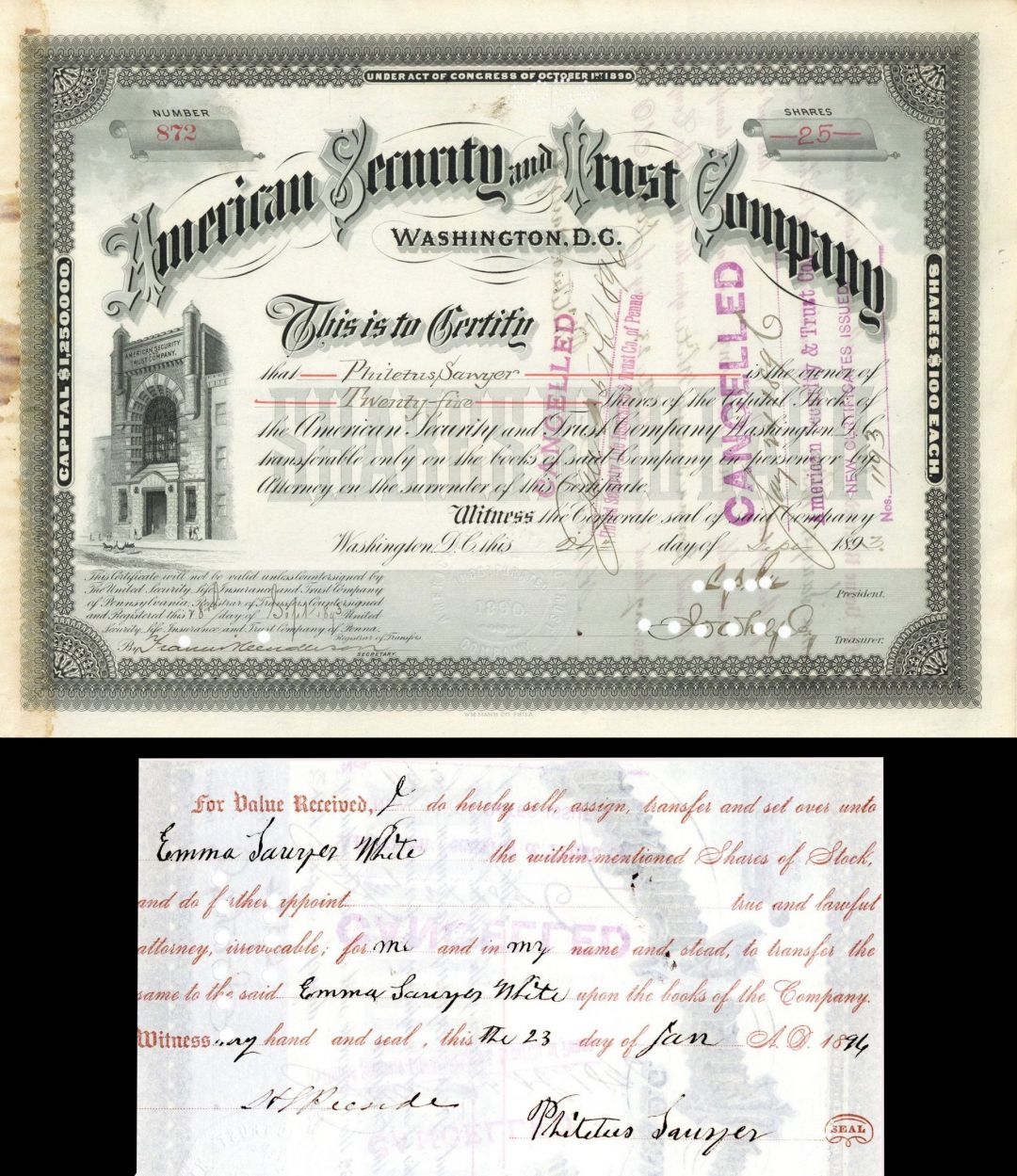 View Larger Image
State(s): District Of Columbia

Years: 1893
Stock issued to and signed by Philetus Sawyer on back.
Philetus Sawyer (September 22, 1816 – March 29, 1900) was a United States senator from Wisconsin for twelve years (1881–1893). He also represented Wisconsin for ten years in the United States House of Representatives (1865–1875), and he was the 9th mayor of Oshkosh, Wisconsin.  Sawyer County, Wisconsin, is named for him. 
Philetus Sawyer was born in 1816 in Whiting, Vermont, and moved to Crown Point, New York, as an infant in 1817. He moved to Wisconsin in 1847 and worked in the lumber industry. Sawyer's early political career included serving in the Wisconsin State Assembly in 1857 and 1861, and as mayor of Oshkosh, Wisconsin, from 1863 to 1864. He ran for and was elected to the United States House of Representatives in 1864 and served for ten years from 1865 until 1875 being first elected to the 39th United States Congress. From 1865 till 1873 he was the representative of Wisconsin's 5th congressional district. However, for the 43rd Congress he redistricted and represented Wisconsin's 6th district. He did not run for reelection in 1874. Sawyer returned to Congress in 1881 as a U.S. Senator. He served two terms from 1881 to 1893 and did not seek a third. However, he became notorious for a charge made against him by Congressman Robert La Follette Sr. that he had attempted to bribe La Follette.
Sawyer died in 1900 in Oshkosh at age 83. He was interred at a family mausoleum at Riverside Cemetery in Oshkosh.
Condition: Excellent
A stock certificate is issued by businesses, usually companies. A stock is part of the permanent finance of a business. Normally, they are never repaid, and the investor can recover his/her money only by selling to another investor. Most stocks, or also called shares, earn dividends, at the business's discretion, depending on how well it has traded. A stockholder or shareholder is a part-owner of the business that issued the stock certificates.
Item ordered may not be exact piece shown. All original and authentic.