American Express Company signed by James C. Fargo and Henry Wells
Inv# AG1379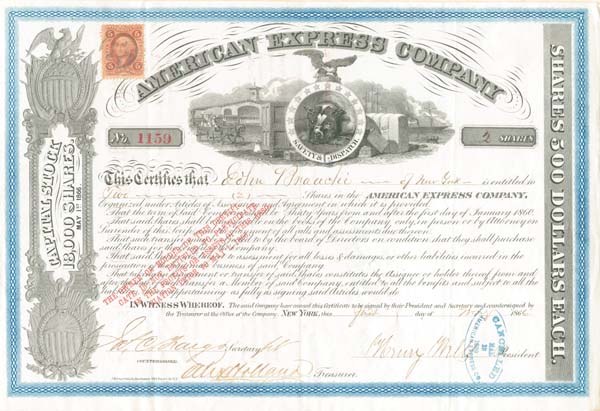 State(s): New York

Years: 1866
Henry Wells (1805-1878) Expressman. Formed American Express and became its President from 1850-68. In 1852 he organized Wells, Fargo & Co. James C. Fargo (1829-1915), Express Executive, Brother of William G. In 1866 became Superintendent and Manager of American Express and in 1881 became President. 1866 stock, Uncancelled, "Capital Stock 18,000 Shares" type with red overprint, with the very pretty blue border and 5 cent revenue stamp. The signatures of both Wells and Fargo are superb! Portraits of Wells and Fargo are included. Nicer than normal and the best eye appeal!
Condition: Excellent
Item ordered may not be exact piece shown. All original and authentic.