American Express Co. Signed by James F. Fargo, George C. Taylor and Fred P. Small - Stock Certificate
Inv# AG2577
Stock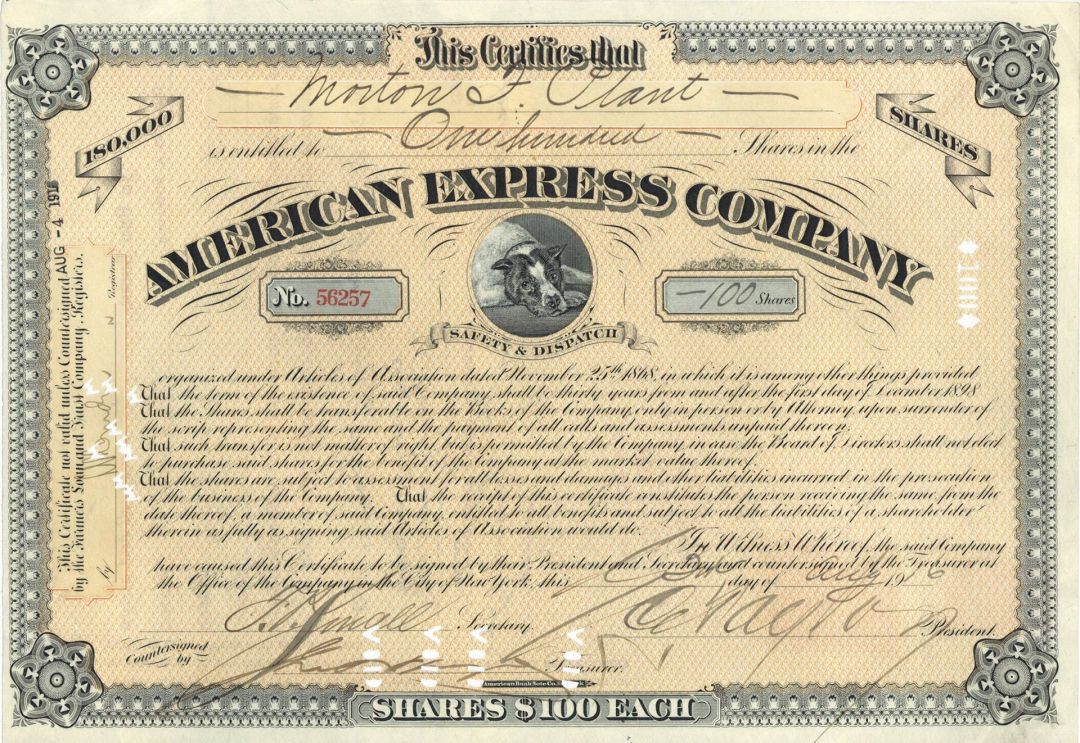 View Larger Image
State(s): New York

Years: 1916
Stock signed by James F. Fargo (son of James C.) as president, F.P. Small as secretary and George C. Taylor as treasurer. Printed by American Bank Note Co., New York. Rare! More research necessary on James F. and Fred P. Small. Note that this stock is a different variety from the 1870's version.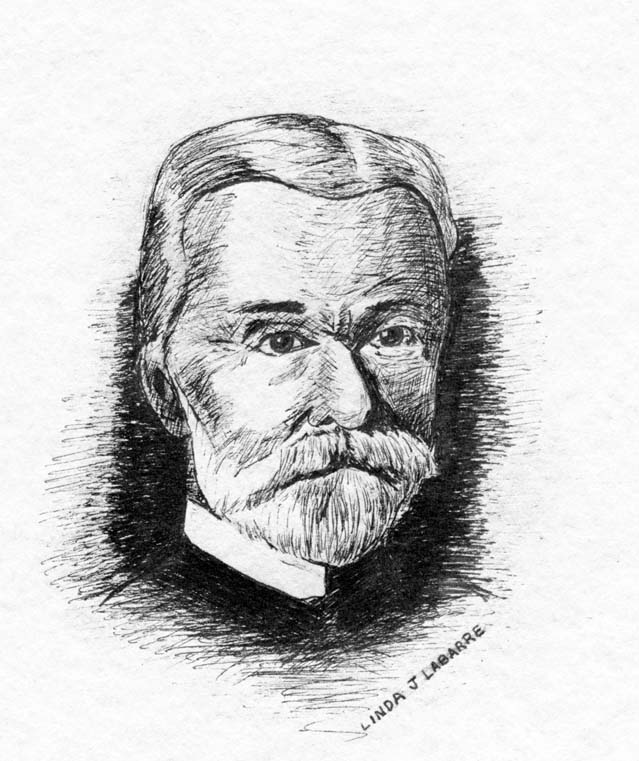 James Congdel Fargo (1829-1915) The son of James Fargo, James Congdel Fargo entered the employ of Wells & Co. (in which his brother, William George Fargo was a partner) at Buffalo in 1844. In 1866 after becoming agent and manager of the firm's successor, the American Express Co., Fargo went to New York as General Superintendent and Manager. In 1881 he became President of the company as well as President of Westcott Express Co. and National Express Co. As president of the American Express Company James C. Fargo was well off and well known. It is not surprising that he felt insulted when he could not get checks cashed during a trip to Europe in 1890. The European bankers were steadfast as Fargo was not known to them, they would not cash his checks. Would Americans always have a cash problem when traveling in Europe? Marcellus F. Berryn, an employee of the American Express Company set out to find a solution. He wrote later: "There's one thing every person does in a distinctive way. That is writing his signature. Therefore the foolproof device for taking money to strange places must carry the signature of the bearer. It must declare that it will be cashed only when a second, and matching, signature is added before witnesses." On July 7, 1891, Berry was granted four copyrights for what he called "the travelers cheque," and William C. Fargo got the first one. He had no difficulty when he wanted fifty dollars a few weeks later in Leipzig, Germany. In 1891, American Express sold $9,120.00 worth of travelers checks, and the amount has risen every year. During 2000, sales of American Express Travelers Cheques increased to $24.6 billion.
The Michigan Central Railroad (reporting mark MC) was originally incorporated in 1846 to establish rail service between Detroit, Michigan, and St. Joseph, Michigan. The railroad later operated in the states of Michigan, Indiana, and Illinois in the United States and the province of Ontario in Canada. After about 1867 the railroad was controlled by the New York Central Railroad, which later became part of Penn Central and then Conrail. After the 1998 Conrail breakup, Norfolk Southern Railway now owns much of the former Michigan Central trackage.
At the end of 1925, MC operated 1871 miles of road and 4139 miles of track; that year it reported 4304 million net ton-miles of revenue freight and 600 million passenger-miles.
Michigan Central Railroad

Battle Creek and Bay City Railroad 1889
Buchanan and St. Joseph River Railroad 1897
Central Railroad of Michigan 1837-1846

Detroit and St. Joseph Railroad 1831-1837

Detroit and Bay City Railroad 1881
Detroit and Charlevoix Railroad 1916

Frederick and Charlevoix Railroad 1901

Detroit River Tunnel Company Railroad 1918
Jackson, Lansing and Saginaw Railroad 1871

Grand River Valley Railroad 1870

Joliet and Northern Indiana Railroad 1851
Kalamazoo and South Haven Railroad 1870
Michigan Air Line Railway 1870
Michigan Midland and Canada Railroad 1878
Saginaw Bay and Northwestern Railroad 1884

Pinconning Railroad 1879

Glencoe, Pinconning and Lake Shore Railroad 1878

St. Louis, Sturgis and Battle Creek Railroad 1889
The line between Detroit and St. Joseph, Michigan was originally planned in 1830 to provide freight service between Detroit and Chicago by train to St. Joseph and via boat service on to Chicago. The Detroit & St. Joseph Railroad was chartered in 1831 with a capital of $1,500,000. The railroad actually began construction on May 18, 1836, starting at "King's Corner" in Detroit, which was the name by which the southeast corner of Jefferson and Woodward Avenue was then known. Note that this is not the location of Michigan Central Station, which apparently replaced this building.
The small private organization, known then as the Detroit and St. Joseph Railroad, quickly ran into problems securing cheap land in the private market, and abandonment of the project was discussed. The City of Detroit invested $50,000 in the project. The State of Michigan bailed out the railroad in 1837 by purchasing it and investing $5,000,000. The now state-owned company was renamed the Central Railroad of Michigan.
By 1840 the railroad was again out of money and had only completed track between Detroit and Dexter, Michigan. In 1846 the state sold the railroad to the newly incorporated Michigan Central corporation for $2,000,000. By this time the railroad had reached Kalamazoo, Michigan, a distance 143.16 miles.
The new private corporation had committed to complete the railroad with T rail of not less than sixty pounds to the yard and also to replace the poorly built rails between Kalamazoo and Detroit with similar quality rail, as the state-built rail was of low quality. The new owners met this obligation by building the rest of the line some 74.84 miles to the shores of Lake Michigan by 1849. However, rather than go to St. Joseph, instead they went to New Buffalo. This was because they had decided to extend the road all the way to Chicago.
This involved passing through two other states and getting leave from two state legislatures to do so. To facilitate this process, they bought the Joliet and Northern Indiana Railroad in 1851. Thus they reached Michigan City, Indiana by 1850 and finished the line to Kensington, Illinois (now a south Chicago neighborhood) in 1852, using Illinois Central trackage rights to downtown Chicago. The completed railroad was 270 miles in length.
The Michigan Central Railroad (MCR) operated mostly passenger trains between Chicago and Detroit. These trains ranged from locals to the Wolverine. In 1904, MCR began a long-term lease of Canada Southern Railway (CSR), which operated the most direct route between Detroit and New York. CSR's mainline cut through the heart of Southwestern Ontario, between Windsor and Fort Erie.
The new service, known as the Canada Division Passenger Service, saw a major surge beginning at the start of the 1920s. Between 1920 and 1922, the legendary Wolverine passenger train operated in two sections, five days per week along CSR's mainline. Then, in the summer of 1923, the eastbound Wolverine began running from Detroit to Buffalo without any scheduled stops in Canada, making the trip in 4 hours and 50 minutes, an unprecedented achievement. During the same summer, the Canada Division was moving 2,300 through passengers per day. By the end of the decade, a fleet of 205 J-1 class Hudson – one of the most powerful locomotives for passenger service yet designed – was hauling passengers along the CSR mainline. However, by the 1930s the Wolverine was making stops in the Canadian section of the route. Also, by the late 1940s, the Empire State Express also passed from Buffalo into Southwestern Ontario, however, it terminated at Detroit.
While Michigan Central was an independent subsidiary of the New York Central System, passenger trains were staged from Illinois Central's Central Station (in Chicago) as a tenant. When MC operations were completely integrated into NYC in the 1950s, trains were re-deployed to NYC's LaSalle Street Station home, where other NYC trains such as the 20th Century Limited were staged. IC sued for breach of contract and won because the MC had a lease that ran for a few more years. The MC route from Chicago to Porter, Indiana, is mostly intact. The Kensington Interchange, shared with the South Shore Line, was cut out. These tracks now belong to Indiana Harbor Belt Railroad, and are overgrown stub tracks ending short of the interchange. Some trackage around the Indiana Harbor Belt's Gibson Yard has also been removed. The MC's South Water Street freight trackage in downtown Chicago is also gone. Amtrak trains serving the Michigan Central Detroit line now use the former NYC to Porter, where they turn north on Michigan Central. Passenger equipment was mostly similar to that of parent New York Central System. Typically this meant an EMD E-series locomotive and Pullman-Standard lightweight rolling stock. Because General Motors (Electro-Motive Division) was a large customer of Michigan Central, use of Alco or General Electric locomotives was less common.
Prior to the automobile, Michigan Central was mostly a carrier of natural resources. Michigan had extensive reserves of timber at the time, and the Michigan Central owned lines from east to west of the state and north to south, tapping all resources available. After the advent of the automobile as one of the most dominant forces of commerce ever seen by the world, with Detroit at the epicenter, the Michigan Central became a carrier of autos and auto-related parts. The Michigan Central was one of the few Michigan railroads with a direct line into Chicago, meaning it did not have to operate cross-lake ferries, as did virtually all other railroads operating in Michigan, such as the Pere Marquette, Pennsylvania, Grand Trunk, and Ann Arbor Railroads. Michigan Central was part owner of the ferry service operated to the Upper Peninsula as well as cross-river ferry service to Ontario, but these routes did not exist to circumvent Chicago.
The Michigan Central Railroad (MCR) and then parent New York Central Railroad (NYC) owned the Canada Southern Railroad (CSR), which had lines throughout southwestern Ontario from Windsor to Niagara Falls. The railroad operated a car-float service over the Detroit River; an immersed tube tunnel below the Detroit River between Detroit, Michigan, and Windsor, Ontario; and the MCR Cantilever Bridge at Niagara Falls, which was later replaced with a steel arch bridge in 1925. The car float operation ended when the Detroit River tunnel was completed.
Control of Canada Southern passed from MCR to NYC, then Penn Central, then Conrail. In 1985 the Canada Southern was sold to two companies, the Canadian National Railway and the Canadian Pacific Railway.
The Michigan Central Railway Bridge opened in February 1925 and remained in use until the early 21st century. It replaced the earlier Niagara Cantilever Bridge which had been commissioned in 1883 by Cornelius Vanderbilt; the older bridge was scrapped as the new MCR bridge went into service. The MCR Cantilever bridge was inducted into the North America Railway Hall of Fame in 2006, long after it had been scrapped. The Hall of Fame report discussed its significance to the railway industry in the category of "North America: Facilities & Structures."
All major Michigan railroads operated a rail ferry service across Lake Michigan except the Michigan Central. This can be attributed to MC's most direct route across Southern Michigan from Detroit to Chicago. The Michigan Central also had the best access to Chicago of any Michigan railroad. The Michigan Central did own part of the Mackinac Transportation Company, which operated the SS Chief Wawatam until 1984. The Chief Wawatam was a front-loading, hand-fired, coal-fed steamer. It was the last hand-fired steamer in the free world at its long-overdue retirement in 1984. The Chief Wawatam continued to operate until 2009, cut down to a barge. One Chief Wawatam engine was salvaged and restored by the Wisconsin Maritime Museum. Other artifacts from the ferry, including the whistle, wheel, telegraphs, and furniture, are preserved by the Mackinac Island State Park Commission in Mackinaw City. Car floats also ran across the Detroit River to Windsor, Ontario, for high and wide loads that could not fit through the tunnels.
The major competitors of the Michigan Central were:
The MCR passenger station located in Jackson is the oldest continuously operated passenger station in North America, opened in 1873. See Jackson station (Michigan) for details and photo.
This train depot was built to replace a former station that had burned down. It served passenger trains until the early 1950s. Today, the station is home to the Ann Arbor Model Railroad Club, which hosts open houses the first Wednesday of each month. It also has some railroad memorabilia such as an old crossing signal and baggage cart.
Michigan Central was the owner of Michigan Central Station in Detroit. Opened in 1913, the building is of the Beaux-Arts Classical style of architecture, designed by the Warren & Wetmore and Reed and Stem firms who also designed New York City's Grand Central Terminal. As such, Michigan Central Station bears more than a passing resemblance to New York's famed rail station.
Last used by Amtrak in 1988, Michigan Central Station then become a victim of extensive vandalism. Over the next 30 years, several proposals and concepts for redevelopment were suggested, none coming to fruition. The estimated cost of renovations was $80 million, but the owners viewed finding the right use as a greater problem than financing. Though listed on the National Register of Historic Places, the Detroit City Council passed a resolution to demolish the station in April 2009. The council was then met with strong opposition from Detroit resident Stanley Christmas, who in turn, sued the city of Detroit to stop the demolition effort, citing the National Historic Preservation Act of 1966. The station shows up in the first part of the Godfrey Reggio movie Naqoyqatsi and is frequently used by Michael Bay in such films as The Island and Transformers. In May 2018, Ford Motor Company purchased the building for redevelopment into a mixed use facility and cornerstone of the company's new Corktown campus.
The Michigan Central station at Niles, Michigan is also famous, having appeared in several Hollywood movies. Like its sister station in Detroit, the station is listed on the National Register of Historic Places.
The Michigan Central Railroad Depot (Battle Creek, MI) opened on July 27, 1888. Rogers and MacFarlane of Detroit designed the depot, one of several Richardsonian Romanesque-style stations between Detroit and Chicago in the late nineteenth century. Thomas Edison as well as Presidents William Howard Taft and Gerald Ford visited here. The depot was acquired by the New York Central Railroad in 1918, Penn Central in 1968 and Amtrak in 1970. The depot was listed on the National Register of Historic Places in 1971 and is now Clara's on the River Restaurant.
Located between Augusta and Galesburg Michigan. The massive re-enforced concrete building stands over the Detroit to Chicago mainline. Built in 1923, it was used to refuel and water steam engines. It fell out of use post WW2, as diesel engines came onto the scene. See Wikipedia articles and photos on this structure.
The former Michigan Central Station in Ann Arbor, a granite stone block building built in 1886 and designed by Frederick Spier of Spier and Rohns, is listed on the National Register of Historic Places and now houses the Gandy Dancer Restaurant.
The Michigan Central also built and operated a swing bridge over Trail Creek at Michigan City, Indiana. This swing bridge is similar to the moving span at Spuyten Duyvil owned by parent New York Central, but has no approach spans. It is still in operation and owned by Amtrak.
No historic Michigan Central-specific equipment exists today. After the steam era, almost all equipment was lettered for New York Central. Many common New York Central locomotives and rolling stock are preserved in places like Illinois Railway Museum and the National New York Central Museum, in Elkhart Indiana. The latter includes a sample passenger train in NYC livery, although the two coaches are actually of Illinois Central heritage. The E8 and observation car are original NYC equipment and very likely served on the Michigan Central after dieselization. The station in Dexter, MI has some railroad memorabilia around it, such as an old level crossing signal and a baggage cart.
The Michigan Central, having been only a "paper" railroad for decades and not owning any track since the late 1970s, was merged into United Railroad Corp. (a subsidiary of Penn Central) on December 7, 1995. Today, Norfolk Southern owns most trackage not abandoned in the early 1980s. Lake State Railway now operates the remnants former Detroit-Mackinaw City line from Bay City to Gaylord, which is partially owned by the state of Michigan. What remained of CASO was mostly abandoned by Canadian National in 2011, after seeing little to no traffic for years. Amtrak owns the Detroit line from Porter, Indiana, to Kalamazoo, Michigan, while the State of Michigan owns the line from there to Dearborn, Michigan. This line is a projected "high speed" line; a portion of the line was converted to 110 MPH operation in early 2012 with further upgrades planned. Amtrak operates three Chicago-Detroit-Pontiac trains each way per day, under the old banner Wolverine. The Port Huron train (the Blue Water) also uses this line as far east as Battle Creek, Michigan. Both Kalamazoo and Niles have retained their old Michigan Central Stations; the Niles station is occasionally portrayed in film.
In July 2007 Norfolk Southern was in talks with Watco, a shortline holding company, to sell the Kalamazoo-Detroit portion of the Michigan Central main line. The proposal was set before the Surface Transportation Board, and was officially endorsed by Amtrak in September 2007. In December 2007 the STB rejected the plan, citing concerns over the relationship between the Norfolk Southern and Watco. Labor unions had raised concerns over the transfer of operations to a substantially non-transportation company, under which different labor regulations would apply.
George Caldwell Taylor (May 29, 1885 – December 19, 1952) was a United States district judge of the United States District Court for the Eastern District of Tennessee. Born in Greeneville, Tennessee, Taylor received an Artium Baccalaureus degree from Tusculum College in 1906 and a Bachelor of Laws from the University of Tennessee College of Law in 1908. He was in private practice in Rockwood, Tennessee from 1908 to 1911. He was Secretary to the Governor of Tennesseefrom 1911 to 1913, thereafter returning to his private practice in Greeneville until 1921. He was the United States Attorney for the Eastern District of Tennesseefrom 1921 to 1928. Taylor was nominated by President Calvin Coolidge on May 24, 1928, to a seat on the United States District Court for the Eastern District of Tennessee vacated by Judge Xenophon Hicks. He was confirmed by the United States Senate on May 26, 1928, and received his commission the same day. He served as Chief Judge from 1948 to 1949. He assumed senior status due to a certified disability on November 2, 1949. His service terminated on December 19, 1952, due to his death.
Condition: Excellent
A stock certificate is issued by businesses, usually companies. A stock is part of the permanent finance of a business. Normally, they are never repaid, and the investor can recover his/her money only by selling to another investor. Most stocks, or also called shares, earn dividends, at the business's discretion, depending on how well it has traded. A stockholder or shareholder is a part-owner of the business that issued the stock certificates.
Item ordered may not be exact piece shown. All original and authentic.