America's Great Corporations
Inv# WW1040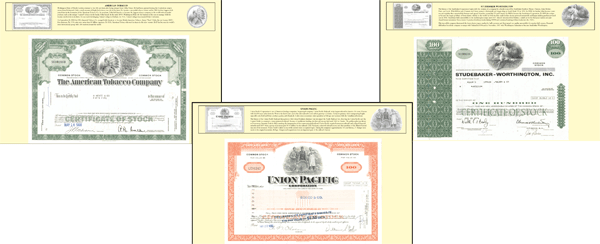 COLLECTION OF 25 GREAT AMERICAN CORPORATIONS
A TERRIFIC VALUE!
Here's what you get...
FREE-One Large 11" x 17" Album.
Complete Collection of all 25 Stocks.
FREE-25 Descriptive Pages with Histories of these Great American Corporations.
The collection offers many of the largest and most historic Corporations. It took 20 years to assemble such an impressive collection. Of course, all are graphic, attractive, and in excellent condition.
Complete list of all 25 GREAT AMERICAN CORPORATIONS Stocks
A&P, AT&T, American Tobacco, Anaconda, B & O Railroad, Bond Stores, Boston & Maine, Calumet & Hecla Consolidated Copper, Faberge, General Foods, General Motors, Gulf State Utilities, Howard Johnson, International Mercantile Marine, ITT, Mississippi River Corp., Pan American World Airways, Pennsylvania Railroad, Phelps Dodge, Sterling Precision, Studebaker-Worthington, Union Pacific, Universal Oil Products, Washington Gas Light, White Motor.
Item ordered may not be exact piece shown. All original and authentic.