Addison G. Jerome signed Michigan Southern and Northern Indiana Rail-Road Co.
Inv# AG1548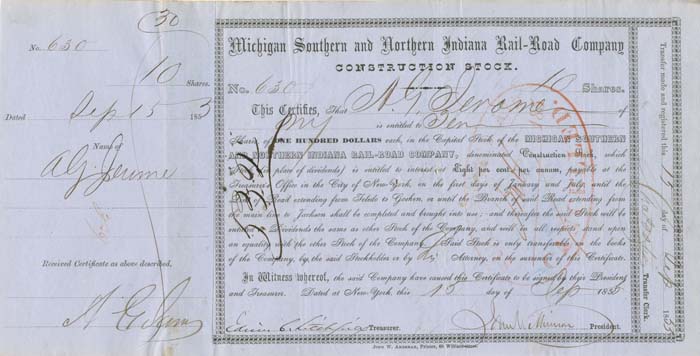 State(s): Indiana
Michigan

Years: 1855
Stock signed at stub and back by A.G. Jerome. Portrait included. Nice! On July 8, 1853, the Ohio and Indiana companies merged, and on February 7, 1855, the Northern Indiana and Chicago Railroad and the Buffalo and Mississippi Railroad were merged into the Northern Indiana Railroad. On April 25, 1855, that company in turn merged with the Michigan Southern Rail Road to form the Michigan Southern and Northern Indiana Railroad. In October 1867, the Cleveland, Painesville and Ashtabula Railroad leased the Cleveland and Toledo Railroad. The CP&A changed its name to the Lake Shore Railway on March 31, 1868, and on February 11, 1869, the Lake Shore absorbed the Cleveland and Toledo. On April 6 the Michigan Southern and Northern Indiana Railroad and Lake Shore merged to form the Lake Shore and Michigan Southern Railway, which absorbed the Buffalo and Erie Railroad on June 22, giving one company the whole route from Buffalo to Chicago. The main route passed through Dunkirk; Erie; Ashtabula, Ohio; Cleveland; Toledo; Waterloo, Indiana; and South Bend. An alternate route (the Sandusky Division) in Ohio ran north of the main line between Elyria and Millbury (not all track was laid until 1872). From Toledo to Elkhart, the Old Road ran to the north, through southern Michigan, and the through route was called the Air Line Division or Northern Indiana Air Line. Along with various branches that had been acquired (see below), the Monroe Branch ran east from Adrian, Michigan, to Monroe, where it intersected the leased Detroit, Monroe and Toledo Railroad. At some point the original line to Toledo was abandoned west of the branch to Jackson, Michigan (Palmyra and Jacksonburgh Railroad), with the new connection at Lenawee Junction, the crossing between that branch and the line to Monroe. Read more at https://en.wikipedia.org/wiki/Lake_Shore_and_Michigan_Southern_Railway
Condition: Excellent
Item ordered may not be exact piece shown. All original and authentic.