1777 Revolutionary War Pay Order - For Captain Inlisting his own Company, in the Continental Battalion - Very Rare - American Revolution
Inv# CT1126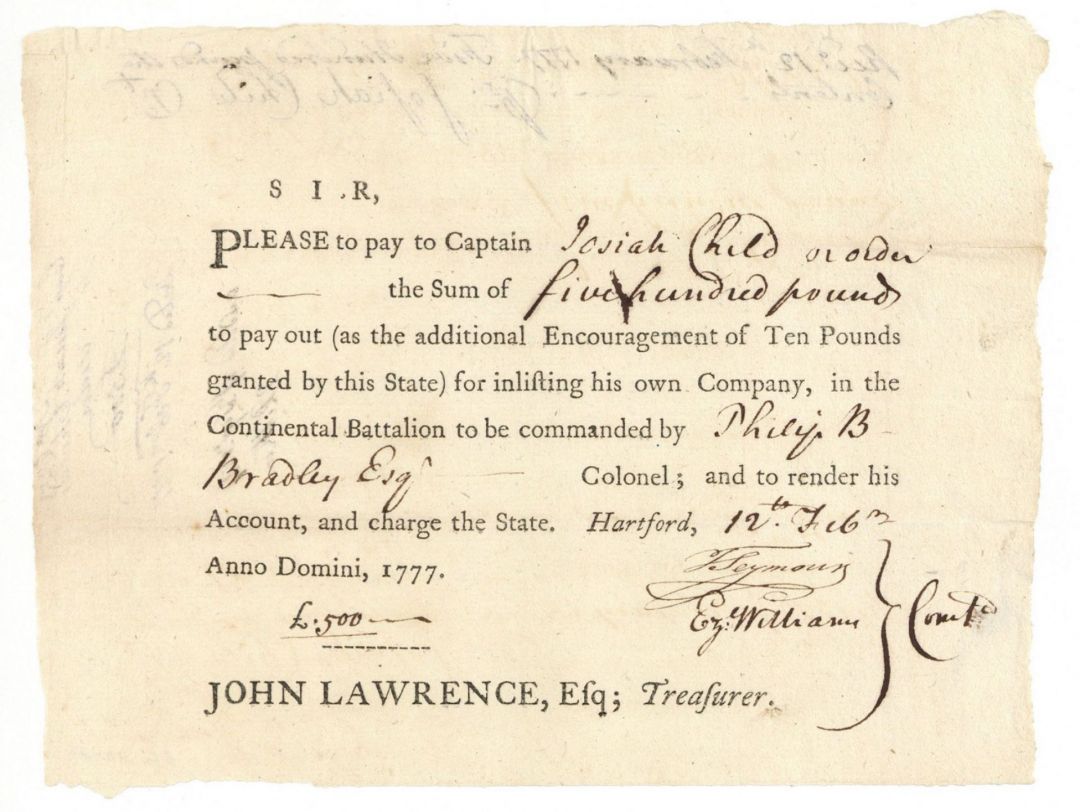 View Larger Image
State(s): Connecticut

Years: 1777
Pay Order. Rare type! For Captain "Inlisting" his own Company, in the Continental Battalion.
Washington expressed astonishment that the Americans had won a war against a leading world power, referring to the American victory as "little short of a standing miracle". The conflict between British subjects with the Crown against those with the Congress had lasted over eight years from 1775 to 1783. The last uniformed British troops departed their last East Coast port cities in Savannah, Charleston, and New York City, by November 25, 1783. That marked the end of British occupation in the new United States.
On April 9, 1783, Washington issued orders that he had long waited to give, that "all acts of hostility" were to cease immediately. That same day, by arrangement with Washington, General Carleton issued a similar order to British troops. British troops, however, were not to evacuate until a prisoner of war exchange occurred, an effort that involved much negotiation and would take some seven months to effect.
As directed by a Congressional resolution of May 26, 1783, all non-commissioned officers and enlisted were furloughed "to their homes" until the "definitive treaty of peace", when they would be automatically discharged. The US armies were directly disbanded in the field as of Washington's General Orders on Monday, June 2, 1783. Once the conclusive Treaty of Paris was signed with Britain, Washington resigned as commander-in-chief at Congress, leaving for his Army retirement at Mount Vernon.
Read more at https://en.wikipedia.org/wiki/American_Revolutionary_War
Condition: Excellent
Item ordered may not be exact piece shown. All original and authentic.