Michigan Southern & Northern Indiana Railroad Company signed by Leonard W. Jerome - Stock Certificate
Inv# AG1590
Stock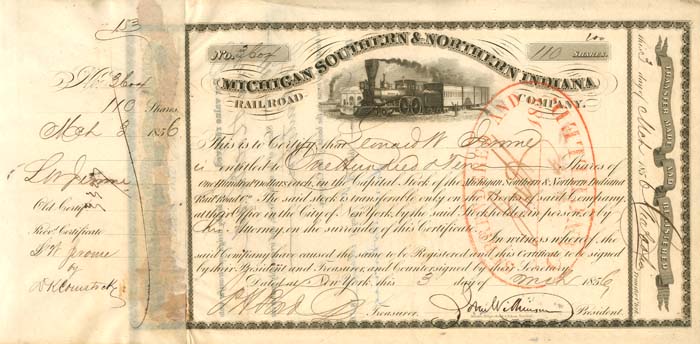 State(s): Indiana
Michigan

Years: 1856
Stock issued to and signed by Leonard W. Jerome on stub and at back. Nice Example! Portrait and biography included with stock.

Leonard Walter Jerome (November 3, 1817 – March 3, 1891) was a Brooklyn, New York, financier and grandfather of Winston Churchill.
Leonard Jerome was the son of Aurora Murray and Isaac Jerome. Jerome was born on a farm in the Central New York town of Pompey, near Syracuse. He studied law, graduated from Union College, and set up a practice in Rochester, New York. He later moved to New York City, where he became a stock speculator and promoter.
Jerome was a flamboyant and successful stock speculator. He made and lost several fortunes, and was known as "The King of Wall Street". He held interests in several railroad companies and was often a partner in the deals of Cornelius Vanderbilt. He was a patron of the arts, and founded the Academy of Music, one of New York City's earliest opera houses.
During the New York Draft Riots, Jerome defended the New York Times office building with a Gatling Gun. Although he had significant holdings in the Times, he was not the majority shareholder as is sometimes erroneously claimed.
The Jerome Mansion, on the corner of Madison Avenue and 26th Street, had a six-hundred-seat theatre, a breakfast room which seated seventy people, a ballroom of white and gold with champagne- and cologne-spouting fountains, and a view of Madison Square Park. It was later sold and housed a series of private clubs. The mansion was torn down in 1967.
Jerome was an avid sportsman. He enjoyed yachting with his friend, William K. Vanderbilt. They shared a special passion for thoroughbred horse racing and helped found the American Jockey Club.
In 1866, Jerome bought the estate and mansion of James Bathgate near Old Fordham Village in what was then rural Westchester County, but is now The Bronx. Jerome and financier August Belmont, Sr. built Jerome Park Racetrack on the Bathgate land; the first Belmont Stakes was held there in 1867. Jerome and his brother Lawrence had a wide boulevard made from Macombs Dam to the track, which city authorities attempted to name "Murphy Avenue" after a local politician. This incensed Jerome's wife so much that she had bronze plaques saying "Jerome Avenue" made up and bolted into place along the road, forcing the city to accept the name. The racetrack was acquired and demolished by the city in 1894, to make way for Jerome Park Reservoir. The Bathgate mansion served as a summer home for the Jerome family. In the early 1900s, the mansion was razed and replaced by the Kingsbridge Armory.
Jerome became a resident of Brooklyn. He, Vanderbilt, and other investors founded the Coney Island Jockey Club which in 1884 built the Sheepshead Bay Race Track.
Condition: Excellent
A stock certificate is issued by businesses, usually companies. A stock is part of the permanent finance of a business. Normally, they are never repaid, and the investor can recover his/her money only by selling to another investor. Most stocks, or also called shares, earn dividends, at the business's discretion, depending on how well it has traded. A stockholder or shareholder is a part-owner of the business that issued the stock certificates.
Item ordered may not be exact piece shown. All original and authentic.