Butler Aviation International, Inc. - Stock Certificate
Inv# VS1059
Stock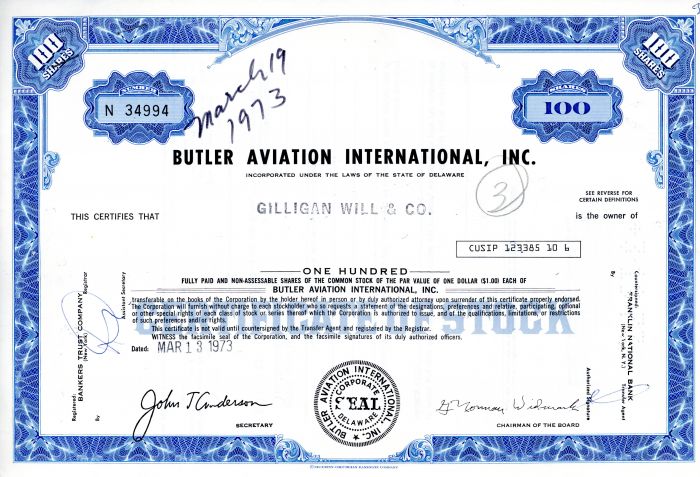 State(s): Delaware

Years: 1973
Stock printed by Security-Columbian Banknote Company.
Now operating under the Butler America brand, Butler International, Inc. was an engineering services and employment agency based in Fort Lauderdale, Florida. Originally based in Montvale, New Jersey sharing an office building with Butler Aviation. With roots dating back to 1946, the company provided on-site and off-site engineering services to its clients, which include companies in the aerospace, communications, commercial, defense and manufacturing sectors.
In 2009, the company filed for Chapter 11 Bankruptcy, and Butler America (a privately held staffing and outsourcing firm) agreed to acquire all of the remaining assets of Butler International for $27 million. Now headquartered in Shelton, Connecticut, the company retained much of the staff from Butler International.
Condition: Excellent
A stock certificate is issued by businesses, usually companies. A stock is part of the permanent finance of a business. Normally, they are never repaid, and the investor can recover his/her money only by selling to another investor. Most stocks, or also called shares, earn dividends, at the business's discretion, depending on how well it has traded. A stockholder or shareholder is a part-owner of the business that issued the stock certificates.
Item ordered may not be exact piece shown. All original and authentic.