Kansas City, Mexico and Orient Railway Company signed by Lady Mary Inverclyde
Inv# AG1389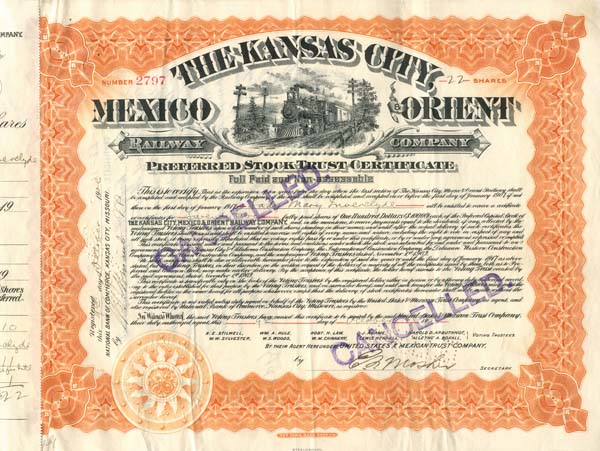 Country: Mexico

State(s): Kansas

Years: 1906
Stock issued to and signed on verso by Lady Mary Inverclyde. The wife of the recently deceased Cunard chairman, Lord Inverclyde, Mary, Lady Inverclyde, christened the ill-fated RMS Lusitania in June of 1906.

Conceived in 1900 by A. E. Stilwell, the Kansas City, Mexico and Orient Railway was the predecessor to the Chihuahua al Pacifico railroad in Mexico. In the wake of a 1912 bankruptcy, the AT & SF acquired the line in 1928, largely in order to gain access to the west Texas oil fields.
Condition: Excellent
Item ordered may not be exact piece shown. All original and authentic.