Automotive Set of 5 Automobile Stocks Bonds and 5 Prints - Famous Car Makers Collection
Inv# AS1233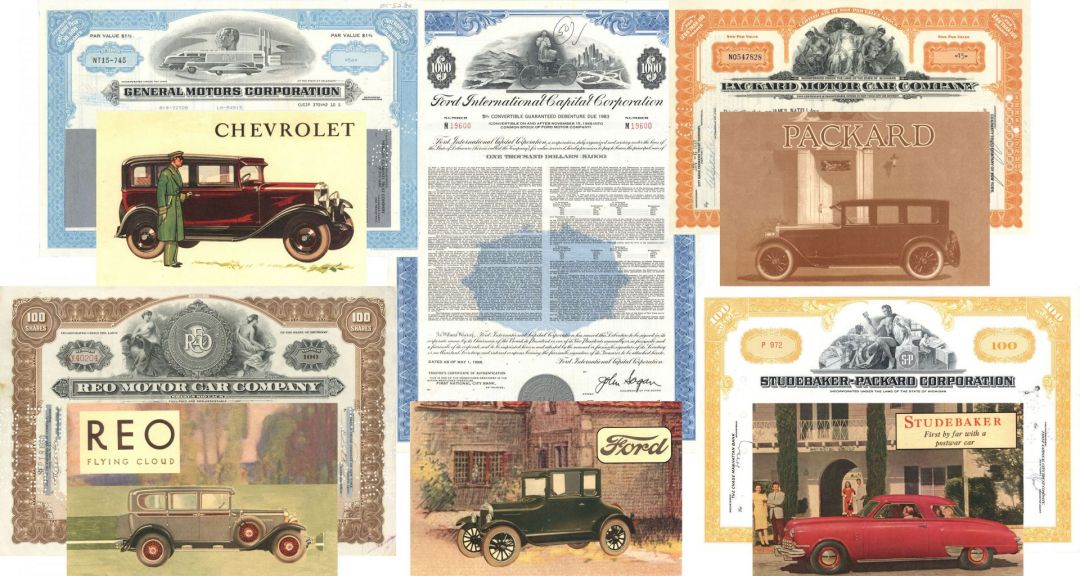 View Larger Image
Years: 1900's
Great collection of 5 automotive stocks and bonds and 5 prints. Includes Ford International Capital Corporation, General Motors, Packard Motors, Reo Motor Car, and Studebaker-Packard. All appropriate for framing with these great graphics and colorful prints!
In relation to Ford International Capital, Ford of Britain (officially Ford Motor Company Limited) is a British wholly owned subsidiary of Ford Technologies Limited (formerly called Blue Oval Holdings), itself a subsidiary of Ford International Capital LLC, which is a subsidiary of Ford Motor Company. Its business started in 1909 and has its registered office in Laindon, Essex. It adopted the name of Ford of Britain in 1960.
Ford of Britain operates two major manufacturing sites in the UK, in Dagenham (diesel engine production) and Halewood (transmissions). It also operates a large research and development facility in Dunton, Essex, which employs over 3,000 engineers.
In 2010, Ford had been the UK's biggest-selling car and commercial vehicle brand for 34 and 45 consecutive years respectively.
The first Ford cars, three Model As, were imported into the UK in 1903, and the first dealership opened in Southampton in November 1910. In 1909 the Ford Motor Company (England) Limited was established under the chairmanship of Percival Perry, opening an office at 55 Shaftesbury Avenue, London, in 1909.
An assembly plant in an old tram factory in Trafford Park, Manchester, was opened in 1911, employing 60 people to make the Model T, and the company was re-registered as Henry Ford & Son, Ltd. This was the first Ford factory outside North America. At first, the cars were assembled from imported chassis and mechanical parts, with bodies sourced locally. Six thousand cars were produced in 1913, and the Model T became the country's biggest selling car, with 30% of the market. In 1914, Britain's first moving assembly line for car production started, with 21 cars an hour being built. After the First World War, the Trafford Park plant was extended, and in 1919, 41% of British registered cars were Fords.
In 1917, a plant opened in Cork, Ireland, initially for tractor manufacture, but from 1921 cars were built there as well. This factory was the first to be purpose-built by Ford in Europe. The company of Henry Ford and Son Limited—Fordson—was officially incorporated on 17 April 1917, starting its life on the site of an old Cork racecourse. Its first registered office was at 36 South Mall, Cork.
Although the Manchester plant was served by the Manchester Ship Canal, Ford decided that access to a deep water port was required, and in 1923 a new site was chosen by the River Thames at Dagenham, east of London.
In December 1928 Ford (since 1924 entirely owned by Henry Ford, his wife and their son Edsel) announced in London that it had formed a new company, Ford Motor Company Limited, with three US directors (Henry Ford, Edsel Ford, Charles E. Sorensen) and four British directors (Sir Percy Perry, Roland Kitson, Sir John T Davies and Lord Illingworth), with a capital of £7 million. This company acquired all Ford's European and Middle Eastern business in exchange for 60% of its capital. The balance of 40% of the capital of the new Ford Motor Company Limited, 2.8 million shares of £1 each, was now available for public subscription. These shares were heavily over-subscribed. There was considerable investing interest from America, as US investors had had no previous opportunity of investing in a Henry Ford business.
The new chairman, Sir Percival Perry, had been, and now was again, central to the development of Ford in Europe. Perry's association with Henry Ford dated from 1905, when Perry became a shareholder of Ford's first British agency, but the very first link between them was earlier, in 1903. The two men first met in 1906 in Detroit. From Britain, Perry envisioned Ford making vehicles outside USA and selling them across the British Empire and Europe. He raced the company's cars, organised a chain of exclusive dealers, and superintended the Trafford Park assembly plant. In 1919, Henry Ford chose to run operations from Detroit, but Perry was determined to run all European business himself. Perry resigned in May 1919.
His American managers having failed him, Henry Ford offered Perry the chairmanship of this new Ford Motor Company Limited in 1928.
At the first meeting of shareholders in London on 6 March 1929, Perry reported "during the first three months of our first year we and our associated companies in Europe have delivered upwards of 50,000 Model 'A' vehicles into the hands of satisfied owners. The improved Fordson tractor is not yet in production but it is hoped to deliver the first tractors completely manufactured at our Cork works within the next month."
Construction started at Dagenham in 1929, and, in October 1931, Britain's and Europe's largest car plant opened, producing the Ford Model AA truck and Model A car. This was at the height of the Great Depression, and the Model A was too expensive to tax and run in Britain; very few were sold: only five in the first three months. A smaller car was urgently needed, and this came in 1932 with the 933 cc Model Y, a car much more suited to the market, becoming in 1935 Britain's first £100 car (accounting for inflation £7097). This was Ford's first car specifically designed for sale outside North America. Between 1932 and 1937, over 157,000 were made at Dagenham and Cork, and at its peak it captured 41% of its market sector.
In 1938, Ford's Cork factory hit an important milestone, producing its 25,000th vehicle since becoming an assembly plant in 1932. In all, 73,000 cars, trucks and tractors had been built at Cork up to that time.
The original 1928 plan was for Canada, having the benefit of Imperial Preference tariffs, to manufacture components for Ford assembly plants in the British Empire. Dagenham was to do, and did, the same for assembly plants in Europe, but in 1932, mired in the financial depression, both France and Germany announced their intention to impose heavy new tariffs on imported components. In France, urgent arrangements were made with Mathis for their plant to be leased by a joint-venture to be known as Matford and devoted to the full manufacture of Ford or Matford products.
More capital was required. There were consequential exchanges in shareholdings between Dagenham and Dearborn and other shareholders.
As an indication of the British and Irish company's sense of independence, in 1938 Henry Ford and Harry Ferguson came to 'a gentlemen's agreement', whereby Ford would manufacture tractors designed by Ferguson, using the "Ferguson System". Production commenced in the USA in June 1939, and the product was outstandingly successful, but Henry Ford was unable to persuade Ford in Britain to manufacture the Ford-Ferguson, though they did sell the US-made tractors. In 1945 Ferguson arranged British production with Standard Motor Company. Harry Ferguson sued US Ford for illegal use of his patents, asking for compensation of £90 million; this was settled out of court in 1952. Charles E. Sorensen's autobiography—he was a director of this company—described Ferguson so unfavourably that his UK publishers were obliged to scrap all copies and pay costs; Sorensen made a public apology.
During the Second World War, the Dagenham plant turned out 360,000 vehicles, and a new factory in Trafford Park, Manchester, made 34,000 Rolls-Royce Merlin engines.
After World War II, civilian production resumed. Dagenham made 115,000 vehicles in 1946, and factories in Walthamstow in Essex (later London) and Langley in Buckinghamshire (later Berkshire) were acquired. The millionth vehicle made since the Dagenham factory started production in October 1931 rolled from the assembly line on 27 August 1946, a cream Ford Prefect 10 hp saloon.
Henry Ford resigned in 1945 in favour of grandson Henry Ford II, and died in April 1947. Perry, founder-chairman of Ford Motor Company Limited and each of the Ford Group's European subsidiaries, retired in 1948. In 1950, Ford's controlling interests in the European businesses were sold to Ford Dearborn. In 1953, following the death of its Detroit founder, Briggs Motor Bodies, whose parent provided bodies to Ford America, was purchased, giving the company more control of its supplies and so acquiring plants at Doncaster, Southampton, Croydon and Romford. By 1953, Ford of Britain directly employed 40,000 people.
Until 1960, Ford Motor Company Limited remained a publicly quoted company, its shares freely listed on British exchanges, with more than 10,000 stockholders. The Ford Motor Company of Dearborn Michigan then held just 54% of its shares. That year, after eighteen months of rumour and denial, the US company offered to buy out the other shareholders. The offer was accepted, and Ford completed payment for the other 46% of Ford Motor Company Limited at the end of January 1961. Ford of Britain, properly Ford Motor Company Limited, then became a wholly-owned Ford subsidiary.
In 1962, Ford opened a factory at Halewood, Liverpool, to make the Anglia. This ceased to be a Ford plant (although remained under Ford ownership) when the last Escort came off the production line in 2000, and was then converted to make the Jaguar X-Type in 2001, and latterly the Land Rover Freelander. Halewood was included in the sale of Jaguar and Land Rover to Tata Motors in 2008, although Ford retained ownership of its transmission works.
Another new factory opened at Basildon in 1964 to make tractors, and, in 1965, a further plant was acquired at Crymlyn Burrows, Swansea, to make chassis components and axles.
The Cork factory celebrated the 50-year anniversary in 1967. As part of that landmark event, a £2 million investment programme was announced to rebuild, re-equip and modernise the assembly plant. As a result, the plant was to become the largest and most modern factory of its kind in Ireland. In the same year, Ford of Europe was formed with Henry Ford and Son Limited. It was an important partnership from the start. Another £2 million was spent on assembly facilities and operations, to ensure that Cork production equalled the highest European standards of quality. By 1977, the total area of the plant was well over 450,000 square feet.
The rationalisation plan put in place meant that, in 1972, the Cork plant became a two-car plant that was producing the two best selling cars in Ireland: the Escort and Cortina. Between them, these two models were accounting for 75% of Ford sales in Ireland at the time. The Irish company was also exporting around 4,000 cars (mostly Escorts) to Britain. The Cork plant closed in 1984.
The Ford sewing machinists strike of 1968 was a landmark labour-relations dispute in the United Kingdom. The strike began on 7 June 1968, when women sewing machinists at Dagenham plant walked out and were later followed by the machinists at Halewood Body & Assembly plant. The women were responsible for car seat covers, and their strike eventually led to a complete halt to all car production. The Dagenham sewing machinists walked out when, as part of a regrading exercise, they were informed that their jobs were graded in Category B (less-skilled production jobs), instead of Category C (more-skilled production jobs), and that they would be paid 15% less than the full B rate received by men.
The strike ended three weeks after it began, following the intervention of Barbara Castle, the Secretary of State for Employment and Productivity. The deal brokered immediately increased their rate of pay to 8% below that of men, rising to the full category B rate the following year.
Ford produced a range of commercial vehicles, starting with the Model TT in 1917. From 1933 to 1939 these were badged Fordson; this changed to Fordson Thames until 1957, after which it became plain Thames. From 1965 they reverted to Ford. After the closure of the Trafford Park factory, most of the larger commercials were built at Langley. The truck operation was sold to the Iveco group of Italy in 1986, and became Iveco Ford (48% owned by Ford). The Langley plant closed in 1997.
At midday on Wednesday, 26 July 2013, Ford ended more than 100 years of vehicle manufacturing in the UK, with end of assembling Transit vans, by moving production of the next generation Transit to the Ford Otosan plant in Turkey. Ford Southampton plant built 28,000 vans, barely a third of its 2007 production.
Chairmen
Ford of Europe was created in 1967 by the merging of the businesses of Ford Motor Company Limited and Ford-Werke GmbH.
Models
Passenger cars
Commercial vehicles
Supercars
General Motors Company, commonly referred to as General Motors (GM), is an American multinational corporation headquartered in Detroit that designs, manufactures, markets, and distributes vehicles and vehicle parts, and sells financial services, with global headquarters in Detroit's Renaissance Center. It was originally founded by William C. Durant on September 16, 1908 as a holding company. The company is the largest American automobile manufacturer, and one of the world's largest. As of 2019, General Motors is ranked #13 on the Fortune 500 rankings of the largest United States corporations by total revenue.
General Motors manufactures vehicles in 15 countries; its core automobile brands include Chevrolet, Buick, GMC, and Cadillac. It also either owns or holds a significant stake in foreign brands such as Holden, Wuling, Baojun, and Jiefang. Annual worldwide sales volume reached a milestone of 10 million vehicles in 2016.
In addition to its twelve brands, General Motors holds a 20% stake in IMM, and a 77% stake in GM Korea. It also has a number of joint-ventures, including Shanghai GM, SAIC-GM-Wuling and FAW-GM in China, GM Uzbekistan, General Motors India, General Motors Egypt, and Isuzu Truck South Africa. General Motors employs 212,000 people and does business in more than 140 countries. General Motors is divided into four business segments: GM North America (GMNA), GM International Operations (GMIO), Cruise, and GM Financial.
The company also operates a mobility division called Maven, which operates car-sharing services in the United States, and is studying alternatives to individual vehicle ownership.
GM Defense is General Motors' military defense division, catering to the needs of the military for advanced technology and propulsion systems for military vehicles.
General Motors led global annual vehicle sales for 77 consecutive years from 1931 through 2007, longer than any other automaker, and is still among the world's largest automakers by vehicle unit sales.
General Motors acts in most countries outside the U.S. via wholly owned subsidiaries, but operates in China through ten joint ventures. GM's OnStar subsidiary provides vehicle safety, security and information services.
In 2009, General Motors shed several brands, closing Saturn, Pontiac, and Hummer, and emerged from a government-backed Chapter 11 reorganization. In 2010, the reorganized GM made an initial public offering that was one of the world's top five largest IPOs to date, and returned to profitability later that year.
William C. Durant's Durant-Dort Carriage Company, of Flint, Michigan, had become the leading manufacturer of horse-drawn vehicles in the United States by 1900. Durant was averse to automobiles, but fellow Flint businessman James H. Whiting, owner of Flint Wagon Works, sold him the Buick Motor Company in 1904. Durant formed the General Motors Company in 1908 as a holding company, with partner Charles Stewart Mott. GM's first acquisition was Buick, which Durant already owned, then Oldsmobile, on November 12, 1908. In 1909 Durant brought in Cadillac, Elmore, Oakland (predecessor of Pontiac), and the Reliance Motor Truck Company of Owosso, Michigan and the Rapid Motor Vehicle Company of Pontiac, Michigan (predecessors of GMC). Durant over-leveraged the fledgling company in making these acquisitions, and was removed by the board of directors in 1910 at the behest of the bankers who backed the loans to keep GM in business.
Durant re-entered the automotive industry the following year by co-founding the Chevrolet Motor Company with Swiss race car driver Louis Chevrolet (who left the company bearing his name in 1915). In 1916 GM was reincorporated in Detroit as General Motors Corporation. By 1917 the Chevrolet Motor Company had become successful enough that Durant, with the backing of McLaughlin and Pierre S. du Pont, reacquired a controlling interest in GM. Chevrolet Motor Company was consolidated into GM on May 2, 1918. Only two years later du Pont orchestrated the removal of Durant once again and replaced him with Alfred P. Sloan.
Sloan established annual styling changes making previous year's models to be "dated". He also implemented the pricing strategy that all car companies use today. The pricing strategy had Chevrolet, Pontiac, Oldsmobile, Buick and Cadillac priced from least expensive to most, respectively.
General Motors grew in prominence surpassing Ford Motors selling just over 50% of car sales in 1962. With the prominence of the company, president of General Motors, Charlie Wilson said it best - "What's good for General Motors is good for America".
Their industrial dominance was displayed as they manufactured products other than cars and trucks such as Aircraft(North American Aviation), Construction equipment(Terex), Trains(Electro-Motive), appliances(Frigidaire).
On July 10, 2009, following Chapter 11 reorganization after an initial filing on June 8 2009, the original General Motors sold assets and some subsidiaries to an entirely new company including the trademark General Motors. Liabilities were left with the original GM freeing the companies of many liabilites resulting in a new GM.
GM emerged from government backed Chapter 11 reorganization after an initial filing on June 8, 2009. Through the Troubled Asset Relief Program the US Treasury invested $49.5 billion in General Motors and recovered $39 billion when it sold its shares on December 9, 2013 resulting in a loss of $10.3 billion. The Treasury invested an additional $17.2 billion into GM's former financing company, GMAC (now Ally). The shares in Ally were sold on December 18, 2014 for $19.6 billion netting $2.4 billion. A study by the Center for Automotive Research found that the GM bailout saved 1.2 million jobs and preserved $34.9 billion in tax revenue.
Also in 2009 General Motors of Canada Limited was not part of the General Motors Chapter 11 Bankruptcy, the company shed several brands, closing Saturn, Pontiac, and Hummer, while selling Saab Automobile to Dutch automaker Spyker, and emerged from a government-backed Chapter 11 reorganization. In 2010, the reorganized GM made an initial public offering that was one of the world's top five largest IPOs to date, and returned to profitability later that year.
Based on global sales, General Motors is routinely among the world's largest automakers. Headquartered at the Renaissance Center in Detroit, GM employs approximately 180,000 people around the world. In 2009, General Motors sold 6.5 million cars and trucks globally; in 2010, it sold 8.39 million.
As of April 2019, Mary Barra is the chief executive officer (CEO) and chairman of the board and Mark Reuss is the president. The head of design, Edward T. Welburn, was the first African American to lead a global automotive design organization, and was the highest ranking African American in the US motor industry in 2014. On April 7, 2016, he announced his retirement from General Motors after 44 years, effective July 1, 2016. He was replaced by Michael Simcoe.
As part of the company's advertising, Ed Whitacre announced the company's 60-day money-back guarantee and repayment of a $6.7 billion loan from the government ahead of schedule. On December 12, 2013, GM announced that Mary Barra, 51, executive vice president, Global Product Development, Purchasing and Supply Chain, was elected by the board of directors to become the next CEO of the company succeeding Dan Akerson on January 15, 2014. Barra also joined the GM board. From June 2009 to March 2011, the company had three chief executive officers and three chief financial officers.
The company has reported annual profits since 2010. It can carry forward previous losses to reduce tax liability on future earnings. It earned $4.7 billion in 2010. The Wall Street Journal estimated the tax break, including credits for costs related to pensions and other expenses, can be worth as much as $45 billion over the next 20 years.
In 2010, General Motors ranked second on the list with 8.5 million units produced globally. In 2011, GM returned to the first place with 9.025 million units sold worldwide, corresponding to 11.9% market share of the global motor vehicle industry. The top two markets in 2011 were China, with 2,547,203 units, and the United States, with 2,503,820 vehicles sold. The Chevrolet brand was the main contributor to GM performance, with 4.76 million vehicles sold around the world in 2011, a global sales record.
In May 2013 during a commencement speech, CEO Dan Akerson suggested that GM was on the cusp of rejoining the S&P 500 index. GM was removed from the index as it approached bankruptcy in 2009.
On April 24, 2014, CNNMoney reported that GM profits fell to $108 million for the first three months of 2014. GM now estimates the cost of their 2014 recall due to faulty ignition switches, which have been linked to at least 124 deaths, at $1.5 billion. Shares of GM were down 16% for the year before the new announcement of GM's lower profits.
On January 4, 2016, Fortune reported that GM led a $1 billion equity financing in the transportation network company (TNC) Lyft.com. This was GM's first investment in the ride-sharing ventures and its reported participation ($500,000,000) in the round is considered to be indicative of its efforts towards the future of transportation, which it believes will be "connected, seamless and autonomous".
Board of Directors
As of February 2017:
General Motors Canada Limited is the Canadian allied subsidiary of General Motors. The employees are not all Canadian, as some salaried personnel are from the U.S. and work for the company. GM products focus primarily on its four core divisions — Chevrolet, Cadillac, Buick, and GMC. The GM restructuring has resulted in a lower break-even point for annual sales and renewed profits because of the loss of millions of jobs.
In mid-2005, GM announced that its corporate chrome power emblem "Mark of Excellence" would begin appearing on all recently introduced and all-new 2006 model vehicles produced and sold in North America. However, in 2009 the "New GM" reversed this, saying that emphasis on its four core divisions would downplay the GM logo.
In May 2012, GM recorded an 18.4% market share in the U.S. with stock imported. In November 2018, GM announced it would lay off more than 14,000 employees in North America, comprising 15% of its workforce and 25% of its executive staff in the region. The company plans to cease production in three assemblies (Lordstown Assembly in Ohio, Detroit-Hamtramck Assembly in Michigan and Oshawa The first GM Corporation in North America 1918 in Canada) and two engine/transmission (White Marsh, Maryland, and Warren, Michigan) plants during 2019. Employees from those plants would also be made redundant.
In 2008 the third-largest individual country by sales was Brazil with some 550,000 GM vehicles sold. In that year Argentina, Colombia, and Venezuela sold another 300,000 GM vehicles, suggesting that the total GM sales in South America (including sales in other South American countries such as Chile, Peru, Ecuador, Bolivia, etc.) in that year were at a similar level to sales in China.
On April 20, 2017, General Motors announced that the Venezuelan government had seized the General Motors Venezolana plant in Valencia.
Prior to their sale to Groupe PSA in 2017, Opel was the main GM brand name in Europe except in the United Kingdom, where Opel's British subsidiary, Vauxhall, used its own "Vauxhall" brand name.
The Chevrolet brand was reintroduced in Europe in 2005, selling mostly rebranded Daewoo cars acquired by GM Korea. After having lost approximately $18B over 12 years, GM began phasing out mainstream sales of Chevrolet in Europe in late 2013, and finished by late 2015, to focus on Opel/Vauxhall. Chevrolets continue to be sold in Russia and the Commonwealth of Independent States, through the GM Uzbekistan joint venture. Chevrolet still has a limited presence in Europe through imports of the Corvette and Camaro, while Cadillac maintains a limited presence as well.
In 2012, PSA Peugeot Citroën and General Motors formed an alliance, which involved General Motors acquiring seven percent of the PSA Group. The ownership was soon divested on December 13, 2013, generating "gross proceeds of €0.25 billion." By 2017, Groupe PSA considered taking over Opel from GM, after GM reported a loss of $257 million from its European operations in 2016, the sixteenth consecutive loss-making year for GM in Europe, bringing its total losses in Europe since 2000 to more than US$15 billion. On March 6, 2017 the sale of Opel and Vauxhall to the PSA Group for $2.3 billion was confirmed.
The company manufactures most of its China market vehicles locally. Shanghai GM, a joint venture with the Chinese company SAIC Motor, was created with Canadian Regal in 1990 on March 25, 1997. The Shanghai GM plant was officially opened on December 15, 1998, when the first Chinese-built Buick came off the assembly line. The SAIC-GM-Wuling Automobile joint-venture is also successfully selling microvans under the Wuling brand (34 percent owned by GM). Much of General Motors' recent growth has been in the People's Republic of China, where its sales rose 66.9 percent in 2009, selling 1,830,000 vehicles and accounting for 13.4 percent of the market.
Buick is strong in China from early Introduction by the Canadian Buick sold to the last Emperor of China, later being led by the Buick Regal 1990 subcompact. The last emperor of China owned a Buick. The Cadillac brand was introduced in China in 2004, starting with exports to China. GM pushed the marketing of the Chevrolet brand in China in the mid-2000s as well. As part of this push, GM transferred Buick Sail to that brand as an attempt to appeal to Chinese middle-class buyers looking for small and affordable cars.
In August 2009 the joint venture of FAW GM Light Duty Commercial Vehicle Co Ltd was formed that mainly produces Jiefang light-duty trucks.
General Motors vehicle sales in China rose 28.8 percent to a record 2,351,610 units in 2010. GM set up an auto research center as part of a US250 million corporate campus in Shanghai to develop 'gasoline-hybrid cars, electric vehicles and alternative fuels, engines and new technologies'. The company plans to double its sales from 2010 to about 5 million units in China by 2015.
SAIC-GM-Wuling established the low-cost Baojun brand to better compete with domestic rivals, Chery, Geely and BYD for first-time buyers of cars priced around US$10,000. It is estimated that such market in China is about 5 million vehicles a year, larger than the auto market in France and Britain combined. However, some are worried that 'local brands like Baojun could eventually become threats to their parent brands if they compete more against established models over time'. Shanghai-GM-Wuling sold 1.23 million vehicles in 2010, mainly commercial vans and trucks, of which about 700,000 units were a van called Sunshine.
GM maintains a dealership presence in Japan, called GM Chevrolet Shop, previously known as GM Auto World Shop. Current GM Japan dealerships were either former Saturn dealerships or Isuzu dealership locations. GM products are also currently sold by the company Yanase Co., Ltd. since 1915.
In August 2011, GM announced plans to reactivate its plant that previously produced rebadged Chevrolet Blazer as Opel as well as Brazilian Blazer, and also build a new plant in Bekasi, West Java, Indonesia, which would produce 40,000 passenger cars per year for the Southeast Asian market. It is the third plant in Southeast Asia, after the Rayong plant, Thailand, and the Hanoi plant, Vietnam.
In October 2011, the South Korea Free Trade Agreement opened up the South Korean auto market to American made cars. GM owns (per December 31, 2011) 77.0% of its joint venture in South Korea, GM Korea.
On March 11, 2013, GM opened a new 190,300 square-foot manufacturing plant in Bekasi, Indonesia. In February 2015, GM announced they will close the Bekasi plant by the end of June and stop production of the Sonic in Thailand by mid-year.
GM announced on May 18, 2017, that it would exit the Indian market, which it had entered for the second time in 1996. The first time was in 1928 when it became the first car maker to manufacture cars in India. GM would, however, continue to manufacture cars from its Talegaon, Maharashtra plant for the export market. This plant has a capacity of 1,60,000 units annually. The older Halol, Gujarat plant with a capacity for 50,000 units stopped production on April 28, 2017. It will be sold, with GM in talks with China's SAIC Motor Corporation Ltd. The India arm's domestic sales for April 2016 – March 2017 declined to 25,823 units from 32,540 the previous year and market share contracted from 1.17 percent to 0.85 percent for the same period. However, exports surged 89 percent during the same period to 70,969 units. GMTC-I, GM's technical center in Bengaluru, India will continue doing its global work. About 400 employees, 8 percent of GM's total Indian work-force, would be affected by the pull-out. Weak product line-up and below par service quality were the reasons for the poor showing by GM in India. It will also affect 10,000 employees working with about 120 Outlets/Dealership of GM in India.
In February 2018, comments by CEO Mary Barra that GM's Korean operations' cost structures had "become challenging" fuelled speculation that the company might divest GM Korea, followed by a market exit. GM is currently negotiating a $2.8 billion investment plan for its Korean operations from the South Korean government, to be dispersed over the next decade. Furthermore, the company approached the Korea Development Bank to participate in a $2.7 billion debt swap issued by its Korean subsidiary.
According to the South Korean unit of General Motors, its domestic sales for March dropped by 58 percent, which is more than half compared to the past year. In February 2018, General Motors had said to shut down one factory and then decide what lies ahead for the remaining three plants in South Korea during rising losses there. In recent years, the US automaker pulled its Chevy brand from Europe which wedged GM Korea's exports since it was a major market for the Korean firm.
On February 17, 2020, GM announced it will withdraw from the Thai market and sell its Rayong plant to Great Wall Motors by the end of the year.
GM has a long history in Egypt which began in the 1920s with the assembly of cars and light pickup trucks for the local market. In the mid of the 1950s, GM withdrew from the Egyptian market. Some years later, the Ghabbour Brothers began to assemble Cadillac, Chevrolet and Buick models up to the 1990s. Since 1983 GM and Al-Monsour Automotive Company have owned General Motors Egypt, which is currently the only manufacturer of traditional GM branded vehicles in Egypt.
In the 1920s Miller Brothers Nigeria was founded as an importer of commercial vehicles of the Bedford brand into the country. In 1949, the company opened its own assembly plant and operated under the name Niger/Nigeria Motors. In 1965 the plant and its distribution network was split into different companies and renamed as Federated Motors Industries. In 1991 the company was taken in by a joint venture between General Motors and UACN of Nigeria.
Another manufacturing base of the GM for the African markets is the Industries Mécaniques Maghrébines headquartered in Kairouan, Tunisia, which assembles Isuzu and Mazda models for the Maghreb region.
Formed in 1975, General Motors East Africa (GMEA) was the largest assembler of commercial vehicles in the region exporting them from Kenya to East and Central African countries including Uganda, Tanzania, Malawi, Rwanda and Burundi. Its facility located in Nairobi assembled a wide range of Isuzu trucks and buses including the popular Isuzu N-Series versatile light commercial vehicle, TF Series pick-ups and Isuzu bus chassis. In addition to assembly, GMEA also marketed the Chevrolet products Spark and Optra. Selling entire GM's 57.7 per cent stake in General Motors East Africa to Isuzu was announced on February 28, 2017. After finishing the sale, GMEA was renamed to Isuzu East Africa Limited, effective from August 1, 2017.
General Motors began operating in South Africa in 1913 through its wholly-owned subsidiary, General Motors South Africa. Following the passage of the Comprehensive Anti-Apartheid Act in 1986, GM was forced to divest from South Africa, and GMSA became the independent Delta Motor Corporation. GM purchased a 49% stake in Delta in 1997 following the end of apartheid, and acquired the remaining 51% in 2004, reverting the company to its original name. By 2014 it was targeting the production of 50,000 cars a year but was being hampered by national labor unrest, strikes and protests. In May 2017, GM announced that it would exit the South Africa market by the end of 2017 by selling part of the business to Isuzu and look for a buyer for the rest of the business.
In New Zealand, GM was represented by locally assembled Chevrolet, Buick, Oldsmobile, Cadillac, and Pontiac vehicles from 1926, and Vauxhall cars from 1931. After World War II, the local production of Chevrolet and Vauxhalls resumed followed by Pontiac again in 1959.
In 1954 sales of fully imported Holden vehicles began. New Zealand assembly of Holdens began in 1957 and by the end of the 1960s Holdens replaced all Chevrolets and Pontiacs (both in 1968), and most Vauxhalls. Opel, Bedford, and Isuzu, vehicles were assembled or imported at different times during the 1970s, 1980s, and 1990s. All local General Motors assembly plants in New Zealand closed by 1990. GM New Zealand was renamed Holden New Zealand in 1994.
In Australia, GM has been represented by the Holden brand since 1948. Vauxhall, Chevrolet, and Pontiac vehicles were also assembled in Australia, but production ceased by the end of 1968.
In 2012, GM established Opel as a niche marque in Australia and began to sell Opel branded cars in Australia. However, less than twelve months later, Opel sales ceased.
On December 10, 2013, GM announced that Holden would cease manufacturing operations in Australia by the end of 2017. Holden's Australian presence now only consists of a national sales company, a parts distribution centre and a global design studio. Holdens are now sourced from GM's Korean and North American operations, and PSA (Opel).
On February 17, 2020, GM announced that it would exit Australian, New Zealand, and Thailand markets, and confirmed that the Holden badge would cease to exist by 2021. The global design center and Lang Lang (Victoria) test track are set to be closed, with the remaining 200 staff catering for warranty-related claims for up to 10 years. Despite its announcement, GM will continue to have some presence in Australia, as they plan to export some Chevrolet, Cadillac, and GMC vehicles through a new entity called General Motors Specialty Vehicles, as plans are still on track to bring American-built brands to the region, which was announced before Holden's shutdown.
GM has participated over the years in the World Touring Car Championship (WTCC), 24 Hours of Le Mans, NASCAR, SCCA, Supercars Championship, and many other world venues.
GM's engines were highly successful in the Indy Racing League (IRL) throughout the 1990s, winning many races in the small V-8 class. GM has also done much work in the development of electronics for GM auto racing. An unmodified Aurora V-8 in the Aerotech, captured 47 world records, including the record for speed endurance in the Motorsports Hall of Fame of America. Recently, the Cadillac V-Series has entered motorsports racing.
GM has also used many cars in the American racing series NASCAR. Currently the Chevrolet Camaro ZL1 is the only entry in the series, but in the past the Pontiac Grand Prix, Buick Regal, Oldsmobile Cutlass, Chevrolet Lumina, Chevrolet Malibu, Chevrolet Monte Carlo, Chevrolet Impala, and the Chevrolet SS were also used. GM has won a total of 40 NASCAR Cup Series manufacturer's championships, including 34 with Chevrolet, the most of any make in NASCAR history, 3 with Oldsmobile, 2 with Buick, and 1 with Pontiac. GM leads all other automobile manufacturers in races won in NASCAR's premier series at 1,011. Chevrolet leads individual makes with 677 wins.
In Australia, there is the Supercars Championship which is battled out by the two main rivals of (GM) Holden and Ford. The current Holden Racing Team cars are based on the Holden Commodore and run a 5.0-litre V8-cylinder engine producing 635 bhp (474 kW). These cars have a top speed of 298 km/h (185 mph) and run 0–100 km/h in 3.8 seconds. The Holden Racing Team is Australia's most successful team in Australian touring car history. In 2006 and 2007, the drivers' championship was won by the very closely linked (now defunct) HSV Dealer Team. With Holden's demise in 2020, GM is expected to make the exported Chevrolet Camaro the successor-in-line to the Holden Commodore once existing deals are completed.
Research and development (R&D) at General Motors began organically as the continuation of such R&D as the various divisions (e.g., Cadillac, Buick, Olds, Oakland) were already doing for themselves before the merger. Its character was entirely empirical; it was whatever key people in each company had been competent enough to organize and pursue. R. S. McLaughlin's Carriage Company in 1876 was designing and inventing Carriage Gear. The McLaughlin Companies became General Motors of Canada Limited. Charles F. Kettering's Dayton Engineering Laboratories Company (Delco), at Dayton, Ohio, was still an independent firm at this time. Its work was well known to GM central management through its relationship as a supplier and consultancy to Cadillac and Buick.
In 1916, Durant organized the United Motors Corporation as an amalgamation of parts suppliers, supplying GM and other OEMs but independent of GM. Alfred P. Sloan, head of the newly acquired Hyatt Roller Bearing Corporation, became United Motors' CEO. United Motors acquired Delco, and Kettering began his association with Sloan. United Motors also acquired at this time the original Remy corporation (called the Remy Electric Company), a competitor of Delco. In 1918 General Motors bought United Motors. Various entities grew out of the original Delco and Remy, including the Dayton Metal Products Corporation, the General Motors Research Corporation, the Delco Division and Remy Electric Division of GM, Delco Remy (now Remy International, Inc.), ACDelco, Delco Electronics, and others. Today's main successor corporation is Delphi Automotive, which nowadays is an independent parent corporation.
The General Motors Research Corporation, at Dayton under Kettering, became a true automotive research center. During the next few decades it led the development of:
Many electrical-appliance features for cars and trucks
In 1911, Charles F. Kettering, with Henry M. Leland, of Dayton Engineering Laboratories Company (DELCO) invented and filed U.S. Patent 1,150,523 for the first electric starter in America.
In 1921, General Motors patented the use of Tetraethyllead as an antiknock agent leading to the development of higher compression engines resulting in more power and efficiency even though much later it was realized that lead in gasoline was harmful to various biological organisms including humans.
In 1937, Jominy & Boegehold of GM invented the Jominy end-quench test for hardenability of carbon steel, a breakthrough in heat treating still in use today as ASTM A255.
In 1939, GM introduced the world's first automatic transmission the Hydra-matic for the 1940 Oldsmobile and would be adopted by the auto industry later.
In 1962, GM introduced the first turbo charged engine in the world for a car in the Oldsmobile Cutlass Turbo-Jetfire.
In 1971, the Lunar Rover, a partnership between GM's Delco Defense Electronics Division and Boeing traversed the surface of the Moon.
In 1972, GM produced the first rear wheel Anti-lock brake system in the world for two of their cars: the Toronado and Eldorado.
In 1984, Robert Lee of GM invented the Fe14Nd2B permanent magnet, fabricated by rapid solidification.
Dichlorodifluoromethane refrigerant for HVAC and refrigeration applications (Freon, R-12; recognized today as a bad idea environmentally [being a chlorofluorocarbon (CFC)], but a technological wonder of its day)
Commercially practical two-stroke diesel engines
Better transmissions for track-laying vehicles
Many other advancements
Although GM R&D (as it is known in colloquial shorthand) began as an organization largely built around one man (Kettering), it eventually evolved into a more modern organization whose path is shaped by individuals but not dominated entirely by any of them. World War II was a turning point wherein military affairs, after mingling with the technologies of applied science for some 80 years, first started to become fundamentally reinvented by them. Civilian life, too, changed in this direction. By the 1950s, corporations such as GM and many others were facing a new era of R&D, different from earlier ones. Less about genius inventors and individual inventions, and more about organizational progress and integrated systems, it raised new questions about where the capital for R&D would come from in an era of limitless demand for R&D (although not necessarily for production). Alfred Sloan, longtime CEO of GM (1920s to 1960s), discussed in his memoir (also considered a seminal management treatise) the relationships between government, academia, and private industry in the areas of basic science and applied science, in light of this new era. The views he laid out reflected (and influenced) wide consensus on these relationships that persists largely to today.
Today, GM R&D, headquartered in Warren, Michigan, is a network of six laboratories, six science offices, and collaborative relationships in over twelve countries including working relationships with universities, government groups, suppliers, and other partners from across the globe.
On September 7, 2014, at the Intelligent Transport Systems World Congress in Detroit GM disclosed it would be introducing auto-pilot features into certain 2017 models of its cars, which would go on sale in 2016. The "super cruise" or vehicle-to-vehicle V2V technology is likely to be first introduced to the Cadillac range, enabling drivers to switch in and out of semi-automated mode. In December 2016, General Motors announced it would begin testing self-driving vehicles on public roads in Michigan after Gov. Rick Snyder signed a package of bills legalizing the operation of autonomous vehicles.
In March 2016, General Motors bought Cruise Automation, a San Francisco self-driving vehicle start-up, to develop self-driving cars that could be used in ride-sharing fleets.
In October 2017, General Motors acquired Strobe, a solid state LIDAR company. Strobe's prototypes produce brief "chirps" of frequency-modulated (FM) laser light, where the frequency within each chirp varies linearly. Measuring the phase and frequency of the echoing chirp allows the system to directly measure both the distance and the velocity of objects in the road ahead. Strobe, Cruise and GM will work together to develop the technology for future self-driving cars.
In November 2017 Two self-driving Chevy Bolt EV cars were seen during a media event by Cruise Automation, GM's autonomous car unit, in San Francisco, California, U.S. The automaker is already operating self-driving Chevy Bolts in San Francisco as part of a beta test run by the company's subsidiary.
In October 2018, Honda announced the investment of $2.75 billion in GM's self-driving car unit. The firm announced an initial investment of $275 million initially, followed by $2 billion within the year.
From the 1920s onward, General Motors always maintained an internal dialog about what its economy-car and small-car policies should be. The economy and size considerations often naturally overlapped, although a strong distinction was always drawn in the 20th century between policies for the U.S. market and policies for other markets. Economy (in some form) always had good demand anywhere, but its definition in the U.S. was long considered different from that in other markets. In this view, "economy" in the U.S. did not mean "small" in the sense of what qualified as "small" outside the U.S. The policy discussion often focused on topics like the higher demand for truly small cars in non-U.S. markets than in the U.S., and whether it made more sense to import a car into a certain country or to build it domestically within that country, either as some variant of knockdown or with truly extensive domestic sourcing. GM's acquisitions of Vauxhall Motors Ltd (UK, 1925) and Adam Opel AG (Germany, 1929), rather than starting new domestic companies to compete against them, were based on analyses that convinced GM managers that acquiring an existing domestic manufacturer was a better business decision.
Although GM since the 1920s has always offered economy models in the U.S. market (relative to that market's definition in any given decade) and had done research and development in the 1940s and 1950s in preparation for any potential rise of strong demand for truly small cars in the U.S. market, it has also been criticized over the decades for not doing enough to promote fuel efficiency in the U.S. market in the 1970s through 1990s. GM's response has been that it has always responded to market demands and that most Americans, despite anything they said to the contrary, did not actually demand (at purchasing-decision time) small size or fuel efficiency in their vehicles to any great or lasting extent. Although some U.S. consumers flocked temporarily to the ideal of fuel economy whenever fuel supply crises arose (such as 1973 and 1979), they flocked equally enthusiastically to SUVs when cheap fuel of the 1980s and 1990s temporarily shielded them from any downside to these choices.
Since the return of high fuel prices in the 2000s and 2010s, GM's interest in truly small-car programs for the U.S. market has been renewed. As part of General Motors Company development, GM revived one of its idled U.S. factories for the production of a small car in Orion, Michigan, with the creation of 1,200 American jobs. This will be the first time that GM produced a sub compact car in the United States since the Chevrolet Chevette ended production in 1986. This retooled plant will be capable of building 160,000 cars annually, including both small and compact vehicles. Production started in late 2011 with the Chevrolet Sonic.
General Motors has published principles regarding the environment and maintains an extensive website to inform the public. In 2008, General Motors committed to engineering half of its manufacturing plants to be landfill-free. In order to achieve its landfill-free status, production waste is recycled or reused in the manufacturing process.
The world's largest rooftop solar power installation was installed at General Motors Spanish Zaragoza Manufacturing Plant in late 2008. The Zaragoza solar installation has about 2,000,000 square feet (190,000 m2) of roof at the plant and contains about 85,000 solar panels. The installation was created, owned and operated by Veolia Environment and Clairvoyant Energy, who lease the rooftop area from General Motors. In 2011, General Motors also invested $7.5 million in solar-panel provider Sunlogics, which will install solar panels on GM facilities.
GM has long worked on alternative-technology vehicles, and has led the industry with ethanol-burning flexible-fuel vehicles that can run on either E85 (ethanol) or gasoline. The company was the first to use turbochargers and was an early proponent of V6 engines in the 1960s, but quickly lost interest as muscle car popularity increased. They demonstrated gas turbine vehicles powered by kerosene, an area of interest throughout the industry, but abandoned the alternative engine configuration in view of the 1973 oil crisis. In the 1970s and 1980s, GM pushed the benefits of diesel engines and cylinder deactivation technologies with disastrous results due to poor durability in the Oldsmobile diesels and drivability issues in the Cadillac V8-6-4 variable-cylinder engines. In 1987, GM, in conjunction with AeroVironment, built the Sunraycer, which won the inaugural World Solar Challenge and was a showcase of advanced technology. Much of the technology from Sunraycer found its way into the Impact prototype electric vehicle (also built by Aerovironment) and was the predecessor to the General Motors EV1.
GM supported a compromise version of the Corporate Average Fuel Economy (CAFE) standard increase from 27 to 35 mpg‑US (8.7 to 6.7 L/100 km; 32 to 42 mpg‑imp), the first such increase in over 20 years. GM hinted that they will not introduce more Volt-based plug-in hybrids.
The company has publicly announced that it is committed to invest heavily in electric cars. In October 2017, GM's executive vice president of global development, Mark Reuss, announced that GM's vehicle lineup would feature 20 electric car models by 2023.
In May 2004, GM delivered the world's first full-sized hybrid pickups, the 1/2-ton Silverado/Sierra. These mild hybrids did not use electrical energy for propulsion, like GM's later designs. In 2005, the Opel Astra diesel Hybrid concept vehicle was introduced. The 2006 Saturn Vue Green Line was the first hybrid passenger vehicle from GM and is also a mild design. GM has hinted at new hybrid technologies to be employed that will be optimized for higher speeds in freeway driving.
GM offered the 2-mode hybrid system in the 2008–2013 Chevrolet Tahoe/GMC Yukon/Cadillac Escalade, and 2009–2013 GM 1/2 half-ton pickups. This hybrid technology, co-developed with DaimlerChrysler and BMW, was first used by GM in a diesel-electric hybrid powertrain (manufactured by Allison Transmission) for transit buses, starting in 2004.
Within the framework of its vehicle electrification strategy, GM introduced the Chevrolet Volt in 2010 as an Extended-Range Electric Vehicle (EREV), an electric vehicle with back-up generators powered by gasoline, or series plug-in hybrid. The production Chevrolet Volt was available in late 2010 as a 2011 model with limited availability. GM delivered the first Volt during December 2010. The second-generation Volt was launched in the U.S. and Canada in October 2015. The second generation has an upgraded drivetrain and improved battery system that increased the all-electric range to 53 miles (85 km) from 38 miles (61 km). In November 2018, GM announced it would cease Volt production in March 2019.
As of October 2018, global Volt/Ampera family sales totaled about 177,000 units since its inception in December 2010, including over 10,000 Opel/Vauxhall Amperas sold in Europe up to December 2015. The Volt family of vehicles ranked as the world's all-time top-selling plug-in hybrid as of September 2018, and it is also the third best selling plug-in electric car in history after the Nissan Leaf (375,000) and the Tesla Model S (253,000), as of October 2018 . The Chevrolet Volt is also the U.S. all-time top-selling plug-in electric car with 148,556 units delivered through October 2018.
General Motors was the first company (in the modern era) to release an all-electric automobile. In 1990, GM debuted the "Impact" concept car at the Los Angeles Auto Show. It was the first car with zero-emissions marketed in the US in over three decades. The Impact was eventually produced as the EV1 for the 1996 model year. It was available through dealers located in only a few regions (e.g., California, Arizona, Georgia). Vehicles were leased, rather than sold, to individuals. In 1999 GM decided to cease production of the vehicles. When the individual leases had expired, they declined to renew the leases or allow the lessors to purchase them. All of the EV1s were eventually returned to General Motors and, with the exception of a few which were donated to museums, all were destroyed. The documentary film Who Killed the Electric Car? covered the EV1 story.
The EV1's cancellation had disappointed supporters of electric vehicles. In 2010, GM debuted the Chevrolet Volt, a plug-in hybrid electric vehicle with back-up generators powered by gasoline (range-extended electric vehicle). General Motors has announced that it is building a prototype two-seat electric vehicle with Segway. An early prototype of the Personal Urban Mobility and Accessibility vehicle—dubbed Project P.U.M.A. – was presented in New York at the 2009 New York International Auto Show.
In October 2011, General Motors announced the production of the Chevrolet Spark EV, an all-electric version of the third generation Chevrolet Spark, with availability limited to select U.S. and global markets. In October 2012, GM Korea announced it will start making and selling the Spark EV domestically in 2013. The production version was unveiled at the 2012 Los Angeles Auto Show. Within the framework of GM's vehicle electrification strategy, the Spark EV is the first all-electric passenger car marketed by General Motors in the U.S. since the EV1 was discontinued in 1999. The Spark EV was released in the U.S. in selected markets in California and Oregon in June 2013. Retail sales began in South Korea in October 2013. GM also plans to sell the Spark EV in limited quantities in Canada and select European markets.
GM began production of the Chevrolet Bolt EV in October 2016, the first ever mass market all-electric car with a range of more than 200 miles (320 km). Deliveries in California are scheduled to begin in late 2016. The vehicle will be launched in all 50 US states and analysts expect it to sell around 30,000 units per year, though GM itself has not confirmed these estimates. The battery pack and most drivetrain components are built by LG and assembled in GM's Lake Orion plant.
In March 2019, the company announced that it would begin production of a new EV model in Lake Orion but declined to provide details about the vehicle at that time. In May 2019, General Motors received pushback on its plan to release a fleet of up to 2,500 modified Chevrolet Bolt electric vehicles. The company planned to release these vehicles by Q4 of 2019 as part of their initiatives to build a controlled self-driving fleet.
In January 2020, GM announced the return of the Hummer nameplate as a series of electric vehicles to be sold from within the GMC portfolio, known as the GMC Hummer EV. The first vehicle, a pickup truck variant, will go on sale in late 2021 with over 1,000 horsepower, to be followed by an SUV sometime in 2022–2023.
GM builds battery packs in southern Michigan. GM also established an automotive battery laboratory in Michigan. GM will be responsible for battery management systems and power electronics, thermal management, as well as the pack assembly. An existing GM facility at Brownstown Township was chosen to be upgraded as battery pack plant. LG Chem's U.S. subsidiary, Compact Power of Troy, Michigan, has been building the prototype packs for the development vehicles and will continue to provide integration support and act as a liaison for the program.
The 1966 GM Electrovan is credited with being the first hydrogen fuel cell car ever produced. Though fuel cells have been around since the early 1800s, General Motors was the first to use a fuel cell, supplied by Union Carbide, to power the wheels of a vehicle with a budget of "millions of dollars". In 2002, it was reported that GM spent about $100 million a year in research and development of fuel cell vehicle. In June 2007, Larry Burns, vice president of research and development, said he was not yet willing to say exactly when hydrogen vehicles would be mass-produced, but he said it should happen before 2020, the year many experts have predicted. He said "I sure would be disappointed if we weren't there" before 2020.
On July 2, 2013, GM and Honda announced a partnership to develop fuel cell systems and hydrogen storage technologies for the 2020 time frame. GM and Honda are leaders in fuel cell technology, ranking No. 1 and No. 2, respectively, in total fuel cell patents filed between 2002 and 2012, with more than 1,200 between them according to the Clean Energy Patent Growth Index.
GM produces several flexible-fuel vehicles that can operate on E85 ethanol fuel or gasoline, or any blend of both. Since 2006 GM started featuring a bright yellow gas cap to remind drivers of the E85 capabilities.
GM is the leader in E85 flex fuel vehicles, with over 6 million FlexFuel vehicles on the road in the U.S. In 2010, GM pledged to have more than half of their annual vehicle production be E85 or biodiesel capable by 2012. As of 2012, GM offers 20 ethanol-enabled FlexFuel cars and trucks in the US, and offers more FlexFuel vehicles models than any other automaker.
GM Defense is the GM division leveraging GM's advanced technology propulsion systems, including Hydrotec Fuel Cell and Jouletec batteries for a variety of military applications including autonomous electric platforms and flex-fuel cell pickups converted for military use.
Since 1994, General Motors has donated over $23 million in cash and vehicles to the Nature Conservancy, and funding from GM supports many conservation projects.
In 1996, GMC partnered with the fashion industry as a part of the GM/CFDA Concept: Cure, a collaboration between General Motors and the Fashion industry bringing awareness to and raising funds for breast cancer. The program involved five designers, each lending their artistic talents to customize five different vehicles. Nicole Miller, Richard Tyler, Anna Sui, Todd Oldham and Mark Eisen were tasked with transforming a Cadillac STS, Buick Riviera, GMC Yukon, Oldsmobile Bravada and Chevrolet Camaro Z28, respectively. The cars were then auctioned with the proceeds presented to the Nina Hyde Center at the Greater Los Angeles Auto Show in 1997.
Since 1997, the GM Foundation has been a source of funding for Safe Kids USA's "Safe Kids Buckle Up" program, a national initiative to ensure child automobile safety through education and inspection.
Through 2002, the PACE Awards program, led by GM, EDS, and SUN Microsystems, has given over $1.2 billion of in-kind contributions which includes computers to over 18 universities to support engineering education. In 2009, the GM led group has helped the Pace Awards program worldwide.
In 2004, GM gave $51,200,000 in cash contributions and $17,200,000 in-kind donations to charitable causes.
The General Motors Foundation (GM Foundation) receives philanthropic bequests from General Motors. It is a 501(c)(3) foundation incorporated in 1976.
On March 21, 2020, following the coronavirus pandemic, General Motors announced that they are working with Ventec Life Systems to produce ventilators. GM's CEO Mary Barra stated, "We are working closely with Ventec to rapidly scale up production of their critically important respiratory products to support our country's fight again the COVID-19 pandemic." According to the statement, Ventec will borrow GM's resources and use their expertise to rapidly build new ventilators.
As it emerged from bankruptcy and company reorganization in 2010, GM structured its brand portfolio (brand architecture). Some nameplates like Pontiac, Saturn, Hummer, and service brands like Goodwrench were discontinued. Others, like Saab, were sold. The practice of putting the "GM Mark of Excellence" on every car, no matter what the brand, was discontinued in August 2009. The company has moved from a corporate-endorsed hybrid brand architecture structure, where GM underpinned every brand to a multiple brand corporate invisible brand architecture structure. The company's familiar square blue "badge" has been removed from the Web site and advertising, in favor of a new, subtle all-text logo treatment on its U.S. site; the Canadian site still retains the blue "badge". In 2011, GM discontinued the Daewoo brand in South Korea and replaced it with the Chevrolet brand. GM holds about 96% of GM Korea (2011–present) which mainly designs and produces Chevrolet and Holden branded vehicles. GM holds about 25% of GM Uzbekistan (2008–present) which produces Ravon, Chevrolet and Daewoo branded vehicles.
In February 2020, GM announced the retirement of the Holden brand due to poor sales. The brand will be completely phased out of both Australia and New Zealand, with cars ceasing to be sold from mid-2020, finally going defunct from 1 January 2021. It also announced that operations, such as servicing and extended warranties will be honoured for the next ten years. GM also announced that they would pull the Chevrolet brand from Thailand.
The 1936–1937 Flint sit-down strike against General Motors changed the United Automobile Workers (UAW) from a collection of isolated locals on the fringes of the industry into a major labor union and led to the unionization of the domestic United States automobile industry.
After the first convention of UAW in 1936, the union decided that it could not survive by piecemeal organizing campaigns at smaller plants, as it had in the past, but that it could organize the automobile industry only by going after its biggest and most powerful employer, General Motors Corporation, focusing on GM's production complex in Flint, Michigan.
Organizing in Flint was a difficult and dangerous plan. GM controlled city politics in Flint and kept a close eye on outsiders. According to Wyndham Mortimer, the UAW officer put in charge of the organizing campaign in Flint, he received a death threat by an anonymous caller when he visited Flint in 1936. GM also maintained an extensive network of spies throughout its plants. This forced UAW members to keep the names of new members in secret and meeting workers at their homes.
As the UAW studied its target, it discovered that GM had only two factories that produced the dies from which car body components were stamped: one in Flint that produced the parts for Buicks, Pontiacs, and Oldsmobiles, and another in Cleveland that produced Chevrolet parts.
While the UAW called for a sit-down strike in Flint, the police, armed with guns and tear gas, attempted to enter the Fisher Body 2 plant on January 11, 1937. The strikers inside the plant pelted them with hinges, bottles, and bolts. At the time, Vice President John Nance Garner supported federal intervention to break up the Flint Strike, but this idea was rejected by President Franklin D. Roosevelt. The president urged GM to distinguish a union so the plants could re-open. The strike ended after 44 days.
That development forced GM to bargain with the union. John L. Lewis, President of the United Mine Workers and founder and leader of the Congress of Industrial Organizations, spoke for the UAW in those negotiations; UAW President Homer Martin was sent on a speaking tour to keep him out of the way. GM's representatives refused to be in the same room as the UAW's, so Governor Frank Murphy acted as a courier and intermediary between the two groups. Governor Murphy sent in the U.S. National Guard, not to evict the strikers, but rather to protect them from the police and corporate strike-breakers. The two parties finally reached agreement on February 11, 1937, on a one-page agreement that recognized the UAW as the exclusive bargaining representative for GM's employees who were members of the union for the next six months.
The tool and die strike of 1939, also known as the "strategy strike", was an ultimately successful attempt by the United Auto Workers Union (UAW) to be recognized as the sole representative for General Motors workers. In addition to representation rights, the UAW, working jointly with the Congress of Industrial Organizations (CIO), sought to resolve existing grievances of skilled workers.
From November 21, 1945, until March 13, 1946 (113 days), CIO's United Automobile Workers (UAW), organized "320,000 hourly workers" to form a US-wide strike against the General Motors Corporation, workers used the tactic of the sit down strike. It was "the longest strike against a major manufacturer" that the UAW had yet seen, and it was also "the longest national GM strike in its history." As director of the UAW's General Motors Department (coordinator of union relations with GM), Walter Reuther suggested to his colleagues the idea of striking the GM manufacturing plants with a 'one-at-a-time' strategy, which was "intended to maximize pressure on the target company." Reuther also put forth the demands of the strikers: a 30 percent increase in wages and a hold on product prices. However, the strike ended to the dissatisfaction of Walter Reuther and the UAW, and the workers received only a 17.5-percent increase in wages.
The 2007 General Motors strike was a strike from September 24 to 26, 2007, by the United Auto Workers against General Motors.
On September 24, 2007, General Motors workers represented by the United Auto Workers union went on strike against the company. The first US-wide strike against GM since 1970 was expected to idle 59 plants and facilities for an indefinite period of time. Talks broke down after more than 20 straight days of bargaining failed to produce a new contract. Major issues that proved to be stumbling blocks for an agreement included wages, benefits, job security and investments in US facilities.
Within hours, the ripple effect was felt in Canada with closures of two car assembly plants in Oshawa, Ontario, and a transmission facility in Windsor on September 25. However, on September 26, a tentative agreement was reached, and the strike's end was announced by UAW officials in a news conference at 4 a.m. By the following day, all GM workers in both countries were back to work.
On the morning of September 15, 2019, the United Auto Workers announced in a press conference that General Motors employees would begin striking at 11:59 PM after talks broke down to renew their contract, which expired earlier that day at 12:01 AM. This strike shut down operations in nine states, including 33 manufacturing plants and 22 parts distribution warehouses. After 40 days, the "longest strike by autoworkers in a decade" (and the longest against GM since 1970) came to an end on October 25, 2019 as United Auto Workers members voted to approve a new deal with GM, it cost GM more than $2bn and Union members have been getting by on $275 a week in strike pay.
Between 1938 and 1950, General Motors (GM) monopolized the sale of buses and supplies to National City Lines (NCL) and its subsidiaries. It has been alleged that this was part of a deliberate plot to purchase and dismantle streetcar systems in many cities in the United States as an attempt to monopolize surface transportation.
Unsafe at Any Speed by Ralph Nader, published in 1965, is a pioneering book accusing car manufacturers of being slow to introduce safety features, and reluctant to spend money on improving safety. The subject for which the book is probably most widely known, the rear-engined GM Chevrolet Corvair, is covered in the first chapter. It relates to the first (1960–1964) models that had a swing-axle suspension design which was prone to "tuck under" in certain circumstances. In substitution for the cost-cutting lack of a front stabilizer bar (anti-roll bar), Corvairs required tire pressures that were outside of the tire manufacturer's recommended tolerances. The Corvair relied on an unusually high front to rear pressure differential (15 psi front, 26 psi rear, when cold; 18 psi and 30 psi hot), and if one inflated the tires equally, as was standard practice for all other cars at the time, the result was dangerous oversteer.
In early March 1966, several media outlets, including The New Republic and The New York Times, alleged that GM had tried to discredit Ralph Nader, hiring private detectives to tap his phones and investigate his past, and hiring prostitutes to trap him in compromising situations. Nader sued the company for invasion of privacy and settled the case for $425,000. Nader's lawsuit against GM was ultimately decided by the New York Court of Appeals, whose opinion in the case expanded tort law to cover "overzealous surveillance". Nader used the proceeds from the lawsuit to start the pro-consumer Center for Study of Responsive Law.
A 1972 safety commission report conducted by Texas A&M University concluded that the 1960–1963 Corvair possessed no greater potential for loss of control than its contemporary competitors in extreme situations. The U.S. Department of Transportation (DOT) issued a press release in 1972 describing the findings of NHTSA testing from the previous year. NHTSA had conducted a series of comparative tests in 1971 studying the handling of the 1963 Corvair and four contemporary cars—a Ford Falcon, Plymouth Valiant, Volkswagen Beetle, and Renault Dauphine—along with a second-generation Corvair (with its completely redesigned, independent rear suspension). The 143-page report reviewed NHTSA's extreme-condition handling tests, national crash-involvement data for the cars in the test as well as General Motors' internal documentation regarding the Corvair's handling. NHTSA went on to contract an independent advisory panel of engineers to review the tests. This review panel concluded that "the 1960–63 Corvair compares favorably with contemporary vehicles used in the tests [...] the handling and stability performance of the 1960–63 Corvair does not result in an abnormal potential for loss of control or rollover, and it is at least as good as the performance of some contemporary vehicles both foreign and domestic."
Former GM executive John DeLorean asserted in his book On a Clear Day You Can See General Motors that Nader's criticisms were valid.
Journalist David E. Davis, in a 2009 article in Automobile Magazine, noted that despite Nader's claim that swing-axle rear suspension were dangerous, Porsche, Mercedes-Benz, and Volkswagen all used similar swing-axle concepts during that era.
In May 2014 the NHTSA fined the company $35 million for failing to recall cars with faulty ignition switches for a decade, despite knowing there was a problem with the switches. General Motors paid compensation for 124 deaths linked to the faulty switches. The $35 million fine was the maximum the regulator could impose. General Motors has announced that they are also facing 79 customer lawsuits asking for as much as $10 billion for economic losses attributed to the recall. As well as the Cobalts, the switches of concern had been installed in many other cars, such as the Pontiac G5, the Saturn Ion, the Chevrolet HHR, the Saturn Sky, and Pontiac Solstice. Eventually the recall involved about 2.6 million GM cars worldwide.
Since January 2018, the Trump Administration had accused car manufacturers including General Motors of selling vehicles in the US market that were being imported/exported from other countries such as Canada, China, European Union, Japan, Mexico, South Korea, and Turkey. Due to this, President Donald Trump began imposing tariffs on certain foreign-built vehicles (including the Buick Envision and Chevy Blazer), which has negatively affected General Motors. Reasons for these tariffs were due to Trump's America First Policy and human right violations in some of those countries.
The decision to build the Blazer in Mexico was criticized by the United Auto Workers, who wanted the vehicle built in the United States and is disappointed by GM's reason behind the announcement to begin production outside the country, citing GM's decision to cut back on its second shift workforce (and announced shutdown) at the Lordstown Assembly and moving production to Mexico. On January 10, 2019, the UAW announced that it has ordered its members to boycott the Blazer. Terry Dittes, Director of the UAW's GM Department, said the automaker has doubled down on cheaper labor in Mexico and continues to use temporary workers at U.S. plants, which robs laid-off UAW members of jobs.
While GM had already decided on Ramos Arizpe prior to the development of the Blazer, the union, as well as the automotive industry in general, is concerned that the possibility of President Donald Trump's statement about raising tariffs on vehicles built outside the United States and threats to force automakers to bring jobs back to the country (based on his Twitter message made on June 22, 2018) could make things complicated, but GM has dismissed those theories and is confident about the Blazer's prospects.
The move also gave concerns for lawmakers from both political parties. U.S. Congresswoman Debbie Dingell (D-Michigan), herself a former executive at GM, said her former employer's decision to idle U.S. plants in 2019, on top of the decision to produce the Blazer in Mexico, reinforces a belief that the just-agreed USMCA deal made by President Trump doesn't correct the soon-to-be-replaced NAFTA's problems: "Before I approve any trade agreement I am going to make sure we're writing trade agreements that level the playing field for the working men and women of this country, and that we're keeping jobs here, not making it easier to keep shipping jobs overseas... This GM announcement gives me greater concern, not less."
On March 26, 2019, a Blazer and a Chevrolet Silverado were placed atop the Chevrolet Fountain at Detroit's Comerica Park, as the official vehicles for the Detroit Tigers' 2019 MLB baseball season. The Blazer was replaced a few days later by a Traverse, after complaints from automotive workers and enthusiasts in the local media, pointing out that it was made in Mexico, and the park's proximity to GM's Detroit-Hamtramck assembly, which is scheduled to go idle in 2020.
The announcement about selling the Chinese-built vehicle to American consumers has drawn a backlash from the United Auto Workers, who had just finalized a contract agreement with GM and had wanted the automaker to build the Envision stateside: "Today's announcement by General Motors that they are importing the Envision from China is a slap in the face to U.S. taxpayers and the men and women who worked so hard to save GM during its darkest time," UAW President Dennis Williams and Vice President Cindy Estrada, who head the GM department for the union, said in a joint statement on December 4, 2015. On the other hand, Buick spokesman Stuart Fowle defended the decision to keep production in China and import it rather than having it built in the United States because it made sense from a business point of view: "We have production already going (in China) and adding a second manufacturing facility for the volumes that we would expect in the U.S. just wasn't feasible," he said. "We wanted to take advantage of the manufacturing already in place. We're very confident in the vehicle."
On August 6, 2018, General Motors announced that it might withdraw the Envision from the United States market, should a request to seek a waiver to continue to import the vehicle is denied. GM is seeking the waiver amid a trade war between the United States and China over tariffs that could hurt the sales of the Envision. The automaker sees the potential exemption as "the only way" to continue offering the vehicle to U.S. consumers, according to GM President Dan Ammann. The exemption was denied on May 29, 2019, but GM has opted to pay the tariffs without raising the price on the vehicle for the time being. Buick is confident that ongoing talks between China and the United States could spare the Envision's future in North America.
Packard was an American luxury automobile marque built by the Packard Motor Car Company of Detroit, Michigan, United States. The first Packard automobiles were produced in 1899, and the last Detroit-built Packard in 1956, when they built the Packard Predictor, their last concept car.
The company was considered the preeminent luxury car before World War II, and built aircraft engines for the Allied war effort. Owning a Packard was prestigious, and surviving examples are found in museums, car shows and automobile collections.
In the beginning, all Packards had a single-cylinder engine until 1903. The first Packard 4-cylinder engine was introduced as the Model K in 1903, and the first six-cylinder engine was introduced as the Series 1-48 Six in 1912. Packard produced its "Twin Six" model series of 12-cylinder cars from 1915 to 1923. The Packard Eight was introduced in 1930 and the V8 appeared in 1955, one year after Buick and Chrysler and a few decades after Cadillac and Lincoln. All Packard engines were flathead engines until the last few years of operations. Packard vehicles featured innovations, including the modern steering wheel, air-conditioning in a passenger car, and one of the first production 12-cylinder engines, adapted from developing the Liberty L-12 used during World War I.
Packard bought Studebaker in 1953 and formed the Studebaker-Packard Corporation of South Bend, Indiana. The 1957 and 1958 Packards were actually badge engineered Studebakers, built in South Bend.
Packard was founded by James Ward Packard, his brother William and their partner, George Lewis Weiss, in Warren, Ohio, where 400 Packard automobiles were built at their factory on 408 Dana Street Northeast, from 1899 to 1903. A mechanical engineer, James Packard believed they could build a better horseless carriage than the Winton cars owned by Weiss, an important Winton stockholder, after Packard complained to Alexander Winton and offered suggestions for improvement, which were ignored. Winton replied to the suggestions by essentially telling Packard to "go build your own car". Packard's first car was built in Warren, Ohio, on November 6, 1899.
Henry Bourne Joy, a member of one of Detroit's oldest and wealthiest families, bought a Packard. Impressed by its reliability, he visited the Packards and soon enlisted a group of investors, including Truman Handy Newberry and Russell A. Alger Jr. On October 2, 1902, this group refinanced and renamed the New York and Ohio Automobile Company as the Packard Motor Car Company, with James Packard as president. Alger later served as vice president. Packard moved operations to Detroit soon after, and Joy became general manager (later chairman of the board). An original Packard, reputedly the first manufactured, was donated by a grateful James Packard to his alma mater, Lehigh University, and is preserved there in the Packard Laboratory. Another is on display at the Packard Museum in Warren, Ohio.
While the Black Motor Company's Black went as low as $375, Western Tool Works' Gale Model A roadster was $500, the high-volume Oldsmobile Runabout went for $650, and the Cole 30 and Cole Runabout were US$1,500, Packard concentrated on cars with prices starting at $2,600. The marque developed a following among wealthy purchasers in the United States and abroad, competing with European marques like Rolls-Royce, Renault, Isotta Fraschini, and Mercedes Benz.
The 3,500,000-square-foot (330,000 m2) Packard plant on East Grand Boulevard in Detroit was located on over 40 acres (16 ha) of land. Designed by Albert Kahn Associates, it included an early use of reinforced concrete for an automotive factory when building #10 opened in 1906. Its craftsmen practised over 80 trades. The dilapidated plant still stands, despite repeated fires. The factory is in close proximity to the current General Motors Detroit/Hamtramck Assembly, which was the former site of the Dodge Vehicle factory from 1910 until 1980. Architect Kahn also designed the Packard Proving Grounds in Shelby Township, Michigan.
From this beginning, through and beyond the 1930s, Packard-built vehicles were perceived as highly competitive among high-priced luxury American automobiles. The company was commonly referred to as being one of the "Three Ps" of American motordom royalty, along with Pierce-Arrow of Buffalo, New York, and Peerless of Cleveland, Ohio. For most of its history, Packard was guided by its President and General Manager James Alvan Macauley, who served as President of the National Automobile Manufacturers Association. Inducted into the Automobile Hall of Fame, Macauley made Packard the number one designer and producer of luxury automobiles in the United States. The marque was also competitive abroad, with markets in 61 countries. Gross income for the company was $21,889,000 in 1928 ($329,904,560 in 2020 dollars). Macauley was also responsible for the iconic Packard slogan, "Ask the Man Who Owns One".
The Packard Six was initially introduced as a senior-level luxury platform for three years starting in 1913, then upgraded to the Packard Twin Six starting in 1916. The first appearance of the Packard "Goddess of Speed" hood ornament first appeared in 1925 on the Single Eight and soon appeared on all their products, while the Cormorant or Swan appeared in the 1930s. Briefly the Adonis hood ornament appeared in the late 1920s.
In the 1920s, Packard exported more cars than any other in its price class, and in 1930, sold almost twice as many abroad as any other marque priced over $2000 ($30,984 in 2020 dollars). In 1931, 10 Packards were owned by the Imperial House of Japan. Between 1924 and 1930, Packard was also the top-selling luxury brand.
In addition to excellent luxury cars, Packard built trucks. A Packard truck carrying a three-ton load drove from New York City to San Francisco between 8 July and 24 August 1912. The same year, Packard had service depots in 104 cities.
The Packard Motor Corporation Building at Philadelphia, also designed by Albert Kahn, was built in 1910-1911. It was added to the National Register of Historic Places in 1980.
By 1931, Packards were also being produced in Canada.
Entering the 1930s, Packard attempted to beat the stock market crash and subsequent Great Depression by manufacturing ever more opulent and expensive cars than it had prior to October 1929, and began offering different platforms that focused on different price points allowing the company to offer more products and remain competitive. While the Eight five-seater sedan had been the company's top-seller for years, the Twin Six, designed by Chief engineer Jesse G. Vincent, was introduced for 1932, with prices starting at US$3,650 ($69,234 in 2020 dollars) at the factory gate; in 1933, it would be renamed the Packard Twelve, a name it retained for the remainder of its run (through 1939). Also in 1931, Packard pioneered a system it called Ride Control, which made the hydraulic shock absorbers adjustable from within the car. For one year only, 1932, Packard fielded an upper-medium-priced car, the Light Eight, at a base price of $1,750 ($33,195 in 2020 dollars), or $735 ($13,942 in 2020 dollars) less than the Standard Eight.
Packard rivals Cadillac and Lincoln benefited from the huge support structure of GM and Ford. Packard could not match the two new automotive giants for resources. The 1920s had proven extremely profitable for the company and it had assets of approximately $20 million in 1932 ($379,365,854 in 2020 dollars) while many luxury car manufacturers were almost broke. Peerless ceased production in 1932, converting the Cleveland manufacturing plant automobile production to brewing for Carling Black Label Beer. By 1938, Franklin, Marmon, Ruxton, Stearns-Knight, Stutz, Duesenberg, and Pierce-Arrow had all closed.
Packard had one advantage that some other luxury automakers did not: a single production line. By maintaining a single line and interchangeability between models, Packard was able to maintain low costs. Packard did not change models as often as other manufacturers. Rather than introducing new models annually, Packard began using its own "Series" formula for differentiating its model changeovers in 1923 borrowing a strategy from GM called planned obsolescence. The new model series did not debut on a strictly annual basis, with some series lasting nearly two years, and others lasting as brief as seven months. In the long run, Packard averaged approximately one new series per year. By 1930, Packard automobiles were considered part of its Seventh Series. By 1942, Packard was in its Twentieth Series. The "Thirteenth Series" was omitted due to the western superstition about the number 13.
To address the Depression, Packard started producing more affordable cars in the medium price range. This was a necessary step as the demand for hand-built luxury cars had diminished sharply and people who could afford such vehicles were reluctant to be seen in them when unemployment was over 20%. In 1935, the company introduced its first car under $1000, the 120. Sales more than tripled that year and doubled again in 1936. To produce the 120, Packard built a separate factory. By 1936, Packard's labor force was divided nearly evenly between the high-priced "Senior" lines (Twelve, Super Eight, and Eight) and the medium-priced "Junior" models, although more than 10 times more Juniors were produced than Seniors. This was because the 120 models were built using thoroughly modern mass production techniques, while the senior Packards used a great deal more hand labor and traditional craftsmanship. Although Packard almost certainly could not have survived the Depression without the highly successful Junior models, they did have the effect of diminishing the Senior models' exclusive image among those few who could still afford a luxury car. The 120 models were more modern in basic design than the Senior models. For example, the 1935 Packard 120 featured independent front suspension and hydraulic brakes, features that did not appear on the Senior Packards until 1937.
During this time, Packards were built in Windsor, Ontario by the Packard Motor Company of Canada Ltd to benefit from Imperial Preference as well as build right-hand-drive cars for export. Production started in 1931, with the best year being 1937, with just over 2,500 cars built. Parts manufactured in Canada included tires, upholstery, radiator cores, headlamps, springs, wheels, while the engines were locally assembled. Production ended in 1939, although the company maintained an office in Windsor for many years.
Packard was still the premier luxury automobile, even though the majority of cars being built were the Packard One-Twenty and Super Eight model ranges. Hoping to catch still more of the market, Packard issued the Packard 115C in 1937, powered by a Packard six-cylinder engine. The decision to introduce the "Packard Six", priced at around $1200, was in time for the 1938 recession. This model also tagged Packards as something less exclusive than they had been in the public's mind and in the long run hurt Packard's reputation of building some of America's finest luxury cars. The Six, redesignated 110 in 1940–41, continued for three years after the war.
In 1939, Packard introduced Econo-Drive, a kind of overdrive, claimed able to reduce engine speed 27.8%; it could be engaged at any speed over 30 mph (48 km/h). The same year, the company introduced a fifth, transverse shock absorber and made column shift (known as Handishift) available on the 120 and Six.
A new body shape was introduced for the 1941 the Packard Clipper. It was available only as a four-door model on the 127 in (3,226 mm) wheelbase of the 160, but powered by 125 hp (93 kW; 127 PS) version of straight-8 engine used the 120.
In 1942, the Packard Motor Car Company converted to 100% war production. During World War II, Packard again built airplane engines, licensing the Merlin engine from Rolls-Royce as the V-1650, which powered the P-51 Mustang fighter, ironically known as the "Cadillac of the Skies" by GIs in WWII. Packard also built 1350-, 1400-, and 1500-hp V-12 marine engines for American PT boats (each boat used three) and some of Britain's patrol boats. Packard ranked 18th among United States corporations in the value of wartime production contracts.
By the end of the war in Europe, Packard Motor Car Company had produced over 55,000 combat engines. Sales in 1944 were $455,118,600. By May 6, 1945, Packard had a backlog on war orders of $568,000,000.
By the end of World War II, Packard was in excellent financial condition with assets of around $33 million, but several management mistakes became more apparent with time. Like other US automobile companies, Packard resumed civilian car production in late 1945, labelling them as 1946 models by modestly updating their 1942 models. As only tooling for the Clipper was at hand, the Senior-series cars were not rescheduled. One version of the story is that the Senior dies were left outdoors to rust and were not usable. Another tale is that Roosevelt gave Stalin the dies for the Senior series, but the ZiS-110 state limousines were a separate design.
The Clipper became outdated as the new envelope bodies started appearing, led by Studebaker and Kaiser-Frazer. Had they been a European carmaker, this would have been immaterial. They could have continued offering the classic shape similar to the later Rolls-Royce with its vertical grill. Although Packard was in solid financial condition as the war ended, they had not sold enough cars to pay the cost of tooling for the 1941 design. While most automakers were able to introduce new vehicles for 1948–49, Packard could not until 1951. Hence they updated by adding sheet metal to the existing body (which added 200 lb (91 kg) of curb weight). Six-cylinder cars were dropped for the home market, and a convertible was added. These new designs hid their relationship to the Clipper. Even that name was dropped for a while.
The design chosen was a "bathtub" type. While this was considered futuristic during the war and the concept was taken further with the 1949 Nash, and survived for decades in the Saab 92-96 in Europe, the 1948–1950 Packard styling was polarizing. To some, it was sleek and blended classic with modern. Others nicknamed it the "pregnant elephant". Test driver for Modern Mechanix, Tom McCahill, referred to the newly-designed Packard as "a goat" and "a dowager in a Queen Mary hat". Packard sold 2,000 vehicles for 1948 and 116,000 of the 1949 models. In the early post-WWII years, the demand for new cars was extremely high, and nearly any vehicle would sell. Attempting to maintain strong sales beyond this point would prove more problematic.
Cadillac's new 1948 cars had sleek, aircraft-inspired styling that immediately made Packard's "bathtub" styling seem old-fashioned. Cadillac also debuted a brand-new OHV V8 engine in 1949 which gave their cars a reputation for performance that Packard's dependable, but aging inline eight engine couldn't match. The lack of a modern powerplant would prove an increasing liability for Packard as the 1950s unfolded.
Packard outsold Cadillac until circa 1950; most sales were the midrange volume models. During this time, Cadillac was among the earliest US makers to offer an automatic transmission (the Hydramatic in 1941). Packard caught up with the Ultramatic, offered on top models in 1949 and all models from 1950 onward.
Designed and built by Packard, the Ultramatic featured a lockup torque converter with two speeds. Early Ultramatics normally operated only in "high", with "low" having to be selected manually. Beginning in late 1954, it could be set to operate only in "high" or to start in "low" and automatically shift into "high". "High" was intended for normal driving and "Low" mainly for navigating hills.
The Ultramatic made Packard the only American automotive manufacturer other than GM to develop an automatic transmission completely in-house. Ford had chosen to outsource their design to Borg-Warner (Ford had attempted to purchase Ultramatics from Packard to install in Lincolns, but bought Hydramatics until Lincoln got its own automatic transmission a few years later). Ultramatic did not compare to GM's Hydramatic for smoothness of shifting, acceleration, or reliability. The resources spent on Ultramatic deprived Packard of the opportunity to develop a modern V8 engine. Also, when a new body style was added in addition to standard sedans, coupes, and convertibles, Packard introduced a station wagon instead of a two-door hardtop in response to Cadillac's Coupe DeVille. The Station Sedan, a wagon-like body that was mostly steel, with a good deal of decorative wood in the back. Only 3864 were sold over its three years of production. Although the Packards of the late 1940s and early 1950s were built in its old tradition with craftsmanship and the best materials, all was not well. With the combination of the lower-priced Packards leading sales and impacting the prestige of their higher-end brethren and some questionable marketing decisions, Packard's crown as "king" of the luxury car market was at risk; it was eventually stolen by Cadillac. In 1950, sales dropped to 42,000 cars for the model year. When Packard's president George T. Christopher set course for an evolutionary styling approach with a facelift for 1951, others wanted a radical new design. In the end, Christopher resigned and Packard treasurer Hugh Ferry became president - he demanded a new direction. Ferry, who had spent his career at Packard in the accounting department, did not want the job and quickly made it clear that he was serving on a temporary basis until a permanent company president could be found.
The 1951 Packards were completely redesigned. Designer John Reinhart introduced a high-waisted, more squared-off profile fitting the contemporary styling trends — very different from the traditional flowing design of the postwar era. New styling features included a one-piece windshield, a wrap-around rear window, small tailfins on the long-wheelbase models, a full-width grill (replacing the traditional Packard upright design), and blunt "guideline fenders" with the hood and front fenders at the same height. The 122-inch (3,099 mm) wheelbase supported low-end 200-series standard and Deluxe two- and four-doors, and 250-series Mayfair hardtop coupes (Packard's first), and convertibles. Upmarket 300 and Patrician 400 models rode a 127-inch (3,226 mm) wheelbase. The 200-series models were low-end models and now included a business coupe. The new appearance had similarities to Oldsmobiles, which were more moderately priced and sold in greater numbers.
The 250, 300, and 400/Patricians were Packard's flagship models and comprised the majority of the production for that year. The Patrician was now the top-shelf Packard, replacing the Custom Eight line. Original plans were to equip it with a 356 cu in (5.8 L) engine, but the company decided that sales would not be sufficient to justify producing the larger, more expensive power plant, and so the de-bored 327 cu in (5.4 L) (previously the middle engine) was used. While the smaller powerplant offered nearly equal performance in the new Packards to that of the 356, the move was seen by some as further denigrating Packard's image as a luxury car.
Since 1951 was a quiet year with little new from other manufacturers, Packard's redesigned lineup sold nearly 101,000 cars. The 1951 Packards were a quirky mixture of the modern (the automatic transmissions) and aging (still using flathead inline eights when OHV V8 engines were becoming the norm). No domestic car lines had OHV V8s in 1948, but by 1955, every car line offered a version. The Packard inline eight, despite being an older design that lacked the power of Cadillac's engines, was very smooth. When combined with an Ultramatic transmission, the drivetrain made for a nearly quiet and smooth experience on the road. It struggled to keep pace with the horsepower race, which was increasingly moving to high compression, short stroke engines capable of sustained driving at speeds above 55 MPH.
Packard's image was increasingly seen as dowdy and old-fashioned, unappealing to younger customers. Surveys found that nearly 75% of Packard customers were repeats who had owned previous Packards and few new buyers were being attracted to the make. Compounding this problem was the company's geriatric leadership. The Packard board of directors by the early 1950s had an average age of 67 and younger executives with a fresher approach to running the company were badly needed. In 1948, Alvin Macauley, born during the Grant Administration, had stepped down as chairman. Hugh Ferry decided to hire an outsider as president. He recruited James Nance from appliance manufacturer Hotpoint. At 52, Nance was more than a decade younger than the youngest Packard executive.
One reason for the aged leadership of Packard was the company's lack of a pension plan for executives (rank-and-file workers had a pension plan per their UAW contract). As a result, Packard executives were reluctant to retire with no source of income other than a Social Security payment, thus blocking younger men from coming to power in the company. One of James Nance's first actions as president was creating a pension plan to induce Packard executives to retire. Nance worked to snag Korean War military contracts and turn around Packard's badly diluted image. He declared that Packard would cease producing midpriced cars and build only luxury models to compete with Cadillac. As part of this strategy, Nance unveiled a low-production (only 750 made) glamor model for 1953, the Caribbean convertible. Competing directly with the other novelty ragtops of that year (Buick Skylark, Oldsmobile Fiesta, Cadillac Eldorado and Chrysler New Yorker Deluxe), it was equally well-received, and outsold its competition. Overall sales declined in 1953. While the limited edition luxury models as the Caribbean convertible and the Patrician 400 Sedan, and the Derham custom formal sedan brought back some of the lost prestige from better days, the "high pocket" styling that was new two years prior was no longer bringing people into the showrooms for the bread and butter Packards. Packard's build quality, which had once been second-to-none, also began slipping during this period as employee morale decreased.
While American independent manufacturers like Packard did well during the early postwar period, supply had caught up with demand and by the early 1950s they were increasingly challenged as the "Big Three"—General Motors, Ford, and Chrysler—battled intensely for sales in the economy, medium-priced, and luxury markets. Those independents that remained alive in the early '50s, merged. In 1953, Kaiser merged with Willys to become Kaiser-Willys. Nash and Hudson became American Motors Corporation (AMC). The strategy for these mergers included cutting costs and strengthening their sales organizations to meet the intense competition from the Big Three.
In 1953–54, Ford and GM waged a brutal sales war, cutting prices and forcing cars on dealers. While this had little effect on either company, it damaged independent automakers. Nash president George W. Mason thus proposed that the four major independents (Nash, Hudson, Packard, and Studebaker) merge into one firm American Motors Corporation (AMC). Mason held informal discussions with Nance to outline his strategic vision, and an agreement was reached for AMC to buy Packard's Ultramatic transmissions and V8 engines. They were used in 1955 Hudsons and Nashes.
Although Korean War defense contracts brought in badly-needed revenue, the war ended in 1953 and new Secretary of Defense Charles E. Wilson began cutting defense contracts from all automotive manufacturers other than GM, where he had been president.
Chrysler and Ford during the early 1950s waged a campaign of "stealing" Packard dealerships, consequently Packard's dealer network became smaller and more scattered.
Packard's last major development was the Bill Allison–invented Torsion-Level suspension, an electronically controlled four-wheel torsion-bar suspension that balanced the car's height front to rear and side to side, having electric motors to compensate each spring independently. Contemporary American competitors had serious difficulties with this suspension concept, trying to accomplish the same with air-bag springs before dropping the idea.
As of October 1, 1954 Packard Motor Car Company bought the failing Studebaker Corporation to form America's fourth largest automobile company, but without full knowledge of their circumstances or consideration of the financial implications. SPC's Nance refused to consider merging with AMC unless he could take the top command position (Mason and Nance were former competitors as heads of the Kelvinator and Hotpoint appliance companies, respectively), but Mason's grand vision of a Big Four American auto industry ended on October 8, 1954 with his sudden death from acute pancreatitis and pneumonia.
A week after the death of Mason, the new president of AMC, George W. Romney, announced "there are no mergers under way either directly or indirectly". Romney continued with Mason's commitment to buy components from SPC. Although Mason and Nance had previously agreed that SPC would purchase parts from AMC, it did not do so. Packard's engines and transmissions were comparatively expensive, so AMC began development of its own V8 engine, and replaced the outsourced unit by mid-1956. Although Nash and Hudson merged along with Studebaker and Packard joining, The four-way merger Mason had hoped for, which would have joined Nash, Hudson, Studebaker and Packard, did not materialize. The S-P marriage (really a Packard buyout) proved to be a crippling mistake. Although Packard was in fair financial condition, Studebaker was not, struggling with high overhead and production costs and needing the impossible figure of 250,000 cars annually to break even. Due diligence was placed behind "merger fever", and the deal was rushed. It became clear after the merger that Studebaker's deteriorating financial situation put Packard's survival at risk.
Nance had hoped for a total redesign in 1954, but the necessary time and money were lacking. Packard that year (total production 89,796) comprised the bread-and-butter Clipper line (the 250 series was dropped), Mayfair hardtop coupes and convertibles, and a new entry-level long-wheelbase sedan named Cavalier. Among the Clippers was a novelty pillared coupe, the Sportster, styled to resemble a hardtop.
With time and money lacking, 1954 styling was unchanged except for modified headlights and taillights, essentially trim items. A new hardtop named Pacific was added to the flagship Patrician series and all higher-end Packards sported a bored-out 359-cid engine. Air conditioning became available for the first time since 1942. Packard had introduced air conditioning in the 1930s. Clippers (which comprised over 80% of production) got a hardtop model, Super Panama, but sales fell to 31,000 cars.
The revolutionary new model Nance hoped for was delayed until 1955, partially because of Packard's merger with Studebaker. Packard stylist Dick Teague was called upon by Nance to design the 1955 line, and to Teague's credit, the 1955 Packard was indeed a sensation when it appeared. Not only was the body completely updated and modernized, but the suspension was new, with torsion bars front and rear, along with an electric control that kept the car level regardless of load or road conditions. Crowning this stunning new design was Packard's brand new ultra-modern overhead-valve V8, displacing 352 cu in (5.8 l), replacing the old, heavy, cast-iron side-valve straight-eight that had been used for decades. In addition, Packard offered a variety of power, comfort, and convenience features, such as power steering and brakes as well as electric window lifts. But air conditioning was an anomaly. Although available on all makes by the mid-1950s, it was installed on only a handful of cars in 1955 and 1956 despite Packard's status as a luxury car. Model year sales only climbed back to 55,000 units in 1955, including Clipper, in what was a very strong year across the industry.
As the 1955 models went into production, an old problem flared up. Back in 1941, Packard had outsourced its bodies to Briggs Manufacturing Company. Briggs founder Walter Briggs had died in early 1952 and his family decided to sell the company to pay estate taxes. Chrysler promptly purchased Briggs and notified Packard that they would cease supplying bodies after Packard's contract with Briggs expired at the end of 1953. Packard was forced to move body production to an undersized plant on Connor Avenue in Detroit. The facility proved too small and caused endless tie-ups and quality problems. Bad quality control hurt the company's image and caused sales to plummet for 1956, though the problems had largely been resolved by that point. Additionally, a "brain drain" of talent away from Packard was underway, most notably John Z. DeLorean.
For 1956, the Clipper became a separate make, with Clipper Custom and Deluxe models available. Now the Packard-Clipper business model was a mirror to Lincoln-Mercury. "Senior" Packards were built in four body styles, each with a unique model name. Patrician was used for the four-door top-of-the-line sedans, Four Hundred for the hardtop coupes, and the Caribbean for the convertible and vinyl-roof two-door hardtop. In the spring of 1956, the Executive was introduced. In a four-door sedan and a two-door hardtop, the Executive was aimed at the buyer who wanted a luxury car but could not justify Packard's pricing. It was an intermediate model using the Packard name and the Senior models' front end, but using the Clipper platform and rear fenders. This was to some confusion and went against what James Nance had been attempting for several years to accomplish, the separation of the Clipper line from Packard. As late as the cars' introduction to the market, was there was reasoning for in 1957 this car was to be continued. It then became a baseline Packard on the all-new 1957 Senior shell. Clippers would share bodies with Studebaker from 1957.
Despite the new 1955/56 design, Cadillac continued to lead the luxury market, followed by Lincoln, Packard, and Imperial. Reliability problems with the automatic transmission and all electrical accessories further eroded the public's opinion of Packard. Sales were good for 1955 compared to 1954. The year was also an industry banner year. Packard's sales slid in 1956 due to the fit and finish of the 1955 models, and mechanical issues relating to the new engineering features. These defects cost Packard millions in recalls and tarnished a newly-won image in its infancy.
For 1956, Teague kept the basic 1955 design, and added more styling touches to the body such as then−fashionable three toning. Headlamps hooded in a more radical style in the front fenders and a slight shuffling of chrome distinguished the 1956 models. "Electronic Push-button Ultramatic", which located transmission push buttons on a stalk on the steering column, proved troublesome, adding to the car's negative reputation, possibly soon to become an orphan. Model series remained the same, but the V8 was now enlarged to 374 cu in (6.1 L) for Senior series, the largest in the industry. In the top-of-the-line Caribbean, that engine produced 310 hp (230 kW). Clippers continued to use the 352 engine. There were plans for an all−new 1957 line of Senior Packards based on the showcar Predictor. Clippers and Studebakers would also share many inner and outer body panels. (A private presentation of this 1957 new-car program was made to Wall Street's investment bankers at the Waldorf-Astoria Hotel in New York in January 1956.) These models were in many ways far advanced from what would be produced by any other automaker at the time, save Chrysler, which soon felt public wrath for its poor quality issues after rushing its all−new 1957 lines into production. Nance was dismissed and moved to Ford as the head of the new Mercury-Edsel-Lincoln division. Although Nance tried everything, the company failed to secure funding for retooling, forcing Packard to share Studebaker platforms and body designs. With no funding to retool for the advanced new models envisioned, SPC's fate was sealed. The large Packard was effectively dead in an executive decision to kill "the car we could not afford to lose". The last fully Packard-designed vehicle, a Patrician four-door sedan, rolled off the Conner Avenue assembly line on June 25, 1956.
In 1957, no more Packards were built in Detroit and the Clipper disappeared as a separate brand name. Instead, a Studebaker President–based car bearing the Packard Clipper nameplate appeared on the market, but sales were slow. Available in just two body styles, Town Sedan (four-door sedan) and Country Sedan (four-door station wagon), they were powered by Studebaker's 289 cu in (4.7 l) V8 with a McCulloch supercharger, delivering the same 275 hp (205 kW) as the 1956 Clipper Custom, although at higher revolutions. Borrowing design cues from the 1956 Clipper (visual in the grille and dash), with wheel covers, tail lamps, and dials from 1956 along with the Packard cormorant hood mascot and trunk chrome trim from 1955 senior Packards, Front Bumpers and Dagmars from the 56 model, the 1957 Packard Clipper was much more than a badge-engineered Studebaker—but also far from a Patrician. Had the company been able to invest more money to finish the transformation and position the car under a senior line of "true Packards", it might have been a successful Clipper. Standing alone the cars sold in limited numbers; a number of Packard dealers dropped their franchises while customers stayed away, despite huge price discounts, fearful of buying a car that could soon be an orphan. Plus internal competition from Studebaker Packard Dealers that also carried the Mercedes Benz brand which SP had the USA right too, With the market flooded by inexpensive cars, minor automakers struggled to sell vehicles at loss leader prices to keep up with Ford and GM. Also, a general decline in demand for large cars heralded an industry switch to compact cars such as the Studebaker Lark.
Predictably, many Packard devotees were disappointed by the marque's perceived further loss of exclusivity and what they perceived as a reduction in quality. They joined competitors and media critics in christening the new models as "Packardbakers". The 1958 models were launched with no series name, simply as "Packard". New body styles were introduced, a two-door hardtop joined the four-door sedan. A new premier model appeared with a sporting profile: the Packard Hawk was based on the Studebaker Golden Hawk and featured a new nose and a fake spare wheel molded in the trunk lid reminiscent of the concurrent Imperial. The 1958 Packards were among the first in the industry to be "facelifted" with plastic parts. The housing for the new dual headlights and the complete fins were fiberglass parts grafted on Studebaker bodies. Very little chrome was on the lower front clip. Designer Duncan McRae managed to include the 1956 Clipper tail lights for one last time which also including the "Packard Cusps" in the front hood, Added to the front of all but the Hawk were Jet Nacelles for dual headlights, in a desperate attempt to keep up with late-1950s styling cues. All Packards were given 14 in (36 cm) wheels to lower the profile. The public reaction was predictable and sales were 2,622 vehicle for the 58 model year. even being outsold by Checker Motors Corp . The Studebaker factory was older than Packard's Detroit plant, with higher production requirements, which added to dipping sales. A new compact car on which the company staked its survival, the Lark, was a year away, and failed to sell in sufficient numbers to keep the marque afloat. Several makes were discontinued around this time: Packard, Edsel, Hudson, Nash, DeSoto, and Kaiser. Not since the 1930s had so many makes disappeared, and it wouldn't be until the automotive industry crisis of 2008–10 that so many makes would be dropped at the same time again. The last Packard by Studebaker Packard Corporation rolled off the assembly line on July 16th, 1958.
During the 1950s, a number of "dream cars" were built by Packard in an attempt to keep the marque alive in the imaginations of the American car-buying public. Included in this category are the 1952 Pan American that led to the production Caribbean and the Panther (also known as Daytona), based on a 1954 platform. Shortly after the introduction of the Caribbean, Packard showed a prototype hardtop called the Balboa. It featured a reverse-slanted rear window that could be lowered for ventilation, a feature introduced in a production car by Mercury in 1957 and still in production in 1966.
The Request was based on the 1955 Four Hundred hardtop, but featured a classic upright Packard fluted grille reminiscent of the prewar models. In addition, the 1957 engineering mule "Black Bess" was built to test new features for a future car. This car had a resemblance to the 1958 Edsel. It featured Packard's return to a vertical grill. This grill was very narrow with the familiar ox-yoke shape that was characteristic for Packard, and with front fenders with dual headlights resembling Chrysler products from that era. The engineering mule Black Bess was destroyed by the company shortly after the Packard plant was shuttered. Of the 10 Requests built, only four were sold off the showroom floor.
Dick Teague also designed the last Packard show car, the Predictor. This hardtop coupe's design followed the lines of the planned 1957 cars. It had many unusual features, among them a roof section that opened either by opening a door or activating a switch, well ahead of later T-tops. The car had seats that rotated out, allowing the passenger easy access, a feature later used on some Chrysler and GM products. The Predictor also had the opera windows, or portholes, found on concurrent Thunderbirds. Other novel ideas were overhead switches—these were in the production Avanti—and a dash design that followed the hood profile, centering dials in the center console area. This feature has only recently been used on production cars. The Predictor survives and is on display at the Studebaker National Museum section of the Center for History in South Bend, Indiana.
One unusual prototype, the Studebaker-Packard Astral, was made in 1957 and first unveiled at the South Bend Art Centre on January 12, 1958, and then at the March 1958 Geneva Motor Show. It had a single gyroscopic balanced wheel and the publicity data suggested it could be nuclear powered or have what the designers described as an ionic engine. No working prototype was ever made, nor was it likely that one was ever intended.
The Astral was designed by Edward E. Herrmann, Studebaker-Packard's director of interior design, as a project to give his team experience in working with glass-reinforced plastic. It was put on show at various Studebaker dealerships before being put into storage. Rediscovered 30 years later, the car was restored and put on display by the Studebaker museum.
Studebaker-Packard pulled the Packard nameplate from the marketplace in 1959. In 1962, "Packard" was dropped off the corporation's name at a time when it was introducing the all new Avanti, and a less anachronistic image was being sought, thus finishing the story of the American Packard marque. The Packard name (as well as Pierce-Arrow) had been considered for the Avanti, but this wasn't done.
In the late 1950s, Studebaker-Packard was approached by enthusiasts to rebadge the French car maker Facel-Vega's Excellence four-door hardtop as a Packard for sale in North America, using stock Packard V8s and identifying trim including red hexagonal wheel covers, cormorant hood ornament, and classic vertical ox-yoke grille. The proposition was rejected when Daimler-Benz threatened to pull out of its 1957 marketing and distribution agreement, which would have cost Studebaker-Packard more in revenue than they could have made from the badge-engineered Packard. Daimler-Benz had little of its own dealer network at the time and used this agreement to enter and become more established in the American market through SPC's dealer network, and felt this car was a threat to their models.
In the late 1990s, Roy Gullickson revived the Packard nameplate by buying the naming rights and logo and developing a Packard Twelve for the 1999 model year. His goal was annual production of 2,000 cars, but lack of investment funds stalled that plan indefinitely. The only prototype Twelve made was sold at an auto auction in Plymouth, MI, in July 2014 for $143,000.
Packard's engineering staff designed and built excellent, reliable engines. Packard offered a 12-cylinder engine—the "Twin Six"—as well as a low-compression straight-eight, but never a 16-cylinder engine. After WWII, Packard continued with their successful straight-eight-cylinder flathead engines. While as fast as the new GM and Chrysler OHV V8s, they were perceived as obsolete by buyers. By waiting until 1955, Packard was almost the last U.S. automaker to introduce a high-compression V8 engine. The design was physically large and entirely conventional, copying many of the first-generation Cadillac, Buick, Oldsmobile, Pontiac, and Studebaker Kettering features. It was produced in 320 cu in (5.2 L) and 352 cu in (5.8 L) displacements. The Caribbean version had two four-barrel carburetors and produced 275 hp (205 kW). For 1956, a 374 cu in (6.1 L) version was used in the Senior cars and the Caribbean two four-barrels produced 305 hp (227 kW).
Packard also made large aeronautical and marine engines. Chief engineer Jesse G. Vincent developed a V12 airplane engine called the "Liberty engine" that was used widely in Entente air corps during World War I. After the war the Liberty was adapted for marine use, becoming a multiple world record setter under inventor and boating pioneer Gar Wood from the late 1910s through the 1930s.
In the interbellum, Packard built one of the world's first diesel aviation engines, the 225-hp DR-980 radial. It powered the Stinson SM-8D, among others. It also powered a Bellanca CH-300 on a record endurance flight of over 84 hours, a mark that stood for more than 50 years. Other Packard-powered airplanes set several records during the 1920s.
During WWII, Packard license-built Rolls-Royce Merlin engines under the Packard V-1650 designation, used with great success in the famed P-51 Mustang fighter. A marine version of the successor to the V12 Liberty was adapted in three versions – M3-2500, M4-2500, and M5-2500 – to power the war's iconic PT boats.
After WWII, Packard produced a new line of flathead design six (model 1M-245) and eight (model 1M-356) cylinder marine engines based on the automobile versions and the experience gained from the war production. Of the 1M-245 type engines, only 1,865 were produced between Spring 1947 and January 1951, with only a handful of survivors. Of the 1M-356 type engines, approximately 1,525 were produced between 1947 and 1950. Even more rare is the experimental "R" type racing versions (1M-245 "R"), of which only 10 were produced with currently only one known survivor, a 1M-245 R six-cylinder engine powering today a 1936 Gar Wood Speedster.
Packard also developed two turbine aircraft engines for the US Air Force, the XJ41 and XJ49. This was one reason for the Curtiss-Wright take-over in 1956: Packard wanted to sell their own jet.
Packard automobile models
Packard show cars
Packard tradenames
Ultramatic, Packard's self-developed automatic transmission (1949–1953; Gear-Start Ultramatic 1954, Twin Ultramatic 1955–1956)
Thunderbolt, a line of Packard Straight Eights after WW2
Finger Tip Shift, similar to the Chris-O-Matic shift, a servo and remote control to shift the marine engine transmissions (1947-1951)
Torsion Level Ride, Packard's torsion bar suspension with integrated levelizer (1955–1956)
Electromatic, Packard's name for its electrically controlled, vacuum-operated automatic clutch.
Twin Traction, Packard's optional limited-slip rear axle; the first on a production car worldwide (1956–1958)
Touch Button, Packard's electric panel to control 1956 win Ultramatic
The Packard advertising song on television had the words:
Ride ride ride ride ride along
in your Packard, in your Packard.
In a Packard you've got the world on a string.
In a Packard car you feel like a king.
Ride ride ride ride ride along
in your Packard, what fun!
And ask the man, just ask the man
the lucky man who owns one!
The National Packard Museum of Warren, Ohio USA is the official museum of both the original Packard Motor Car Company and The Packard Electric Company. Its purpose is to preserve the Packard legacy and recognize Packard's influence in transportation and industrial history through interaction with the community and outreach programs.
Fort Lauderdale Antique Car Museum Was closed after the COVID-19 Pandemic and its entire collection of Packard cars and memborbilla was purchased by a local businessman. The collection was auctioned off in 2021.
America's Packard Museum holds a collection of Packard cars for display to the public.
The electrical connectors developed by Packard were used extensively by General Motors in its automobiles. The first series of connectors was the Packard 56, followed by the Weather Pack, and finally, the Metri Pack, which are still in common use today.
A massive crushing of circa 50 vintage Packards happened in 1977 in southern California and was dubbed by the Special-Interest auto magazine as "Crushathon". Cars formerly property of a Packard collector were auctioned off after his death. Due to different disagreements in the terms of the auction between SoCal Packard fan clubs, roughly half of the cars auctioned off did not meet the listed price leading to the cars being ultimately destroyed, despite their purportedly good mechanical and rust-free condition.
Packard Proving Grounds of Shelby Township, MI USA is the remnants of the former proving Grounds owned by The Packard Motor Car Foundation. The mission of the Packard Proving Grounds Historic Site is to preserve the legacy of the Packard Motor Car Company through the restoration and preservation of the Packard Proving Grounds, educating future generations about America's automotive history.
The REO Motor Car Company was a company based in Lansing, Michigan, and producing automobiles and trucks from 1905 to 1975. At one point the company also manufactured buses on its truck platforms.
Ransom E. Olds was an entrepreneur who founded multiple companies in the automobile industry. In 1897 Olds founded Oldsmobile. In 1905 Olds left Oldsmobile and established a new company, REO Motor Car Company, in Lansing, Michigan. Olds had 52% of the stock and the titles of president and general manager. To ensure a reliable supply of parts, he organized a number of subsidiary firms, like the National Coil Company, the Michigan Screw Company, and the Atlas Drop Forge Company.
Originally the company was to be called "R. E. Olds Motor Car Company", but the owner of Olds' previous company, then called Olds Motor Works, objected and threatened legal action on the grounds of likely confusion of names by consumers. Olds then changed the name to his initials. Olds Motor Works soon adopted the popular name of its vehicles, Oldsmobile (which, along with Buick and Cadillac, became a founding division of General Motors Corporation).
The company's name was spelled alternately in all capitals REO or with only an initial capital as Reo, and the company's own literature was inconsistent in this regard, with early advertising using all capitals, and later advertising using the "Reo" capitalization. The pronunciation, however, was as a single word. Lansing is home to the R. E. Olds Transportation Museum.
By 1907, REO had gross sales of $4.5 million, and the company was one of the four wealthiest automobile manufacturers in the U.S. After 1908, however, despite the introduction of improved cars designed by Olds, REO's share of the automobile market decreased due in part to competition from emerging companies like Ford and General Motors.
REO added a truck-manufacturing division and a Canadian plant in St Catharines, Ontario, in 1910. Two years later, Olds claimed that he had built the best car he could, a tourer able to seat two, four, or five, with a 30–35 hp (22–26 kW) engine, 112 inches (2,845 mm) wheelbase, and 32 inches (81 cm) wheels, for US$1,055 (not including top, windshield, or gas tank, which were US$100 extra); self-starter was US$25 on top of that. By comparison, the Cole Series 30 and Colt Runabout were priced at US$1,500; Kirk's Yale side-entrance US$1,000; the high-volume Oldsmobile Runabout went for US$650; Western's Gale Model A was US$500; a Brush Runabout US$485; the Black started at $375; and the Success hit the amazingly low US$250.
In 1915, Olds relinquished the title of general manager to his protégé Richard H. Scott, and eight years later he ended his tenure as the company's presidency as well, retaining the position of chairman of the board.
Perhaps the most famous REO episode was the 1912 Trans-Canada journey. Traveling 4,176 miles (6,720 km) from Halifax, Nova Scotia, to Vancouver, British Columbia, in a 1912 REO special touring car, mechanic/driver Fonce V. (Jack) Haney and journalist Thomas W. Wilby made the first trip by automobile across Canada (including one short jaunt into northeastern Washington State when the Canadian roads were virtually impassable).
From 1915 to 1925, under Scott's direction, REO remained profitable. In 1923, the company sold an early recreational vehicle, called the "Motor Pullman Car". Designed by Battle Creek, Michigan, newspaper editor J. H. Brown, the automobile included a drop-down sleeping extension, a built-in gas cooking range, and a refrigerator. During 1925, however, Scott, like many of his contemporaries/competitors, began an ambitious expansion program designed to make the company more competitive with other automobile manufacturers by offering cars in different price ranges. The failure of this program and the effects of the Great Depression caused such losses that Olds ended his retirement during 1933 and assumed control of REO again, but resigned in 1934. During 1936, REO abandoned the manufacture of automobiles to concentrate on trucks.
REO's two most memorable cars were its Reo Flying Cloud introduced in 1927 and the Reo Royale 8 of 1931.
The Flying Cloud was the first car to use Lockheed's new hydraulic internal expanding brake system and featured styling by Fabio Segardi. While Ned Jordan is credited with changing the way advertising was written with his "Somewhere West of Laramie" ads for his Jordan Playboy, Reo's Flying Cloud—a name that provoked evocative images of speed and lightness—changed the way automobiles would be named in the future. It had a 115-inch (2,900 mm) wheelbase. The final REO model of 1936 was a Flying Cloud.
In April 1927, Reo introduced the Wolverine brand of cars as a companion model to the Flying Cloud. With a Continental engine, artillery wheels, and a different pattern of horizontal radiator louvers from the Flying Cloud, the Wolverine was made until 1928.
The 1931 Reo Royale was a trendsetting design, introducing design elements that were a precedent for true automotive streamlining in the American market. The 8-cylinder model was sold through 1933 with minor updates. The name was used on a lower-priced 6-cylinder model through 1935. Beverly Rae Kimes, editor of the Standard Catalog of American Cars, terms the Royale "the most fabulous Reo of all". In addition to its coachwork by Murray designed by their Amos Northup, the Royale also provided buyers with a 125 hp (93 kW) straight-eight with a nine-bearing crankshaft, one-shot lubrication, and thermostatically-controlled radiator shutters. The Royale rode upon factory wheelbases of 131 inches (3,300 mm) (Model 8-31) and 135 inches (3,400 mm) (Model 8-35); a 1932 custom version rode upon a 152-inch (3,900 mm) wheelbase (Model 8-52). As many as 3 Dietrich coachbuilt bodies were built on 148-inch (3,800 mm) wheelbases in 1931. Beginning in 1933, the Royale also featured as an option REO's semi-automatic transmission, the Self-Shifter. The Model 8-31 was priced at $2,145. The model 8-35 was priced from $2,745 for the sedan to $3,000 for the convertible coupe. The coachbuilt cars were priced close to $6,000. A convertible Victoria was listed at $3,195 but only one is known to have been built. The 8-35 & 8-52 are considered full CCCA classics.
Although truck orders during World War II enabled it to revive somewhat, the company remained unstable in the postwar era, resulting in a bankruptcy reorganization. In 1954, the company was still underperforming, and sold its vehicle manufacturing operations (the primary asset of the company) to the Bohn Aluminum and Brass Corporation of Detroit. Three years later, in 1957, Reo's vehicle manufacturing operation became a subsidiary of the White Motor Company. White then merged REO with Diamond T Trucks in 1967 to form Diamond Reo Trucks. In 1975, this company filed for bankruptcy and most of its assets were liquidated. Volvo later took over White and thus currently owns the rights to the REO brand name.
Meanwhile, after selling Reo's vehicle manufacturing operation to Bohn in 1954, management began liquidating the remainder of the company. For tax reasons a group of shareholders successfully challenged the liquidation in a proxy fight in September 1955, and forced REO to take over a tiny nuclear services company called Nuclear Consultants, Inc. in a reverse takeover. The resulting Nuclear Corporation of America, Inc., diversified and purchased other companies to become a conglomerate, spreading into an array of fields including prefabricated housing and steel joist manufacturing in addition to nuclear services. Most of these business were failures and the company was bankrupt again by 1966. After reorganizing, only the successful steel-joist business remained; the company started producing recycled steel, and eventually renamed itself Nucor.
During the Second World War, the company produced a number of Studebaker US6 trucks under license from Studebaker. Most of these trucks were built by Studebaker. However, the REO versions of the truck had some changes, such as different door handles and a more powerful engine. It is estimated that REO produced around 20,000 of these trucks and, unlike the original Studebaker trucks which were also used by the United States, the REO versions were exported only to the Soviet Union.
The Studebaker-Packard Corporation was the entity created in 1954 by the purchase of the Studebaker Corporation of South Bend, Indiana, by the Packard Motor Car Company of Detroit, Michigan. While Studebaker was the larger of the two companies, Packard's balance sheet and executive team were stronger than that of the South Bend company.
In the spring of 1962, Studebaker-Packard reverted its name to "Studebaker Corporation". The following year, the South Bend plant was closed, while its Canadian plant in Hamilton, Ontario, continued to produce Studebaker cars until 1966.
It was hoped that Packard would benefit from Studebaker's larger dealer network. Studebaker hoped to gain through the additional strength that Packard's cash position could provide. Once both companies stabilized their balance sheets and strengthened their product line, the original plan devised by Packard president James J. Nance and Nash-Kelvinator Corporation president George W. Mason was that the combined Studebaker-Packard company would join a combined Nash-Kelvinator Corporation and Hudson Motor Car Company in an all-new four-marque American Motors Corporation.
Had the complicated set of combinations gone through as planned, the new company would have immediately surpassed the Chrysler Corporation to become the third of America's "Big Three" automobile manufacturers. However, the sudden death of Mason in 1954 (succeeded by George W. Romney) and disputes over parts-sharing arrangements between the companies doomed any chance of completing the proposed merger. This failure to combine the companies effectively sealed the fates of all four.
Packard executives soon discovered that Studebaker had been less than forthcoming in all of its financial and sales records. The situation was considerably more dire than Nance and his team were led to believe; Studebaker's break-even point was an unreachable 282,000 cars at a time when the company had barely sold 82,000 cars in 1954. Furthering the new company's problems was the loss of about 30% of Studebaker's dealer network by 1956.
Studebaker-Packard tried a company reorganization in which Studebaker took the part of the volume and commercial car and truck seller from South Bend while Packard was to re-occupy the luxury market - one of Nance's targets since he took over Packard's presidency in 1952. The gap in between was filled by a new make, the Clipper. Technically, it was a lighter Packard, built in Detroit alongside the senior cars. The next generation of cars would have to be concentrated on one location, and there was a detailed program for sharing as much sheet metal as possible. Although Nance was presumably right, dealer resistance against the Clipper as a new entry in the intermediate field was big. Dealers complained that the only thing that allowed them to sell Clippers was the prestige, though declining, of the Packard name on the car itself.
Following a disastrous sales year in 1956, Nance resigned and Studebaker-Packard entered a management agreement with the Curtiss-Wright Corporation. Curtiss, led by Roy T. Hurley, insisted on major changes. All of Studebaker-Packard's defense contracts and plants where defense work was carried out were picked up by Curtiss, Packard production in Detroit was stopped and all remaining automotive efforts were shifted to South Bend.
The Packards (for 1957 and 1958) were essentially Studebaker Presidents with large amounts of bright work. The vehicles were referred to as "Packardbakers" by comedians. The final Packard rolled off the assembly line in July 1958. That year, Studebaker instructed company personnel to sell their Packards and use only Studebakers.
The one bright spot to come of the company's troubles was a distribution agreement, brokered by Hurley, with Daimler Benz. The agreement was looked on as a necessity both for the income that Mercedes-Benz could add to the company's bottom line and as another product that the Studebaker dealer network could sell in the event that the company quit building its own cars.
Studebaker-Packard Corporation made one final attempt at resurrecting the Packard nameplate. The Franco-American Facel-Vega four-door sedan, which was powered by a Chrysler V8 engine, would have been rebadged as a Packard. The plans fell through when Daimler Benz demanded that Studebaker-Packard drop the plans or risk termination of its sales agreement to sell Mercedes-Benz cars.
In 1960, the company began diversification efforts by buying:
D. W. Onan & Sons - Generators & engines
Cincinnati Testing Labs - Plastics Research
Gering Plastics - Plastics Manufacture
Clarke Floor Machine Company - Floor cleaners & buffers
Gravely Tractors - Quality lawnmowers
Chemical Compounds Company - Maker of STP additives
In 1961 Sherwood Egbert was appointed company president. He was expected to help diversify the company. In the spring of 1962, four years after the last Packard car rolled off the assembly line, and eight years following the merger between Packard and Studebaker, the company dropped 'Packard' from its legal name, which returned to being 'Studebaker Corporation'.
Condition: Excellent
Item ordered may not be exact piece shown. All original and authentic.