Bond of the County of Dallas
Inv# RB7002
Bond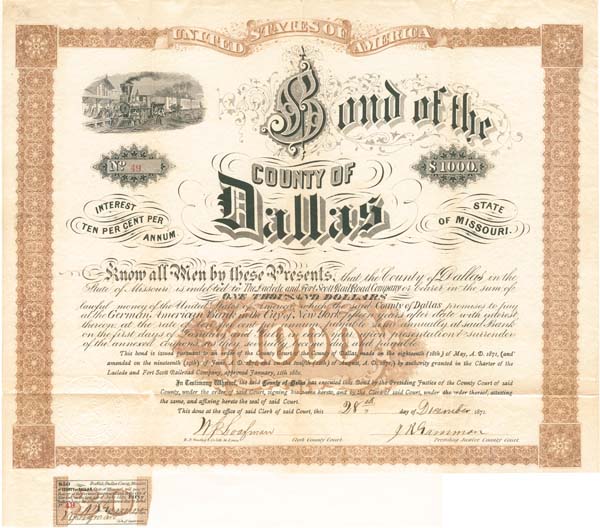 State(s): Missouri

Years: 1871
$1,000 Bond printed by R. P. Studley & Co., St. Louis. Rare!
Dallas County is a county located in the U.S. state of Missouri. As of the 2010 census, the population was 16,777. Its county seat is Buffalo. The county was organized in 1842 as Niangua County and then renamed in 1844 for George M. Dallas, who served as Vice President under James K. Polk.
Dallas County is part of the Springfield, MO Metropolitan Statistical Area.
Demographics
As of the census of 2000, there were 15,661 people, 6,030 households, and 4,383 families residing in the county. The population density was 29 people per square mile (11/km²). There were 6,914 housing units at an average density of 13 per square mile (5/km²). The racial makeup of the county was 97.45% White, 0.12% Black or African American, 0.76% Native American, 0.07% Asian, 0.03% Pacific Islander, 0.20% from other races, and 1.37% from two or more races. Approximately 0.94% of the population were Hispanic or Latino of any race. 3.57% percent reported speaking Pennsylvania German or German at home. Dallas County is the county with the largest concentration of Kauffman Amish Mennonites, who have preserved Pennsylvania German as their every day language and an old form of Standard German for church. They had 950 adherents in Dallas County in 2010.
There were 6,030 households out of which 32.90% had children under the age of 18 living with them, 60.80% were married couples living together, 8.40% had a female householder with no husband present, and 27.30% were non-families. 23.70% of all households were made up of individuals and 11.60% had someone living alone who was 65 years of age or older. The average household size was 2.57 and the average family size was 3.04.
In the county, the population was spread out with 27.50% under the age of 18, 7.40% from 18 to 24, 26.40% from 25 to 44, 23.50% from 45 to 64, and 15.20% who were 65 years of age or older. The median age was 38 years. For every 100 females, there were 98.30 males. For every 100 females age 18 and over, there were 95.70 males.
The median income for a household in the county was $27,346, and the median income for a family was $33,500. Males had a median income of $26,438 versus $17,569 for females. The per capita income for the county was $15,106. About 14.20% of families and 17.90% of the population were below the poverty line, including 25.40% of those under age 18 and 18.50% of those age 65 or over.
Condition: Excellent
A bond is a document of title for a loan. Bonds are issued, not only by businesses, but also by national, state or city governments, or other public bodies, or sometimes by individuals. Bonds are a loan to the company or other body. They are normally repayable within a stated period of time. Bonds earn interest at a fixed rate, which must usually be paid by the undertaking regardless of its financial results. A bondholder is a creditor of the undertaking.
Item ordered may not be exact piece shown. All original and authentic.