Jackson, Lansing and Saginaw Railroad Co. Issued to and signed by Percy R. Pyne - Autographed Stocks and Bonds
Inv# AG2499
Stock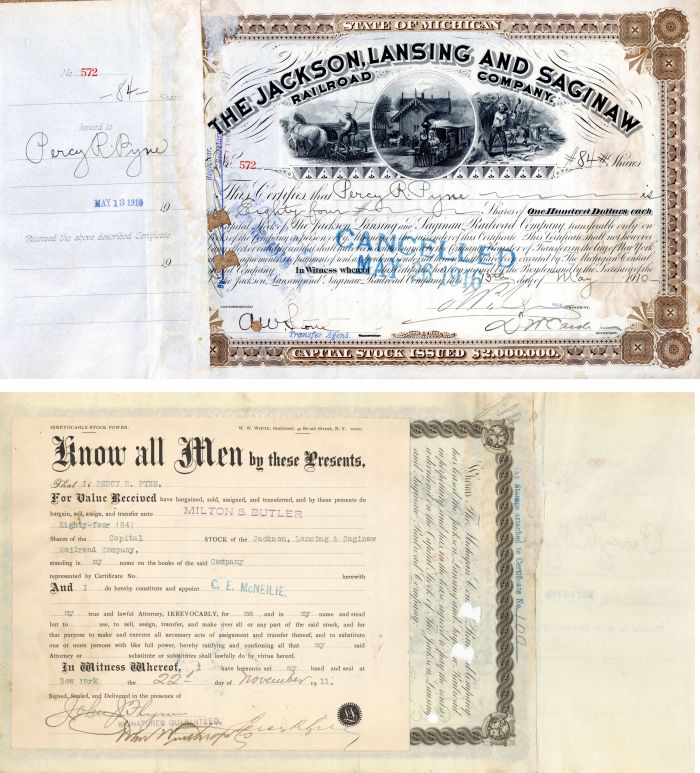 State(s): Michigan

Years: 1910
Stock issued to Percy R. Pyne and signed on back.
Percy Rivington Pyne I (March 8, 1820 – February 14, 1895) was a migrant from England to the United States. He became president of City National Bank. He was also a director for the Delaware, Lackawanna and Western Railroad and the New Jersey Zinc Company. Upon arriving in the United States, Pyne joined Moses Taylor & Co. as a clerk, becoming a partner in 1842. Moses Taylor & Co. specialized in the importation and sale of sugar, focusing on the Cuban trade. Pyne managed the sugar business while Taylor expanded the company into finance, iron, coal and railroads. After the death of his father-in-law in 1882, Pyne became president of National City Bank, which was founded by Taylor in 1865, serving in that role until 1891 when he was succeeded by James Stillman. In 1855 he married Taylor's daughter Albertina.
Condition: Good
A stock certificate is issued by businesses, usually companies. A stock is part of the permanent finance of a business. Normally, they are never repaid, and the investor can recover his/her money only by selling to another investor. Most stocks, or also called shares, earn dividends, at the business's discretion, depending on how well it has traded. A stockholder or shareholder is a part-owner of the business that issued the stock certificates.
Item ordered may not be exact piece shown. All original and authentic.