Conroyal Gold Mines, Limited - Canadian Mining Stock Certificate
Inv# FS2225
Stock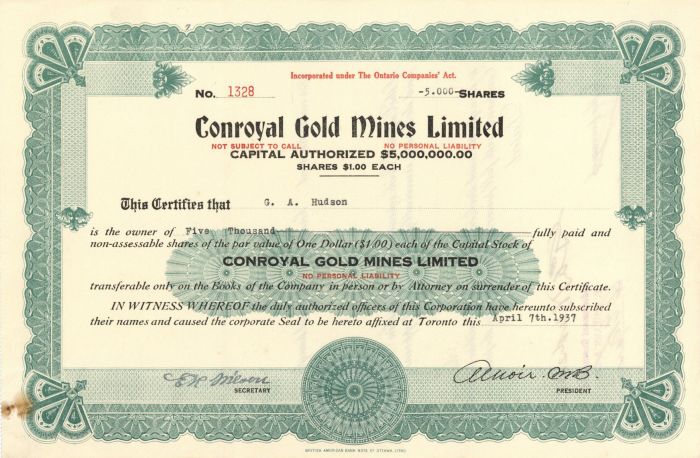 Country: Canada

Years: 1937
Stock printed by British American Bank Note Co., Ottawa. Stain.
Mining has been conducted on an industrial scale in present-day Canada since the late 18th century. The industry remains an important aspect of the economy of Canada to this day, particularly in the North, and Canadian-domiciled mining companies have increasingly expanded their operations globally.
The history of mining in Canada goes back to the 16th century. In the 1570s, Martin Frobisher briefly attempted a mining operation on Baffin Island, although it was unsuccessful. In 1672, French settlers in Cape Breton Island detected coal deposits. Matonabbee and Samuel Hearne sought after copper in the Hudson Bay region in the 1770s.
The first truly industrial mining operation in what is now Canada was an iron mine at Forges du Saint-Maurice near Trois-Rivières in Quebec, which remained a going concern from 1738 to 1883. Copper mining in Bruce Mines, Ontario—the first industrial-scale mine of a substance other than iron—followed in 1848. The Canadian mining industry continued to expand nationwide through the 19th century, and became one of the world's largest by the 20th century, particularly following World War II.
Mills and Sweeney note that the staples thesis, which posits that the Canadian economy has developed primarily through the exploitation of the country's abundant natural resources, remains a viable model of Canadian political economy.
Condition: Excellent
A stock certificate is issued by businesses, usually companies. A stock is part of the permanent finance of a business. Normally, they are never repaid, and the investor can recover his/her money only by selling to another investor. Most stocks, or also called shares, earn dividends, at the business's discretion, depending on how well it has traded. A stockholder or shareholder is a part-owner of the business that issued the stock certificates.
Item ordered may not be exact piece shown. All original and authentic.