Lake Shore and Michigan Southern Railway Co. issued to Gladys Moore Vanderbilt - $50,000 Bond
Inv# AG2457
Bond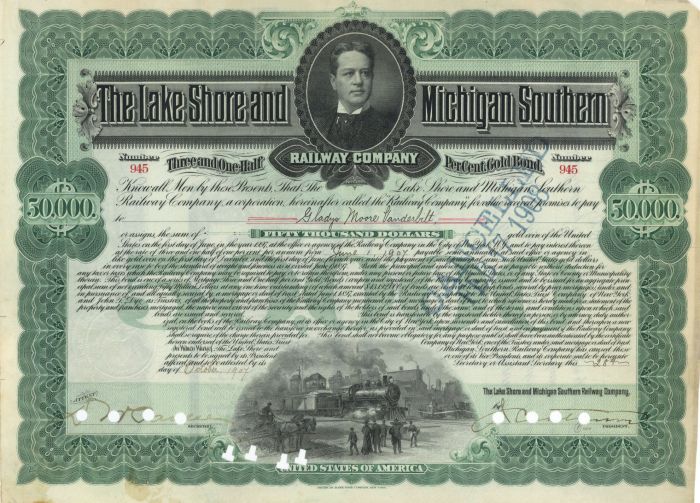 State(s): Michigan

Years: 1907
$50,000 3 1/2% Gold Bond issued to but not signed to Gladys Moore Vanderbilt. Only 4 found! Rare!
Gladys Moore Vanderbilt, Countess Széchenyi (August 27, 1886 – January 29, 1965) was an American heiress from the prominent American Vanderbilt family, and the wife of a Hungarian count, László Széchenyi. Countess Széchenyi was born Gladys Moore Vanderbilt in 1886, the seventh and youngest child of Alice Claypoole Gwynne and Cornelius Vanderbilt II, the president and chairman of the New York Central Railroad. Gladys grew up in the family home on Fifth Avenue in New York City, and their summer "cottage," The Breakers in Newport, Rhode Island. She attended Miss Chapin's School in New York. Her first cousin was Consuelo Vanderbilt, Duchess of Marlborough, who married Charles Spencer-Churchill, 9th Duke of Marlborough. She inherited about $25 million from her father's estate and a further $5 million from her mother's estate. She also inherited The Breakers. In 1948, as a widow, she leased The Breakers to the Preservation Society of Newport County for $1 a year. She continued to maintain an apartment in The Breakers by agreement until her death. In 1913, there were rumors that Vanderbilt was going to leave her husband due to his financial woes, including gambling away all of her dowry. In 1914, during World War I, she placed her palace in Budapest at the disposal of the army. Shortly thereafter, 600 reservists were quartered there, and the Countess further intended to use the palace as a hospital.
Condition: Excellent
A bond is a document of title for a loan. Bonds are issued, not only by businesses, but also by national, state or city governments, or other public bodies, or sometimes by individuals. Bonds are a loan to the company or other body. They are normally repayable within a stated period of time. Bonds earn interest at a fixed rate, which must usually be paid by the undertaking regardless of its financial results. A bondholder is a creditor of the undertaking.
Item ordered may not be exact piece shown. All original and authentic.