Buffalo, Rochester and Pittsburgh Railway Co. issued to 3 different Roosevelts - Stock Certificate
Inv# AG2451
Stock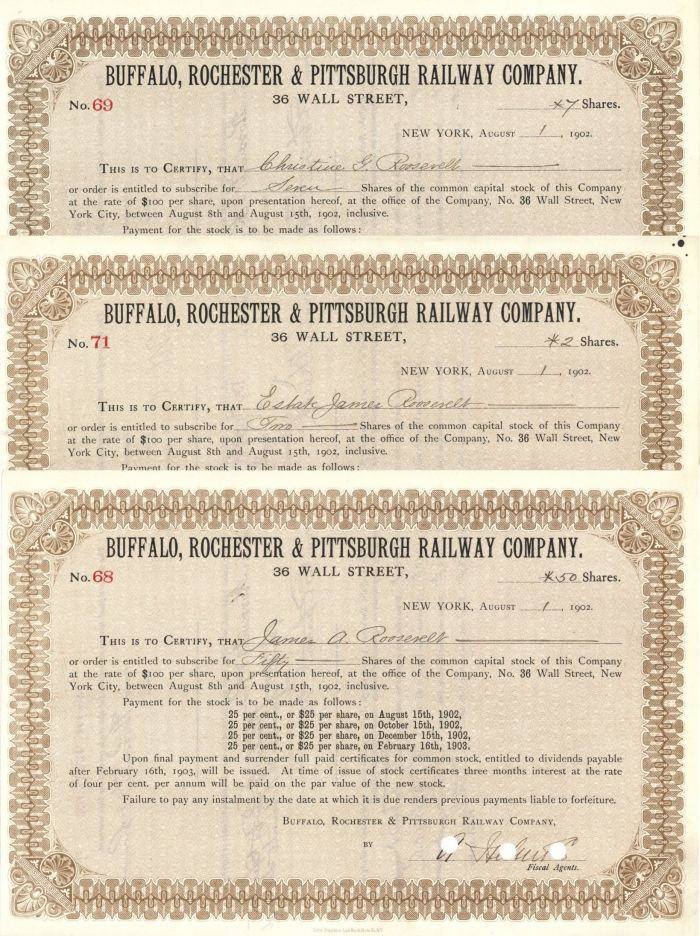 State(s): New York
Pennsylvania

Years: 1902
3 Stocks issued to James A. Roosevelt, Estate James Roosevelt and Christine G. Roosevelt. Some Roosevelt signatures on back.
James Alfred Roosevelt (June 13, 1825 – July 15, 1898) was an American businessman and philanthropist. A member of the Roosevelt family, he was an uncle of President Theodore Roosevelt. Roosevelt was born on June 13, 1825, to Cornelius Van Schaack Roosevelt (1794–1871) and Margaret Barnhill (1799–1861). His siblings were Silas Weir Roosevelt (1823–1870), Cornelius Van Schaack Roosevelt, Jr., Robert Barnhill Roosevelt (1829–1906), Theodore Roosevelt, Sr. (1831–1878), who was married to Martha "Mittie" Bulloch (1835–1884), and William Wallace Roosevelt (1834–1835). 
Roosevelt became a member of his father's mercantile firm, Roosevelt & Son, at the age of twenty, and eventually succeeded him as its head. He was connected with many other institutions, including as vice president of the Chemical Bank of New York; president of the Broadway Improvement Company; vice president of the Bank of Savings; member of the board of managers of the Delaware and Hudson Canal Company; director of the New York Life Insurance Trust.
He was a trustee to the Society for Prevention of Cruelty to Children and on the New York Board of Park Commissioners during the William Lafayette StrongAdministration. He was a president of Roosevelt Hospital that was founded by his distant cousin James H. Roosevelt. On December 22, 1847, he married Elizabeth Norris Emlen (1825–1912), the daughter of William Fishbourne Emlen (1786–1866) and Mary Parker Norris (1791–1872). Together, they had four children. Through his son, Alfred, he was the grandfather of Elfrida Roosevelt, who married Sir Orme Bigland Clarke, 4th Baronet, and was the mother of Sir Humphrey Clarke, 5th Baronet.
Condition: Excellent
A stock certificate is issued by businesses, usually companies. A stock is part of the permanent finance of a business. Normally, they are never repaid, and the investor can recover his/her money only by selling to another investor. Most stocks, or also called shares, earn dividends, at the business's discretion, depending on how well it has traded. A stockholder or shareholder is a part-owner of the business that issued the stock certificates.
Item ordered may not be exact piece shown. All original and authentic.