Luncheon Program signed by John Forsythe
Inv# AU1604
Autograph
Luncheon program to Roberta "Miss Kitty" Amanda Blake and signed by John Forsythe. Program for an entertainment luncheon at Calmac.
John Forsythe (January 29, 1918 – April 1, 2010) was an American stage, film/television actor, producer, narrator, drama teacher and philanthropist whose career spanned six decades. He also appeared as a guest on several talk and variety shows and as a panelist on numerous game shows.
His 60-year acting career began in films in 1943. He signed up with Warner Bros. at age 25 as a minor contract player, but he starred in The Captive City (1952) and co-starred opposite Loretta Young in It Happens Every Thursday (1953), Edmund Gwenn and Shirley MacLaine in The Trouble with Harry (1955), and Olivia de Havilland in The Ambassador's Daughter (1956).
Forsythe also enjoyed a long successful television career, starring in three television series, spanning four decades and three genres: as the single playboy father Bentley Gregg in the sitcom Bachelor Father (1957–1962), as the unseen millionaire Charles Townsend in the crime drama Charlie's Angels (1976–1981)—a role he would reprise in the 2000 and 2003 film adaptations—and as patriarch Blake Carrington in Dynasty (1981–1989). He hosted the series World of Survival (1971–1977), and was also the presenter of the 38th Miss Universe Pageant, broadcast on CBS in 1989
.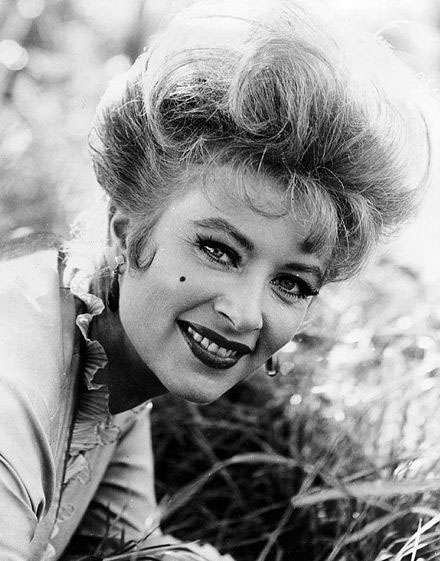 Amanda Blake (born Beverly Louise Neill, February 20, 1929 – August 16, 1989) was an American actress best known for the role of the red-haired saloon proprietress "Miss Kitty Russell" on the western television series Gunsmoke. Along with her third husband, Frank Gilbert, she ran one of the first successful programs for breeding cheetahs in captivity. 
Amanda Blake was born Beverly Louise Neill in Buffalo, New York, the only child of Jesse and Louise (née Puckett) Neill. Her father was a banker.
Blake was a telephone operator and briefly attended Pomona College before she took up acting.
Catherine Moore ″Kate" Barry (1752–1823), one of Amanda's ancestors, was a heroine of the American Revolutionary War. She warned local patriots of Banastre Tarleton's approach, giving them time to group and prepare for the Battle of Cowpens (January 17, 1781), a major American victory that helped pave the way for the British defeat at Yorktown. 
In the late 1940s, Blake was signed to Metro-Goldwyn-Mayer as the studio saw her as its next Greer Garson. She appeared in a few Hollywood films, such as the 1952 western Cattle Town and in the starring role of Miss Robin Crusoe, a 1954 adaptation of the Robinson Crusoe adventure. In 1954, she appeared in A Star Is Born.
Blake became best known for her 19-year stint as the saloon-keeper Miss Kitty on the television series Gunsmoke from 1955 to 1974. On February 27, 1974, Blake brought a lion named Kemo on to the Gunsmoke set.
Because of her continuing role on television, Blake rarely had time for films. She did appear on a number of television shows, including a recurring comedy routine on The Red Skelton Show, as a panelist on the long-running Hollywood Squares, Tattletales, and the 1970s revival of Match Game, as well as comedy appearances on the Dean Martin Celebrity Roast.
In 1957, Blake guest-starred as Betty Lavon-Coate in the episode titled "Coate of Many Colors" on Rod Cameron's crime drama, State Trooper. Later, after a Gunsmokereunion film, she made two feature-film appearances: in The Boost, a drug-addiction drama starring James Woods and Sean Young, and B.O.R.N, both in 1988.
In 1968, Blake was inducted into the Hall of Great Western Performers at the National Cowboy and Western Heritage Museum in Oklahoma City. She was the third performer inducted, after Tom Mix and Gary Cooper, selected in 1958 and 1966, respectively. 
Condition: Flaw
Item ordered may not be exact piece shown. All original and authentic.