Standard Oil Trust issued to and signed by W. C. Whitney - Stock Certificate
Inv# AG1113
Stock
Years: 1880's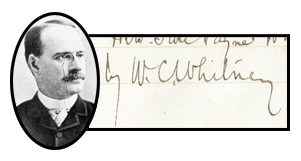 John D. Rockefeller (1839-1937), Industrialist, Philanthropist. Rockefeller signs with Henry M. Flagler, Capitalist and Promoter. 1,000 SHARES!!! Imagine owning a 1,000 Shares of Standard Oil Trust in the 1880's. This stock is issued to Mrs. Flora Payne Whitney and signed at back. Her important husband William Collins Whitney signs for her at the front stub. W. C. Whitney (1841-1904), Financier, sportsman. Worked closely with Samuel J. Tilden against the "Tweed Ring". Large corporate activities, He won great wealth. Secretary of the Navy 1885-89. A member of Grover Cleveland's inner circle. Of course, this stock is also signed by Rockefeller and Flagler. Lightly cut cancelled signatures and all are superb! Includes portraits of Rockefeller and Flagler. Excellent Condition. Extremely Rare and Important!
A stock certificate is issued by businesses, usually companies. A stock is part of the permanent finance of a business. Normally, they are never repaid, and the investor can recover his/her money only by selling to another investor. Most stocks, or also called shares, earn dividends, at the business's discretion, depending on how well it has traded. A stockholder or shareholder is a part-owner of the business that issued the stock certificates.
Item ordered may not be exact piece shown. All original and authentic.