William H. Vanderbilt - Hudson River Railroad - Stock Certificate (Uncanceled)
Inv# AG1055
Stock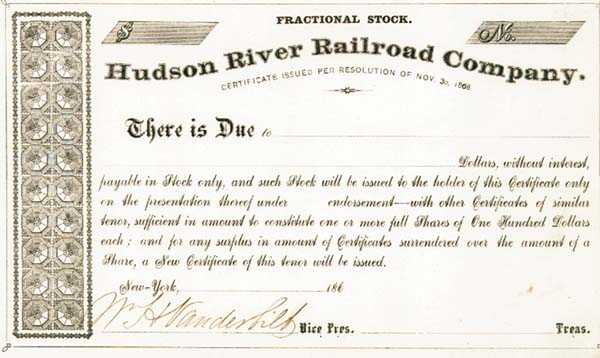 State(s): New York

Years: 1860's
William H. Vanderbilt (1821-1885). This Fractional stock is issued from N.Y. in the 1860's. Unissued with nice uncanceled signature of William H. Vanderbilt. Available PMG grade 58. It comes with a beautiful portrait of William H. Vanderbilt. Mint Condition. Rare! From the Syracuse University Collection.
William Henry "Billy" Vanderbilt (May 8, 1821 – December 8, 1885) was an American businessman and philanthropist. He was the eldest son of Commodore Cornelius Vanderbilt, an heir to his fortune and a prominent member of the Vanderbilt family. Vanderbilt was the richest American after he took over his father's fortune in 1877 until his own death in 1885, passing on a substantial part of the fortune to his wife and children, particularly to his sons Cornelius II and William. He inherited nearly $100 million from his father. The fortune had doubled when he died less than nine years later.
Condition: Excellent
A stock certificate is issued by businesses, usually companies. A stock is part of the permanent finance of a business. Normally, they are never repaid, and the investor can recover his/her money only by selling to another investor. Most stocks, or also called shares, earn dividends, at the business's discretion, depending on how well it has traded. A stockholder or shareholder is a part-owner of the business that issued the stock certificates.
Item ordered may not be exact piece shown. All original and authentic.