Lake Torpedo Boat Company Signed by Simon Lake - Stock Certificate
Inv# AG1035
Stock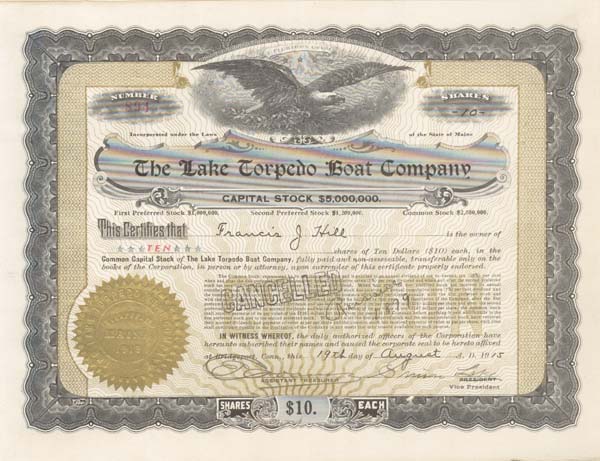 State(s): Maine

Years: 1915-20
A great stock issued in Maine and signed by Simon Lake as Vice President.
Simon Lake (1866-1945), Marine Inventor, built first submarine to operate successfully in open sea. In World War I, the US Navy adopted his torpedo-boat design, but his main interest was always in peaceful uses of the submarine. In 1932 he designed another submersible for use in underwater salvage operations. In his later years he devoted much of his time to looking for sunken gold in New York harbor. 
Condition: Excellent
A stock certificate is issued by businesses, usually companies. A stock is part of the permanent finance of a business. Normally, they are never repaid, and the investor can recover his/her money only by selling to another investor. Most stocks, or also called shares, earn dividends, at the business's discretion, depending on how well it has traded. A stockholder or shareholder is a part-owner of the business that issued the stock certificates.
Item ordered may not be exact piece shown. All original and authentic.