Hawthorne Silver and Iron Mines Limited signed by Julian Hawthorne
Inv# AG2246
Stock
Country: Canada

State(s): Delaware

Years: 1910
Stock signed by Julian Hawthorne, son of Nathaniel Hawthorne. Important!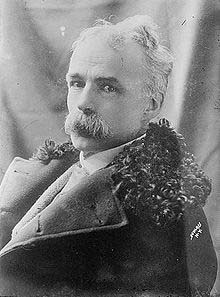 Julian Hawthorne (June 22, 1846 – July 14, 1934) was an American writer and journalist, the son of novelist Nathaniel Hawthorne and Sophia Peabody. He wrote numerous poems, novels, short stories, mystery/detective fiction, essays, travel books, biographies, and histories. In 1908, Hawthorne's old Harvard friend William J. Morton (a physician) invited Hawthorne to join in promoting some newly created mining companies in Ontario, Canada. Hawthorne made his writing and his family name central to the stock-selling campaigns. After complaints from shareholders, both Morton and Hawthorne were tried in New York City for mail fraud, and convicted in 1913. Hawthorne was able to sell some three and a half million shares of stock in a nonexistent silver mine and served one year in the Atlanta Federal Penitentiary. After his release from prison on October 15, 1913, Hawthorne returned to work as a journalist in Boston for the Boston American, for which he covered baseball spring training and interviewed George Stallings and Babe Ruth. He resigned from the publication in November and moved to California, where he contributed to publications like the Los Angeles Herald and pitched movie screenplays which were never produced. He also shared a home with his lover Edith Garrigues. His wife Minne was living with family in Redding, Connecticut. After her death on June 25, 1925, Hawthorne and Garrigues officially married on July 6 after nearly two decades as a couple. In the summer of 1933, Hawthorne suffered from a flu, from which he was never fully healthy again. He suffered two heart attacks before dying on July 14, 1934. His funeral was private and after his body was cremated, his ashes were scattered along Newport Beach, California.
Condition: Excellent
A stock certificate is issued by businesses, usually companies. A stock is part of the permanent finance of a business. Normally, they are never repaid, and the investor can recover his/her money only by selling to another investor. Most stocks, or also called shares, earn dividends, at the business's discretion, depending on how well it has traded. A stockholder or shareholder is a part-owner of the business that issued the stock certificates.
Item ordered may not be exact piece shown. All original and authentic.