Cincinnati, Hamilton and Dayton Railroad Company signed by Eugene Zimmerman
Inv# AG2243
Stock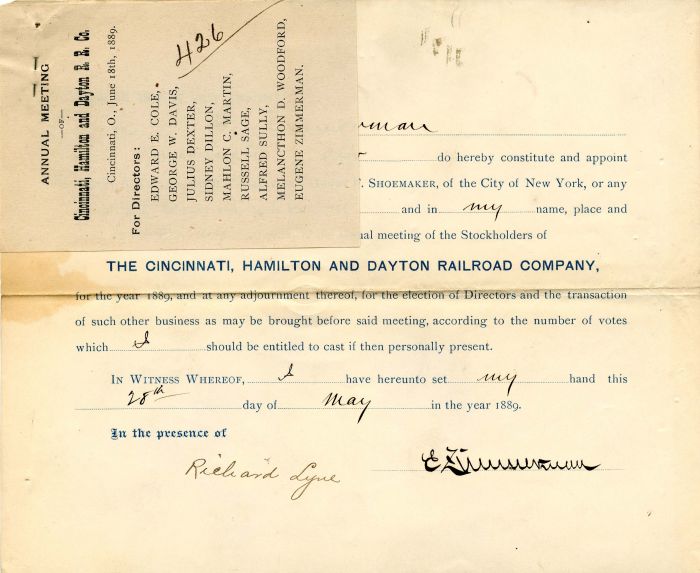 State(s): Ohio

Years: 1889
Power of Attorney for the annual meeting of the Cincinnati, Hamilton and Dayton Railroad Company signed by Eugene Zimmerman.
An astute businessman, Zimmerman bought and sold properties for many years after the Civil War, selling his petroleum interests to the fledgling Standard Oil company in 1874. He entered the railroad business by constructing roads out of Cincinnati, eventually becoming President of the Cincinnati, Hamilton & Dayton Railroad. He later gained control of numerous other roads, including (in 1904) the Pere Marquette Railroad and the Chicago, Cincinnati & Louisville Railroad. In 1914 it was charged that Zimmerman and his associates had loaded the C.H.&D. with over $24 million in debt which, in a series of complex transactions, reputedly cost J.P. Morgan some $12 million, but Zimmerman died before he could respond to these allegations. (Scott Winslow)
Condition: Excellent
A stock certificate is issued by businesses, usually companies. A stock is part of the permanent finance of a business. Normally, they are never repaid, and the investor can recover his/her money only by selling to another investor. Most stocks, or also called shares, earn dividends, at the business's discretion, depending on how well it has traded. A stockholder or shareholder is a part-owner of the business that issued the stock certificates.
Item ordered may not be exact piece shown. All original and authentic.