Lake Shore and Michigan Southern Railway Company issued to Sarah L. Winchester
Inv# AG2242
Bond
State(s): Michigan

Years: 1924
$1,000 3 1/2% Gold Bond issued to Sarah L. Winchester, deceased. Printed by American Bank Note Company, New York.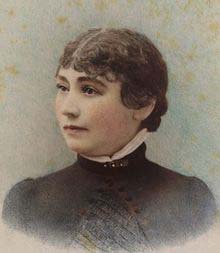 Sarah Lockwood Winchester (née Pardee; 1839 – September 5, 1922) was an American heiress who amassed great wealth after the death of her husband, William Wirt Winchester. Her inheritance from his estate included $20 million (equivalent to $529,862,069 in 2019) as well as a 50% holding in the Winchester Repeating Arms Company, which made her one of the wealthiest women in the world at the time. She is best known for using her vast fortune to continue construction on the Winchester mansion in San Jose, California, for 38 years. Popular legends, which began during her lifetime, held that she was convinced she was cursed, and the only way to alleviate it was to add on to her California home. Since her death, the sprawling Winchester Mystery House has become a popular tourist attraction, known for its staircases that lead to nowhere and its many winding corridors and doors leading to walls, or big falls.
She was born the daughter of Leonard Pardee and his wife Sarah W. (née Burns), in Summer 1839 in New Haven, Connecticut. On September 30, 1862, in New Haven, Sarah married William Wirt Winchester, the only son of Oliver Winchester, the owner of the Winchester Repeating Arms Company.
The couple was married in 1862 and had one daughter, Annie Pardee Winchester, who was born on June 15, 1866 and died on July 25, 1866 of marasmus. The couple had no more children.
Her father in law died in 1880, and her husband William died of tuberculosis in March 1881. Thus she received an inheritance of $20 million (equivalent to $529,862,069 in 2019). In addition, Winchester received approximately 50 percent ownership in the Winchester company and an income of $1,000 a day (equivalent to $26,493 in 2019).
In 1888 Winchester purchased 140 acres of land, the majority of what is now downtown Los Altos, California, to use as a ranch. She also purchased a farmhouse, now known as the Winchester-Merriman House, for her sister and brother-in-law. The house is listed on the Historic Resources Inventory of the Los Altos Historical Commission.
In the 1920s Mrs Winchester also maintained a houseboat on San Francisco Bay at Burlingame, California, which became known as "Sarah's Ark", as it was reputedly kept there as insurance against her fear of a second great flood, such as the Biblical one experienced by Noah and his family, but a more mundane answer is that many people of her social standing in California at that time had houseboats or yachts. The "Ark" was located near the eucalyptus grove at Winchester Road, south of what was to become the intersection of Anza Boulevard and U.S. Highway 101. The ark was destroyed by fire in 1929.
Condition: Excellent
A bond is a document of title for a loan. Bonds are issued, not only by businesses, but also by national, state or city governments, or other public bodies, or sometimes by individuals. Bonds are a loan to the company or other body. They are normally repayable within a stated period of time. Bonds earn interest at a fixed rate, which must usually be paid by the undertaking regardless of its financial results. A bondholder is a creditor of the undertaking.
Item ordered may not be exact piece shown. All original and authentic.