United New Jersey Railroad and Canal Company issued to William Vincent Astor - Stock Certificate
Inv# AG2203
Stock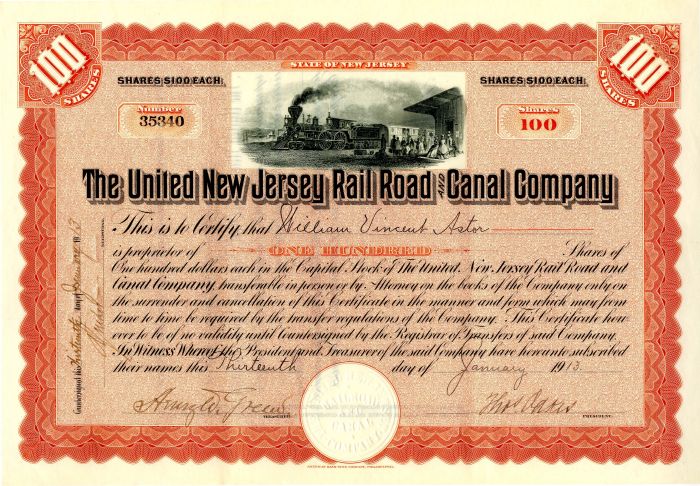 State(s): New Jersey

Years: 1913
Stock issued to William Vincent Astor but not signed.
William Vincent Astor (1891-1959), Capitalist and Philanthropist, was called Vincent. He was born in the Fifth Avenue mansion where his grandmother Caroline Astor reigned over American society. He was the son of Col. John Jacob Astor IV, a gangly, unattractive, and highly amorous millionaire and inventor, and his first wife, Ava Lowle Willing, a famously beautiful and famously spoilt heiress from Philadelphia. Society observers privately called them "Beauty and the Beast."
Vincent endured a difficult childhood. His vain mother was embarrassed by his resemblance to his father and would humiliate him in public. In addition his parent's marriage was less than perfect. Vincent's only sister, Alice Ava Muriel Astor, was reportedly Ava Astor's child by a New York society man named Hatch, while Vincent's father, a friend wrote in a letter to her husband, had numerous affairs and morals shockingly loose for a warden of the Episcopal church. They ultimately divorced in 1909 and on September 9, 1911 Jack Astor married Madeleine Talmadge Force, an 18-year-old beauty a year younger than his son. In 1919, Ava married an English nobleman, Thomas Lister, Baron Ribblesdale. While a student at Harvard University in 1912, Vincent inherited an estimated $200 million when his father went down with the Titanic.
Vincent Astor was, according to Astor family biographer Derek Wilson, "a hitherto unknown phenomenon in America: an Astor with a highly developed social conscience." He was 20 when his father died and having inherited a massive fortune, Vincent Astor dropped out of Harvard University. He set about to change the family image from that of miserly, aloof slum landlords who enjoyed the good life at the expense of others. Over time, he sold off the family's New York City slum housing and reinvested in reputable enterprises while spending a great deal of time and energy helping others. He was responsible for the construction of a large housing complex in the Bronx that included sufficient land for a large children's playground, and in Harlem, he transformed a valuable piece of real estate into another playground for children.
Vincent Astor appeared as no. 12 on the first list of America's richest people compiled by Forbes Magazine. His net worth at the time was estimated at $75 million.
Amongst his holdings was Newsweek magazine which had for a time its headquarters in the former Knickerbocker Hotel that had been built by Vincent Astor's father; he was the magazine's chairman. He also inherited Ferncliff, the Astor family's estate in Rhinebeck, New York, where his father had been born. However, Vincent Astor would be the last occupant of Ferncliff. On his death in 1959, Vincent Astor bequeathed the main house at Ferncliff to the Benedictine Hospital in Kingston, New York, and in 1964 his widow, Brooke, donated the remaining land to become Ferncliff Forest Game Refuge and Forest Preserve.
Condition: Excellent
A stock certificate is issued by businesses, usually companies. A stock is part of the permanent finance of a business. Normally, they are never repaid, and the investor can recover his/her money only by selling to another investor. Most stocks, or also called shares, earn dividends, at the business's discretion, depending on how well it has traded. A stockholder or shareholder is a part-owner of the business that issued the stock certificates.
Item ordered may not be exact piece shown. All original and authentic.