Columbia Broadcasting System, Inc (Called CBS)
Inv# GS1085
Stock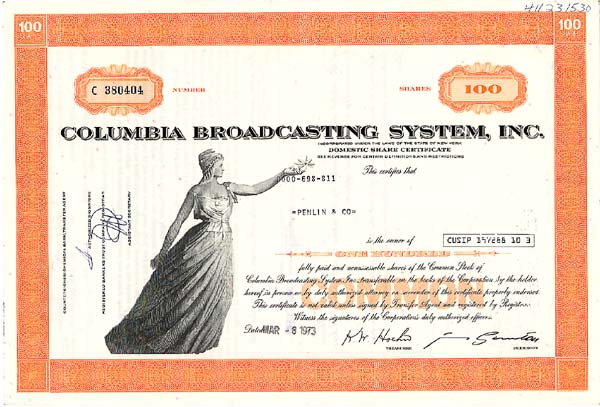 State(s): New York

Years: 1960's-70's
Color: Red, Or, Gr, Bl, Pur, Br
TV Broadcasting Stock. Large female figure vignette. 2 varities of long title and short "CBS" title. Very attractive!!! Very Rare!!! This network has its origins in United Independent Broadcasters Inc., a collection of 16 radio stations that was bought by William S. Paley in 1928 and renamed the Columbia Broadcasting System. Under Paley's guidance, CBS would first become one of the largest radio networks in the United States and then one of the big three American broadcast television networks.
Condition: Excellent
Item ordered may not be exact piece shown. All original and authentic.